Marbles Make Comeback Amid Sport Shutdown
With major sport leagues being cancelled worldwide in the wake of COVID-19, many avid fans have had to find interesting ways to kill time in quarantine.
For many, the solution was a forgotten part of youth: Marble Racing.
For those of you who did not have a childhood, Marble Racing is a simple sport. Marbles are simply placed along a preconstructed track, and the first marble to cross the finish line wins. There are no rewards for winning, no medal, no cash prize, no money, and yet, it has exploded across the internet, dominating social media platforms such as Twitter and Instagram, and taking the sports world by storm.
There are hundreds of different Youtube channels dedicated to the sport, but one reigns high above the rest. Jelle's Marble Runs, a Dutch channel started by brothers Jelle and Dion Bakker. They stand out among Marble channels for a very specific reason: their marbles. Instead of simply using random marbles for the race, each marble that Jelle uses is special, with a fictitious backstory and unique personality. Fans may root for their favorite team across multiple races, or even an entire season. Some dedicated fans have even taken it upon themselves to create chants and banners for their favorite teams. 
Popular events on the channel include the Marble League, (Formerly known as the Marblelympics) a miniature version of the Olympics, hosted every year. Marbles compete in various types of events, including track and field, gymnastics, and aquatics. At the end of the games, the marbles with the highest combined score across the games are crowned champions, and are allowed to automatically qualify for the next year's games. Another, newer game type is Marbula 1. As you may have guessed, the name is a play on the popular autosport Formula 1, with much the same rules. Marbles race around the track in around 15 laps, competing to be the first to finish. In addition, each marble must complete a "time trial", to determine the starting gate order. While this all may seem a little ridiculous, I assure you, it is entertaining to watch, which at this point, is all most of us can really ask for.
As for why this caught on with the absence of sports, I think the reason is a little more complex than simple boredom. Sports actually serve a very important role in society, one that is needed now, more than ever. Sports allow us to express and experience a whole range of emotions, like joy, fear, loss, and anger, all in a relatively low stakes setting. During times of crisis, sports allow us to focus the worry or fear we may feel onto something else, and  in comparison, the problem at hand doesn't feel as impossible. So, while "real" sports may be cancelled for the time being, look to other sports, like marble racing, and others, and use those to entertain and relax you in these times.
Leave a Comment
About the Contributor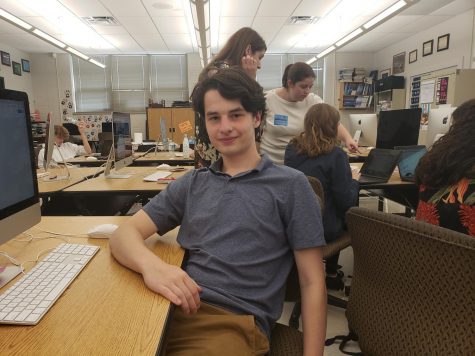 Michael Oestreich, Co-Editor in Chief
Michael Oestreich is the Co-editor in chief and social media manager for the Paw's Instagram and Twitter accounts . He also does layout & design...