Sarah Fuller Becomes First Woman to Play in a Major College Football Game Making History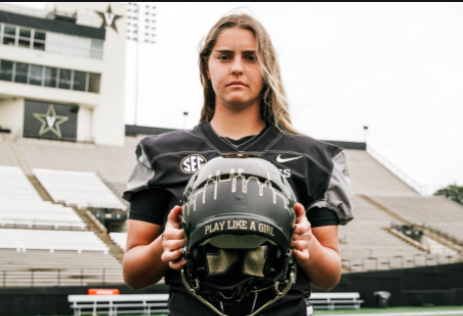 Sarah Fuller made history on Saturday by becoming the first female to play in a Power 5 football game. The Power 5 are the five major conferences in college football including the Southeastern Conference (SEC), Big Ten, Big 12, PAC-12 and Atlantic Coast Conference (ACC). Fuller is also the goalkeeper for the Vanderbilt women's soccer team and has just come off an SEC title win. She delivered the 2nd half opening kickoff for the Commodores against Missouri. The squib kick was sent low to the 35 yard line where it was then recovered by Mizzou.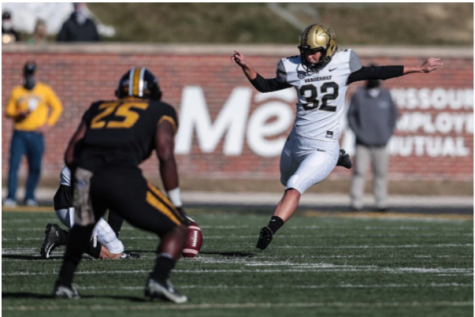 Before the season the Vanderbilt starting kicker opted out due to concerns about the Coronavirus. Then with a number of COVID positive tests, Vandy found themselves kickerless. Head coach Derek Mason and his staff reached out to see if she would be interested in trying out. Fuller went to practice and not only did she make the team, but she was also the only kicker on the travel roster for Saturday's game. She plans to continue to kick for Vanderbilt, she spoke with USA today on Sunday and said "I'll stay around as long as they want me."
"I just want to tell all the girls out there that you can do anything you set your mind to, you really can. And if you have that mentality all the way through, you can do big things," She said to the SEC Network following the team's 41-0 loss.
When talking about the historical aspect of her start, she said "I think it's amazing and incredible, but I'm also trying to separate that because I know this is a job I need to do and I want to help the team out and I want to do the best that I can. Placing that historical aspect aside just helps me focus in on what I need to do. I don't want to let them down in any way."
Fuller sported a special sticker on the back of her helmet stating "Play like a girl." She is an inspiration to so many young girls across the country who have a passion for sports but have been excluded because of their gender. She showed them that women do in fact belong not just in football but in the sports world. "The fact that I can represent all the girls out there that have wanted to do this or thought about playing football or any sport really, and it encourages them to be able to step out and do something big like this, it's awesome." She said after the game to the SEC Network.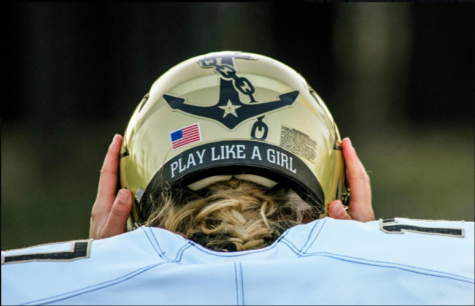 On Saturday sports figures such as Russell Wilson, Seattle Seahawks quarterback; David Price 2018, World Series Champion; and Holly Rowe, ESPN analyst sent their support for Fuller. Andrea Adelson Sports Writer at ESPN tweeted "I watched Sarah Fuller kick off with my two girls, and we all clapped and my eyes welled with tears. … As a child, I sat on the couch with my dad so many years ago wishing I could play football, too. Seeing this moment with my own daughters, it defies words." Billie Jean King also tweeted "History! Congratulations to @SarahFuller_27, the women players who came before her, the athletes of women's football, and all those working on both the sidelines and back offices for blazing for the next generation." She didn't just have the support of fellow athletes but of the college football community, women and so many more.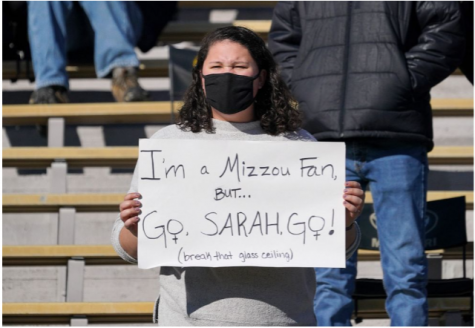 She joins just three other women who have played in college football games, Katie Hndia, April Goss, and Ashley Martin. Hndia played at the University of Colorado Boulder and New Mexico State where she kicked two extra points for the Aggies against Texas State in 2003. She was the first woman to score in the FBS (football bowl subdivision). April Goss kicked an extra point for Kent State in 2015. Ashley Martin truly broke barriers for women when she became the first female to ever score at the Division I level. She kicked three extra points for FCS (football championship subdivision) Jacksonville State on August 30, 2001.
Sarah Fuller's name will go down in history as the first female to play in a Power 5 game and the first to deliver a kickoff. She has paved the way for future generations of girls playing college football and sports in general no matter what everyone else is saying.
Leave a Comment
About the Contributor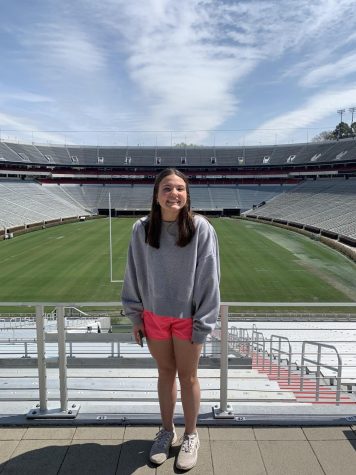 Lizzie Rubright, Sports Editor
Lizzie is a senior and in her third and final year writing for The Paw. Lizzie loves all things sports: watching them, playing them and especially writing...