WMC Fall Sports Recap
Fall sports at West Morris were fortunate enough to be able to have a season despite the challenges that the COVID-19 pandemic has presented. Coaches and players followed all the guidelines put in place giving them a chance to engage in competition throughout the entire season.
BOY'S SOCCER
The boys soccer team ended their season with a 4-9-1 record. They had a big win over Chatham early in the season. The boys beat Parsippany Hills 3-0 in a rubber match during the first round of the state tournament. However in the quarterfinals they took a tough loss to #1 seeded Montville 3-1. Coach Cukar felt that his team was "flexible – With so many changes to our season our players had to make many changes to their season" as well as being "responsible in adapting to the new protocols and procedures in place in response due to COVID-19." Because of the pandemic the NJSIAA separated teams in pods and realigned the conferences, Coach Cukar spoke on the high level of competition that they had because of this: "… we saw that our conference had been changed to help migrate the issues with COVID-19 we knew we'd have some tough competition. We were excited about that. We competed well and took each day of training and every game as a blessing. We are thrilled that we were able to play the entire season and compete at a high level."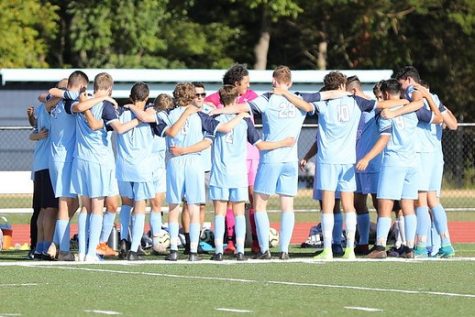 FIELD HOCKEY
Despite having lost most of their starting lineup due to graduation the field hockey team made a very successful run. They ended their season with a 9-5-1 record In the quarterfinal round of the state tournament the girls beat 2 seed Wayne Valley 3-2. In the semi final round they took on 3 seed Randolph and won 1-0 to get to the state finals. In the state finals the team lost to 1 seed Warren Hills 6-0. Coach Barnett describes her team as resilient "Everything was stacked against us this season. We lost 9 starters from last year's championship team… We had our fair share of growing pains early in the season but this team kept at it regardless of what was being thrown our way and what everyone else's expectations were. This team just kept fighting and never quit on the coaches, their teammates and ultimately themselves." She also said that "We tapped more into the emotional side and tried to get as much out of the players as possible so that where sometimes we lacked technical skill, we could compensate with heart, hustle and tenacity. That kind of pressure for 60+ minutes can wear on our opponents and they started to see that happen which built confidence and belief in themselves and each other." The team faced tough opponents every game but continued to play with intensity and define the odds.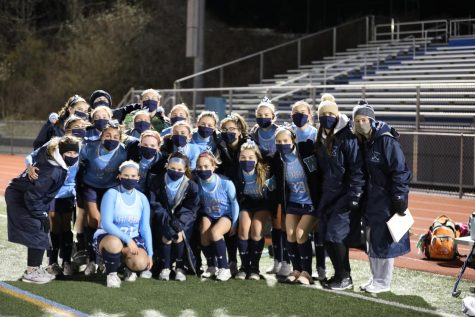 FOOTBALL
WMC football had a successful season despite playing in a pandemic, ending with a 7-1 record and a conference championship. The boys' only loss came to an undefeated Randolph team late in the season. "It refocused them" Coach Hennelly said "When you start winning a lot of games it tends to get to your head. We took inventory of what we had but also the things we needed to work on." Needing to bounce back they took on Wayne Valley and beat them 29-14 with Trevor Hillier passing for 100 yards. In their final game of the season the boys beat Ridgewood 14-13 to clinch the conference championship. To sustain their success Coach Hennelly feels that "We are going to keep what's not broken and fix what hasn't been working. We're starting our offseason training in January with they guys running and lifting to get us physically ready for next season."
GIRLS SOCCER
This season the girls soccer team ended their season with a 9-4 record. The girls had some tough competition but for the most part came out on top. As a team this season they outscored their opponents 28-13. With their first rounds of the state tournament cancelled the girls played Wayne Valley in the Semifinals but suffered a 2-0 loss. He says that "For every practice and game the girls were enthusiastic about the process of improvement, competition and being a united team. This made the season highly enjoyable for all the players and coaches." Their unity as a team helped lead them to the great success they achieved. "The girls made it a point to be a united group of individuals with common core values and goals. We relied on one another and were committed to being the best versions of ourselves we could be."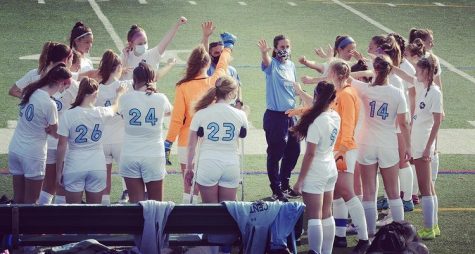 GIRLS TENNIS
The girls tennis team ended their season with a 4-8 record. The girls started their season off with a 3-2 win over Parsippany Hills. Throughout the year they faced tough competition every match. In their first round of the state tournament they beat 9th seeded Passaic Tech 3-2. However, they took a tough loss to #1 seeded Mendham 5-0 to end their tournament run.
Leave a Comment
About the Contributor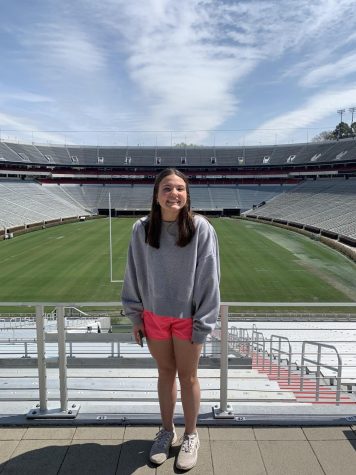 Lizzie Rubright, Sports Editor
Lizzie is a senior and in her third and final year writing for The Paw. Lizzie loves all things sports: watching them, playing them and especially writing...