Clubs and COVID: How WMC Adapts
As the 2nd marking period comes into full swing, so do all of the clubs and activities that are the mark of an active school community. In the same way as academic classes have had to adapt to new protocols, so have all of the extracurriculars that WMCHS also offers. The level of change varies for each club, depending on what their focus is.
There are some safety changes that every single club has had to make. In order to accommodate both in-person and virtual students, almost all club meetings have gone virtual. If clubs are doing in-school meetings, they are usually after school and outside in order to keep students safe. For some of the clubs, like book club or lit mag, where meetings consist of mostly talking and sharing ideas, this is enough. Others only need a couple more changes beyond this. For example, the WMC debate team competes in the Northwest New Jersey Debate League. Policy debate consists of four debaters plus a debate judge and a timer in close proximity. As this obviously doesn't abide by social distancing rules, there will have to be new protocol changes when the season starts in 2021.
Some clubs have had to adapt their means of transportation as well. Many clubs, including debate, chess, or FBLA, utilize school buses for their trips to other schools or locations. Any competition-based clubs or clubs that take school trips will have to either use stricter social distancing protocols while at locations outside of school, or take these meetings virtually.
The performance arts clubs have had to adapt the most significantly to new protocols. Music-based clubs that utilize wind instruments or voices have had to do a large amount of adapting because projecting wind is a huge safety risk during COVID. During the warmer months, choral students and students playing wind instruments could practice outside, 10 feet apart, with bell covers on the ends of instruments to prevent the spreading of germs. Now that it has become colder and practices are forced to move inside, new personal protective equipment has been purchased and will be in effect for indoor practices. Mr. Stingle has also purchased new, more easily breathable masks for indoor choir practices. Performances have also had to change. For example, the drama club just put on their fall performances, which were live-streamed via Youtube in order to limit audience size. Other concert ideas include concerts by cohort and outdoor concerts in order to limit the number of people in a room together.
Although every club has had to make changes to their usual routine, it is still exciting that we have retained a sense of normalcy in the school year, and that students are still able to engage in some of the aspects of a school community. Even if much is still up in the air and things are likely going to change as we progress further into the school year, keeping extracurriculars in the school environment is beneficial to student well-being and happiness, no matter what form the club takes to adapt.
Leave a Comment
About the Contributor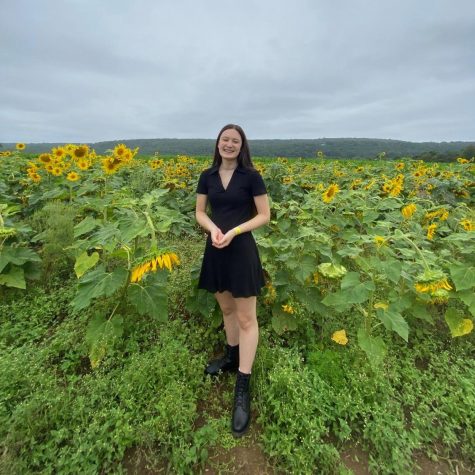 Evelyn Oravez, Editor-in-Chief
Evelyn is a junior and she is excited to be writing for The Paw this year as a Journalism II student and one of The Paw's editors-in-chief. This year she...