The Stage Is Set For the 2021 National Championship
Two teams punched their tickets to the College Football National Championship and surprisingly it is not another Alabama/Clemson matchup. After beating Notre Dame 31-14 in the Rose Bowl, Nick Saban and the Tide have earned their way to their sixth Championship in the CFP era. The Buckeyes took on Clemson in the Allstate Sugar Bowl, a rematch from the semifinals last year and dominated the Tigers 49-28.
First seed Alabama took on fourth seeded Notre Dame. Notre Dame has not seen much favor in the playoffs and New Years 6 bowls, coming into the game they had a 0-5 record. Alabama is a college football dynasty, making the national championship every year they have been in the playoffs. The Tide came out strong in the first quarter out scoring Notre Dame 14-0. The Irish bounced back in the second quarter and scored but Alabama answered back. Mac Jones and Devonta Smith both proved their Heisman finalist status. Jones threw for 297 yards and completed 25 of 30 passes. Jones also threw four touchdown passes, three of them connecting with Devonta Smith. Smith had seven receptions for 130 yards. The Alabama defense did a great job applying pressure to Irish quarterback Ian Book. Book threw 229 yards with a 69.2% completion rate, no touchdowns and one interception. Alabama keeps their undefeated season going, beating Notre Dame 31-14. Alabama continues to show dominance in college football and continues their national championship streak.
Coming back for revenge the Ohio State Buckeyes took on the Clemson Tigers for the second year in a row. Ohio State quarterback Justin Fields suffered a hit from a defender's helmet to his rib but his toughness showed through when he came back in after one play and threw for a touchdown to give them a 35-14 lead. Fields didn't let his injury get in the way and threw for 385 yards and 6 touchdowns to secure the win. Clemson quarterback Trevor Lawrence threw for 400 yards and 2 touchdowns as well as rushing for one of his own but he did have 3 costly fumbles. When the two teams met last season, Ohio State lost 29-26 on an interception in the endzone that was run back for a touchdown by the Tiger defense. The score of that game was used as motivation for the Buckeyes. It was posted in the locker room and in the weight room. They were given the opportunity to avenge their loss after having a 6-0 record, winning a Big Ten championship and ultimately finding themselves in the playoff. After the game head coach Ryan Day said to ESPN "A lot of guys left that field feeling like they let one get away, in life, you don't typically get an opportunity to get a second chance, but you can't miss the second time. So I don't know what we're more excited about, the fact that we have a chance to play for a national championship or the fact that we avenged that loss." This year's game ended in similar fashion with Lawrence throwing an interception in the endzone with a little over a minute to go that was brought out to the Ohio State 35.
My prediction for the 2021 National Champion is the Alabama Crimson Tide. Alabama has speed, athleticism and raw talent. The three headed monster on their offense with Mac Jones at quarterback, Heisman winning running back Devonta Smith and wide receiver Najee Harris is near impossible to defend. The 'Bama offense is as good as it gets, next to some of the defenses they played, they look just as good as a professional squad. Not only do they have an automatic offense but an electric defense, their defense averages three sacks per game and the D-Line works hard in the trenches. While Ohio State made an impressive show against Clemson we haven't seen much out of them. Having only played five games in the regular season with one against AP top 25 opponents. Justin Fields can bring the Buckeyes to a win with his legs and his arms but in the head to head QB matchup Mac Jones has the weapons around him and consistency that Fields lacks.
The 2021 National Championship will be played at Hard Rock Stadium in Miami Gardens, FL on January 11 at 8ET on ESPN.
Leave a Comment
About the Contributor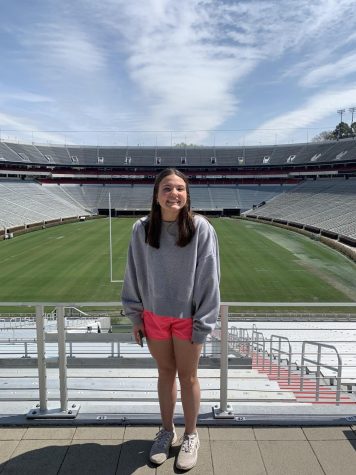 Lizzie Rubright, Sports Editor
Lizzie is a senior and in her third and final year writing for The Paw. Lizzie loves all things sports: watching them, playing them and especially writing...