California Air Quality Regulations Lifted Due to COVID Deaths
On Sunday, January 17th, the South Coast Air management district in California announced an executive order temporarily suspending limits on cremations. Air quality regulators have lifted these limits in Los Angeles County due to soaring death rates causing a significant lack of storage space for those who have passed away from the Coronavirus.  
The lift comes as the Los Angeles Coroner's Office and L.A County Department of Public Health has seen unmanageable amounts of dead bodies. More than 2,700 dead bodies have been stored at the hospitals and coroner's offices as of January 15th. According to NewsWeek, Los Angeles County Coronavirus cases have surpassed one million, including over 13,000 deaths.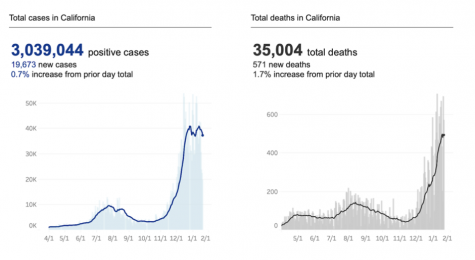 As of January 21, 2021, the following graphs depict the statistics for Coronavirus cases and deaths just within the state of California alone. The graphs indicated spikes in both cases and deaths each day. (COVID.19.CA)

Although many crematoriums in the area have the potential to help solve the issue, air quality regulations in California prevent such institutions from performing too many cremations to avoid potentially inflicting substantial damage to the environment. The toxic mercury emissions released during cremations have kept environmental and air quality regulations routinely enforced to support environmental health. However, the Coroner's Office and the Department of Public Health have made strong claims about the immense backlog of patients posing an even greater risk to Public Health. 
The environmental restrictions have since been lifted at the request of the Coroner's Office and the Department of Public Health. Although the order is temporary, it will be in effect for at least ten days.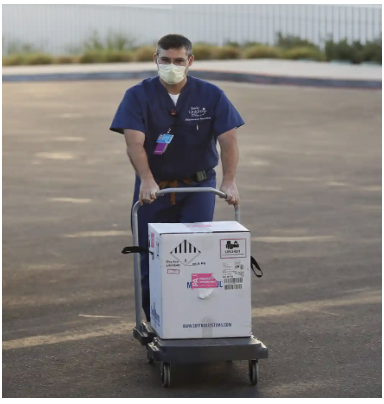 Doctor transporting Coronavirus vaccines to San Diego, California as the state continues with vaccine rollout. (The Guardian) 
As California continues to await for greater vaccine rollout within the state, the mass number of Coronavirus cases and deaths continues to impact the citizens of California. With New Year's festivities and lasting effects from the holidays, the Coronavirus rates are expected to grow even further within many states, including California. In order to help manage the drastic buildup of patients and dead bodies, the California National Guard has also assisted hospitals by storing bodies in refrigerated trucks.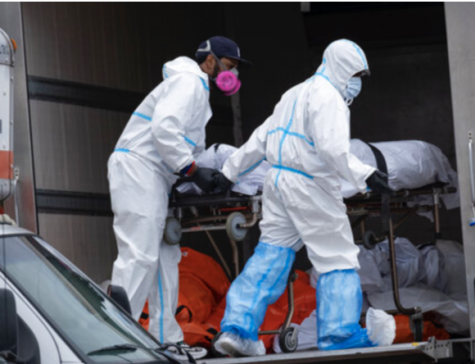 New Yorker's witnessed similar conditions back in April; hospitals overflowed with bodies to where they needed to be stored in trucks. The workers depicted are seen moving bodies to a refrigerated truck on their way to a nearby funeral home in Brooklyn, NY. (WDUN)

As these environmental restrictions are lifted, California's sacrificial move exposing citizens to worse air quality and threatening environmental conditions serves as a dramatic reminder of the cost of the growing Coronavirus numbers. With states such as California moving toward lifting restrictions for the sake of an overwhelming number of dead bodies, this risky move should inspire citizens of America to do everything they can to stay safe by wearing a mask and social distancing.
Leave a Comment
About the Contributor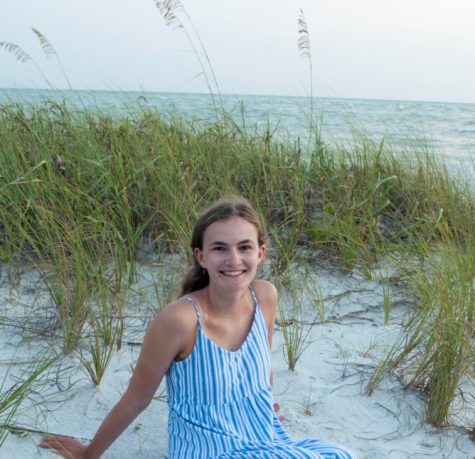 Hannah Gould, Co Editor-in-Chief
Hannah is currently a senior at WMC and Co-Editor-in-Chief of The Paw. When she is not writing articles, Hannah is working on creating The Paw's print...