Super Bowl LV: The Seasoned Vet vs. The Upincoming
The Tampa Bay Buccaneers and the Kansas City Chiefs will face off in Super Bowl 55. The Buccaneers secured their spot by beating Aaron Rodgers and the Packers in the National Football Conference (NFC) championship game 31-26. In the American Football Conference (AFC) the Chiefs took down the Buffalo Bills 38-24 to punch a ticket to their second Super Bowl in a row.
The NFC is full of veteran quarterbacks and among them two of the best, Tom Brady and Aaron Rodgers. Rodgers and Brady both proved why they are considered the G.O.A.Ts (greatest of all time) passing for 346 and 280 yards respectively. The game was lost for Green Bay off of poor decision making by head coach Matt LaFleur. Late in the game the Packers faced a 4th and goal but didn't go for it and decided to kick a field goal. Aaron Rodgers has stats that speak for themselves but with a chance to take the lead they played it safe and relied on their defense to stop Tom Brady. There was no stopping him from getting a first down and ending the game. This win over Green Bay brings Tampa Bay to only their second Super Bowl appearance. With Super Bowl LV being held at Raymond James Stadium, the Buccaneers will be the only team to ever play for a championship in their home stadium.
Patrick Mahomes and the Chiefs know how to have a comeback win, being down 9-0 at the end of the first quarter then going on a 21-3 run in the second quarter to take the lead. Throwing for 325 yards Mahomes hit tight end Travis Kelce and wide receiver Tyreek Hill on 22 of 28 completions. The pair picked up 290 yards receiving. At the end of the game a Bills comeback looked promising with a recovered onside kick but couldn't get a touchdown so they had to settle for a field goal. This was the first onside kick recovery in the playoffs since 2015. Scoring four field goals we have seen yet again that kicking field goals does not win football games against Pat Mahomes. The rush game just wasn't there for the Bills with quarterback Josh Allen being their leading rusher. Kansas City is going to make their second consecutive Super Bowl appearance with a chance to win it back to back.
The story of the 2021 Super Bowl is the quarterbacks. Tom Brady is a six-time champion and has been in the league for 20 years. Patrick Mahomes has only been an NFL quarterback for three years and already has a Super Bowl championship under his belt. While the back to back is a possibility for the Chiefs they will be without both their starting left and right tackles due to injury. The edge rush for the Buccaneers is one of the best in the league, in the NFC championship they sacked Aaron Rodgers five times when he had only been sacked 20 times in their 17 previous games. Kansas City and Tampa Bay have met once already during the regular season. The Chiefs took that one 27-24 with standout performances from Mahomes and Tyreek Hill. With a win over Brady during Super Bowl LV, Mahomes can join Eli Manning and Nick Foles, the only quarterbacks who have beaten him in any of his nine super bowl appearances. But, a championship in Tampa Bay will really prove that Tom Brady can be successful in any organization and for any coach because he is a great football player. Can Patrick Mahomes begin his dethroning of Brady with a super bowl win?
Super Bowl LV will be played on February 7, 2021 at Raymond James Stadium in Tampa, FL and can be watched on CBS at 6:30 ET.
Leave a Comment
About the Contributor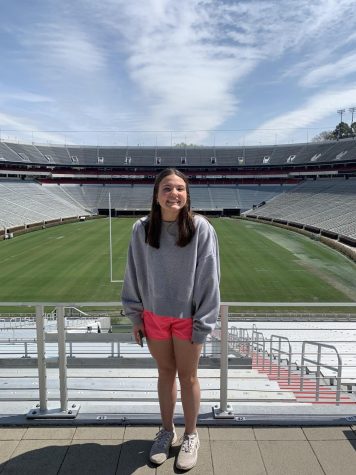 Lizzie Rubright, Sports Editor
Lizzie is a senior and in her third and final year writing for The Paw. Lizzie loves all things sports: watching them, playing them and especially writing...