Thank you Drew: Saints QB Announces Retirement After 20 Years
After 20 seasons in the NFL, New Orleans Saints franchise quarterback Drew Brees announced his retirement from the league on Sunday, March 14, at the age of 42. He told fans his news with a video of his kids on Instagram.
Brees retires with the all-time NFL pass yard record (80,358) and second in touchdown passes (571) as well as completion percentage (67.7%). He holds many other impressive records such as being the only player with multiple 5,000+ yard seasons (5), Most seasons leading the NFL in passing yards (7), Most consecutive games with a passing TD (54), and most career games with 300+ passing yards (123).
Brees finished his career with an overall record of 172-114 as a starting QB and 142-86 with the Saints. In the postseason Brees was 9-9 with all nine of his wins coming with the Saints and eight of his losses.
After being drafted in the second round in 2001 by the San Diego Chargers, Drew Brees spent his first five seasons with the Chargers, but after a serious shoulder injury in 2005 they suspected that his recovery time would be too long, so they released Brees. He was then picked up by the Saints and their new head coach Sean Payton in 2006. "When I was hired by the Saints as head coach in 2006, the very first goal was to establish a functional and winning culture. In doing so, it was vital to know what we were looking for in a player, talent, work ethic, makeup, intelligence and leadership, all qualities we found in Drew" Payton said in a statement.
The pair's first year in the Big Easy they led the Saints to an NFC championship and just three years later won the 2009 Super Bowl, with Brees being named game MVP. That would be their first and only Super Bowl with Brees would bring to New Orleans (NOLA). He led his team to four straight NFC South championships over the past four years.
Gayle Benson, the owner of the New Orleans Saints, said in a statement "Drew is so much more valuable than all the records, awards and accolades that he amassed through a 15-year career with the New Orleans Saints and 20-year NFL playing career, one of the greatest in our league's history. When Drew first joined the Saints in 2006, my late husband, Tom, was determined to deliver a team to New Orleans that would win a championship on the field and become a leader in the community following the setbacks that Hurricane Katrina dealt our region… He played the game and played the position at its highest level, but just as important, represented our organization and region in the highest fashion. We will forever be grateful to him…"
While all of his records and successes are impressive what is most impressive is that he turned around the Saints franchise. Before the Brees Era there was not much of a winning culture in NOLA. in 2005 they had a record of 3-13 and were at the bottom of their division but when Drew Brees took over in 2006 he led them to a 12-4 record and an NFC south championship.
Brees wrote a letter expressing his gratitude to his fans, the Saints front office, his teammates and coaches and his family and friends. "To the City of New Orleans and the Who Dat Nation. Words cannot express the love and appreciation I have for you. From the moment I stepped foot into the city of New Orleans, I could feel your spirit… you embraced me as your QB, and my family as your own. You made me strive to be the best I could be for you . When I was knocked down, you picked me back up. It was your passion, emotion, and resilience that made us all believe. I will spend the rest of my life attempting to five back to you what you have given to me." Brees thanked his coaches for all the work they put in behind the scenes, staying up late to fine tune a 3rd down play or redzone play that could win them a game. He gave special thanks to the people behind the scenes such as the equipment staff, athletic trainers and other "unsung heroes" for their constant dedication and sacrifice to the organization.
Brees ends the letter by providing advice to "all the young dreamers," giving them three pieces of advice, to "Always possess a growth mindset!", "The Power of Play" and to "Focus on Winning at the Game of Life".
In his retirement Brees will be taking his newly found free time and spending it with his four children, Baylen, Bowen, Callen and Rylen. He also announced that he would be remaining involved in the NFL by becoming an analyst for NBC. The impact Brees has had on the Saints franchise will never be forgotten by any NFL fan.
Leave a Comment
About the Contributor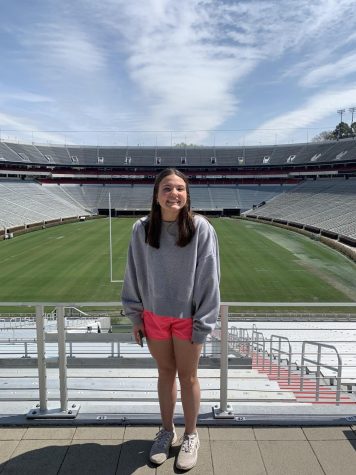 Lizzie Rubright, Sports Editor
Lizzie is a senior and in her third and final year writing for The Paw. Lizzie loves all things sports: watching them, playing them and especially writing...