Boulder, Colorado Mass Shooting: What We Know so Far?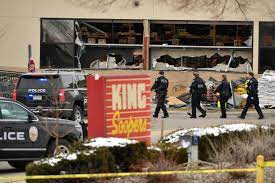 What Happened?
On Monday March 22nd ten people were killed when a gunman attacked a King Soopers supermarket in Boulder, Colorado. Around 2:30 p.m. MT police were called over to the supermarket due to reports of gunfire. A man wearing a tactical vest opened fire in the parking lot and inside the store.
According to the CNN article Here is what we know about the mass shooting in Boulder, Colorado, that left 10 dead "Police received several 911 calls… one caller told dispatchers someone shot out a car window and chased a man. Other callers said the shooter was wearing 'an armored vest.'' Store employees said that while watching through a store window they saw an elderly man get shot in the parking lot. According to the affidavit,"The suspect then walked up to the elderly man, stood over him and shot him multiple additional times." Another witness told police that after firing in the parking lot, the gunman went inside the store and fired. Officers also radioed that they were in a gunfight with the gunman. It was reported that they were being fired at until at least 3:21 p.m. local time.
Who Were the Victims?
The nine people who were killed and were identified include: Denny Strong, Neven Stanisic, Rikki Olds, Tralona Bartkowiak, Suzanne Fountain, Teri Leiker, Kevin Mahoney, Lynn Murray, and Jody Waters. Eric Talley, with the boulder police department, who responded to all the 911 calls, was also among the victims.
Eric Talley was an 11-year veteran of the Boulder Police Department and described as "heroic" by Chief Maris Herold. Officer Talley joined the police department at 40 as a second career. According to the New York Times article Boulder Victims: A Police Officer, Grocery Workers, the Son of Refugees, Talley's father said "The world lost a great soul … He was a devoted father — seven kids. The youngest was 7 and the oldest was 20, and his family was the joy of his life … He wanted to serve people."
Another victim, Rikki Olds was a 25-year-old front-end manager at King Soopers. She had worked there for about eight years. Her uncle described Ms. Olds as an energetic, bubbly and "happy-go-lucky" young woman who "brought life to the family." Despite much hardship in her life she persevered and became a strong and independent woman who enjoyed the outdoors.
Lynn Murray was a 62-year-old former photo director and mother of two, who enjoyed helping others. After retirement she started filling Instacart orders, which is why she was at the grocery store on Monday. Ms. Murray is survived by her husband John Mackenzie and two children Olivia and Pierce. Her husband, Mr. Mackenzie, said, "She was an amazing woman, probably the kindest person I've ever known."
Tralona Lynn "Lonna" Bartkowiak, 49, managed a clothing store in Boulder. She moved to Boulder in order to run said clothing store, which had been started by her sister. Michael Bartkowiak, Ms. Bartkowiak's younger brother, described his sister as "an amazing person, just a beam of light." He later said, "[Ms. Bartkowiak] was just great. No, she is great. Still is."
Teri Leiker, 51, had worked at King Soopers for about 30 years. Alex Knutson, a close friend said, "The fact that this happened is just devastating, especially somewhere where she goes to work every day." The two had met through a program called Best Buddies that connects college students and members of the community with intellectual and developmental disabilities.
Kevin Mahoney, 61, was the former chief operating officer for Stonebridge Companies, a hospitality development and management company. He was also a father and soon to be grandfather, according to his daughter, Erika Mahoney. On Twitter she stated, "I am heartbroken to announce that my Dad, my hero, Kevin Mahoney, was killed in the King Soopers shooting. My dad represents all things Love. I'm so thankful he could walk me down the aisle last summer. I am now pregnant. I know he wants me to be strong for his granddaughter. "
Denny Stong, 20, had worked at King Soopers for several years. He was a dirt biker who dreamed of becoming a pilot. He worked extra shifts at King Soopers to save money for plane fuel as he worked toward getting his pilot's license. Laura Spicer, mother of Mr. Strong's best friend, said, "Denny was a confident and really generous person who always met you with a smile and had really high aspirations for his life."
Suzanne L. Fountain, 59, was an actress in the early 1990s and had recently found her new creative outlet in a national public radio show produced in Boulder. She worked as a financial adviser at a Boulder health center, but in 2018 she started a business to teach people recently turned 65 how to apply for Medicare. According to Boulder Victims: A Police Officer, Grocery Workers, the Son of Refugees, "Those who knew her described her as joyous, fun, bright and warm." She was also known in the community for her gardening skills and stream of tomatoes, lettuce and basil.
Neven Stanisic, 23, fixed coffee machines at the Starbucks inside the supermarket. As he was leaving, he was gunned down in the parking lot. He was the son of Serbian refugees who had fled the 1990s, however, Mr. Stanisic was born in the United States. Local Priest, Father Pertrovic, said he was the shining hope "of a family who, like many refugees, had come with basically nothing but their lives, to start a new life here." He later said that the family "fled war to save their lives, and to be struck by such a terrible tragedy — the loss is beyond comprehension."
Jody Waters, 65, owned clothing stores in Boulder and Denver for over 23 years. In a statement made by her family they said, "For those of you who didn't get the opportunity to meet Jody Waters, you only know her as the victim of the worst kind of evil. To us, she was Mom, she was Grandma, and she was a friend to everyone she met."
Who is the Suspect?
On Tuesday March 23rd Ahmad Al Aliwi Alissa, 21, was identified as the gunman who opened fire at King Soopers, killing 10 people. The name of the suspect in custody was released during a press conference on Tuesday, held by Boulder Police Chief Maris Herold. However, he did not disclose the motive behind Monday's mass shooting. According to an article in CNN, "the weapon used in the attack was an AR-15-style pistol modified with an arm brace." During a search of the suspect's home other weapons were found. Authorities believe Alissa was the only person involved in the attack. The article, Here's what we know about the Boulder, Colorado, mass shooting suspect stated that "[Alissa's] first court appearance is scheduled for 8:15 a.m. (10:15 a.m. ET) Thursday, according to Colorado Judicial Branch online records." Accoridng this the arrest warrent, Alissa was charged with 10 counts of first-degree murder and one charge of attempted murder. The warrant also stated that the suspect was armed with an assault rifle or "black AR-15" and wearing a "tactical" or "armored" vest. While the shooter used a Ruger AR-556 pistol, he was also armed with a 9 mm handgun. Investigators determined that Alissa had bought a Ruger AR556 pistol on March 16. Alissa was not a subject of any previous FBI investigations and it appears nothing in the federal system would have prevented Alissa from buying firearms.
Leave a Comment
About the Contributor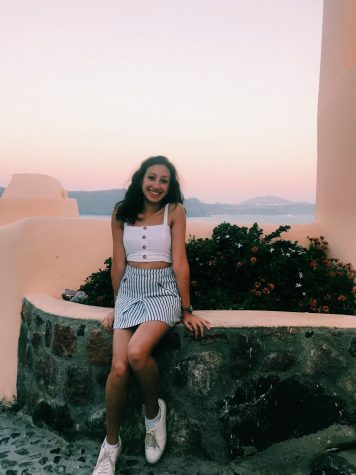 Sarah Sehgal, Staff Writer
Sarah Sehgal's currently a Senior at West Morris Central High School. This is her second year writing for The Paw and she is very excited about it. Sarah...