Mid-Year Music Department Shenanigans
If you have heard them during gym class or amongst the after-school sports in the evening, you know that a pandemic can't stop West Morris Central musicians from making music! Lately, the West Morris Central band, choir, and orchestra have been as active in the community as ever, just in different ways. 
With the more recent shift to two cohorts came larger class sizes, which is especially beneficial to musicians. Larger ensembles allow for more instrument diversity, a stronger sound, and more confidence across the board. 
The band has definitely had to make the most changes in order to keep everybody safe while making music. Brass players use bell covers with MERV-16 filters and woodwind players use Woodwind Bags in order to prevent the airborne spread of particles. The use of woodwind bags especially have been a challenge. They cover the entire instrument and the players' fingers, making it more difficult to play. They have relocated classes to the auditorium to accommodate for air ventilation and spacing requirements. The auditorium has much more room than the band room, and players can be spaced 12 feet apart! With the increase in class size, Mr. Gibbons has been able to broaden the band's repertoire.
Band Director Mr. Gibbons is "incredibly proud of our students' resilience and positivity during this unusual year" and says that he "can't speak highly enough of how flexible, patient, and focused our students have been."
The choir is still holding classes in the choir room as proper ventilation is possible there. Choir Director Mr. Stingle remarked that with the increase in class sizes, they "can hear each other singing now!" When it comes to activities like making music where having people together is crucial to the art, even a slight increase in participants makes a world of difference.
Despite having to sing with all these obstacles such as being spread out and difficulty hearing everybody, senior choir member Gabriella Nowak reflected that she has "been so happy to to be able to sing in some way this year because making music brings me and so many others so much hope." 
Focusing on this theme of hope, some of the choir's repertoire this year includes "Give Us Hope" by Jim Papoulis, "Tshotsholoza" (in Ndebele, meaning "to push forward") adapted by Jefferey L. Ames, and "I Hope You Dance" by Tia Sillers and Mark D. Sanders. Once again, even in the midst of a pandemic, Mr. Stingle has managed to put curate the perfect variety of music to keep both choir members and those who listen optimistic.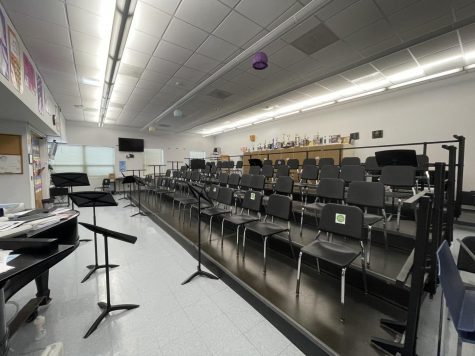 While WMC was split into 3 cohorts, Orchestra Director Ms. Meckler tackled the challenge of smaller classes by choosing to work on smaller ensemble pieces rather than larger-ensemble style ones that often had gaps where missing instrumentation should be. With 2 cohorts, there are still some gaps, but they have been able to accomplish a larger sound and expand their repertoire. 
Ms. Meckler shared that she has shifted the focus of orchestra classes to accommodate the stresses of living through a global pandemic by "leaning more heavily into the non-music stuff that [these ensembles] offer, which is that feeling of togetherness, supporting each other, and escapism into the music itself." The last thing that anybody needs right now is added stress, so she has learned to balance the work side of making music with the real reason that musicians come together to make this music, which is a love for it.
The after school activities are still going on, too! Tuesday Night Groups and WMC's acapella groups have been rehearsing regularly each week, as well as Jazz Band and West Morris Regional Symphony.
Tuesday Night Groups consists of two separate ensembles: Women's Ensemble and Mixed Choir. Women's Ensemble has been working on new pieces while the Mixed Choir is working on some new pieces as well as two pieces brought back from last year. They are currently planning to either try and record a performance or plan an activity in May where they can perform with the acapella groups.
Jazz Band, a 17-piece big band full of advanced and passionate musicians, meets weekly on Wednesdays. Because of restrictions on playing time for brass and woodwinds, much of Jazz Band rehearsals have been sectional work. They are a high-powered ensemble and have been making the best of their time together.
WMR Symphony, an after-school ensemble that includes both Central and Mendham students, has had an especially tricky time managing rehearsals. Symphony Director Ms. Meckler currently has to travel in-between schools and runs a Google Meet for musicians for the musicians of the school that she is not physically in to listen and play-along. 
The Symphony is also participating in a project that Ms. Meckler co-created with her friend in Italy who is an art teacher. This project, called The Kandinsky Project, is "essentially bringing to life the writings of the visual artist [Wasily Kandinsky]" who connected sound and color. Ms. Meckler decided to do this activity with the Symphony to give them an extra opportunity to be creative, and also because Kandinsky assigned colors to wind, brass, percussion, and string instrument sounds, all of which are instruments in the Symphony. The final project will be an interactive website where both musicians' recordings and the art students' work will be presented!
At this point in time, the question about concerts is very tentative, with the answer leaning towards a no — at least, in the traditional sense. Towards the end of the last school-year, for instance, Ms. Meckler put together something she called a virtual play-together. This was a compilation of students' individual audio recordings of certain pieces stitched together on Garageband to mimic playing together, even though the musicians hadn't seen each other in person for months. This, however, took a significant amount of time and effort and may not be the best answer to the concert question this school-year. 
"The unfortunate thing about concerts, as even the professional world has learned, is that it's just the opposite of COVID safety in so many ways, shapes, and forms," Ms. Meckler remarked.
Just like the rest of the year, it is likely that whatever concludes the year musically will be something we aren't used to. But, there is still a possibility for some sort of creative end-of-year celebration to appreciate what WMC musicians have accomplished over the past year!
Leave a Comment
About the Contributor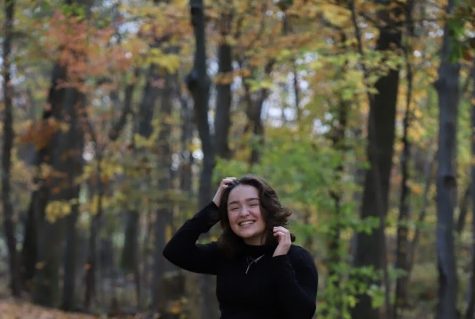 Sarah Garcia, Staff Writer
Sarah Garcia is a senior at West Morris Central, and this is her second year with The Paw. In her free time, she loves to make and listen to music. She...