The 2021 Met Gala – Celebrating Over 200 Years of American Fashion
Fashion's biggest night features a star-spangled theme.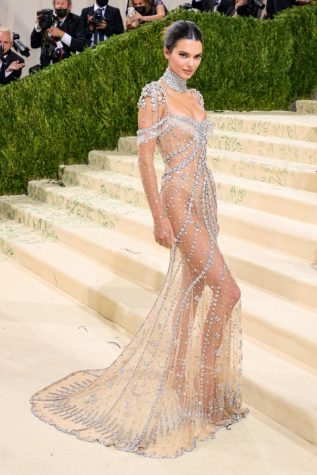 One of pop culture's most prestigious and fashionable events occurred this week, the 48th annual Met Gala. Marked by its A-list attendees and oft-exuberant dress code, the Met Gala is a closely watched event whose invitations are sought after even in the celebrity world. Created as a funding event for the Met's Costume Institute, it also marks the opening of the annual Met fashion exhibition. This year, the theme was two-part. The first Met Gala, "In America: A Lexicon of Fashion" took place on September 13th, 2021, and is slated to open on the 18th. The second Met Gala, "In America: An Anthology of Fashion" will open on May 5th, 2022, and be celebrated by the 49th Gala on May 2nd. 
Galas in the past have ranged from celebrations of important designers (Rei Kawakubo: Art of the In-Between and Charles James: Beyond Fashion were the exhibitions from 2017 and 2014, respectively) to more abstract themes (2013's Punk: Chaos to Couture or 2019's Camp: Notes on Fashion.) Each Gala comes with its own dress code to match the exhibit's theme and it is often interpreted in vastly different ways by attendees. This year's dress code was "American Independence," which goes hand-in-hand with the exhibition on display. "In America" was in honor of what Andrew Bolton (head of the Met's Costume Institute) calls a fashion Renaissance. Bolton told Vogue that he feels inspired by "American designers' responses to the social and political climate, particularly around issues of body inclusivity and gender fluidity." America is becoming a more diverse landscape, and modern American fashion reflects this, which is what Bolton attempts to show in this exhibition. The exhibit showcases a broad range of diverse designers, and puts on display the true scope of American fashion, attempting to contextualize the nuances of the industry.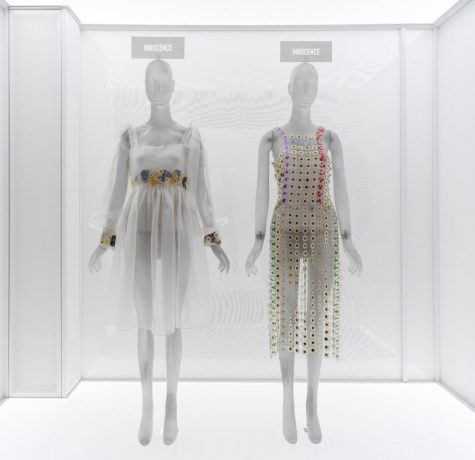 For Bolton's framework, he turned to the 1986 book Home: A Short History of an Idea by Canadian architect Witold Rybczynski. This book focuses not on the functionality of rooms in a home but the emotions and qualities of each. Like the book, Bolton designed the exhibit to function as an "imaginary house." Each room of the exhibit represents an emotion that is present in American fashion, and so pieces are paired not by their function or fabric, but by the emotion that they invoke in the viewer. The exhibit also focuses explicitly on diversity. A Prabal Gurung sash from 2020 proudly asking "Who gets to be American?" in bold red, white, and blue lettering greets visitors near the entrance of the exhibit. Alongside American fashion staples like Ralph Lauren and Calvin Klein hang the clothes of a new generation of designers bringing their youth and advocacy to the forefront of modern fashion. 
This notion of meshing past and present is not just visible in the exhibit itself, The Gala was also a key example of this fusion. Attendees ranged in their outfits from recreations of famous American looks to celebrations of the diverse melting pot of American culture and society. In a notable change of pace (and the first time since 2005), Vogue editor-in-chief Anna Wintour was not a chair of the Gala this year. Instead, she handed off the role to what the New York Times described as a "Gen Z dream team." All four co-chairs are standouts in not only their own fields but also fashion as a whole: 25-year-old actor Timothee Chalamet, star of Call Me By Your Name and Dune; Amanda Gorman, the 23-year-old poet whose inauguration poem "The Hill We Climb" became an instant bestseller; 19-year-old Billie Eilish, the break-out singer-songwriter whose debut album was one of the most popular of 2019; and Naomi Osaka, a 23-year-old tennis star who is currently the 5th ranked female tennis player in the world. Although the event still featured Wintour, Tom Ford, and Instagram's Adam Mosseri as honorary chairs, this year was symbolic as a new generation of celebrities and designers took the stage.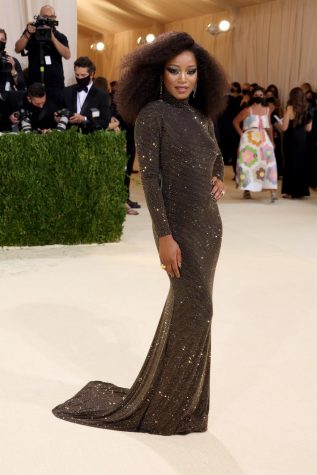 Many of this year's Gala attendees interpreted "In America" by recreating iconic American icons. For example, Billie Eilish was dressed in a pink Oscar de la Renta gown in an ode to Marilyn Monroe. The artist is known for her activism and tweeted that she only wore the gown after Oscar de la Renta agreed to go fur-free in the future. After the red carpet, she switched into a more streamlined de la Renta gown, this time a deep red in honor of Hollywood legend Grace Kelly. In a similar fashion, fellow co-chair Timothee Chalamet told Keke Palmer that his outfit was an "homage to Chuck Taylor." He dressed in a considerably casual manner for the Gala, wearing a Haider Ackermann tuxedo jacket over a Rick Owens turtleneck, a pair of sweatpants, and Chuck Taylors. Almost the entire ensemble was white aside from his black collar. Although his outfit was more casual than many other attendees, it is also representative of the way that casual streetwear has taken over some aspects of modern American fashion. Other celebrities who took this route included actress Gemma Chan and makeup artist Nikkie de Jager. Chan was dressed in homage to Anna May Wong, one of the first Chinese-American Hollywood actresses, who paved the way for actresses like Chan to truly represent their heritage on the silver screen. De Jager, a trans makeup influencer, was dressed in a turquoise tulle dress emblazoned with the phrase "Pay It No Mind." This phrase was the meaning behind trans activist Marsha P. Johnson's middle initial, one of the prominent figures in the early gay rights movement and Stonewall riots.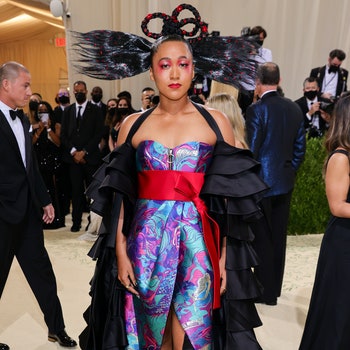 Other celebrities dressed in honor of the melting pot of diversity that is modern America, truly representing the "fashion Renaissance" that Bolton envisioned. Co-chair Naomi Osaka, of Haitian and Japanese descent, wore a Louis Vuitton gown that paid tribute to both of these nations. Her koi-fish emblazoned dress, designed in part by her sister Mari, also featured a traditional Japanese obi belt and was accompanied by a hairstyle which, according to her stylist, drew on "Haitian school girl style and [the] Onna-Musha warriors of Japan." She attempted (and succeeded) to mesh together her biracial heritage into a joyous celebration of an outfit. Other attendees with similar outfits included rapper Saweetie, whose Swarovski-encrusted red gown featured a train emblazoned with both the Filipino and Black-American flag, and Spanish singer Rosalía who wore a red Rick Owens outfit, complete with dress, cape, and boots, created in honor of her Spanish flamenco background. Other attendees displayed the androgyny and fluidity of modern fashion in terms of gender. Comedian Pete Davidson and singer-songwriter Troye Sivan both wore dresses down the red carpet, and the guest list included a wide range of celebrity drag queens. 
A final genre of outfits present at the Gala were celebrations of American styles, values, and designers. A number of attendees, including Korean rapper CL and actress Lupita Nyong'o, were dressed in denim, while singer J.Lo was dressed in what can only be described as a cowboy-inspired outfit, complete with hat, fur cape, and Western-inspired chunky jewelry. Other attendees focused more on social issues in the US, such as Representative Alexandra Ocasio-Cortez's "Tax the Rich" gown or Representative Carolyn Maloney's dress calling for the implementation of the Equal Rights Amendment. Many attendees simply referred back to traditional American ideas. Co-chair Amanda Gorman was dressed in a deep blue gown styled after the Statue of Liberty, soccer player and LGBT activist Megan Rapinoe came dressed in a star-spangled suit, and actress Lili Reinhart's pink gown was decorated with the state flower of all 50 states. Finally, a large number of attendees simply came dressed in American designers like honorary chair Tom Ford, Vera Wang, and Collina Strada. However, as Olivia Cigliano writes for Carine Roitfield's Fashion Book, some were confused by the "lack of hallmark American houses present." When America has had so many stand-out designers, collections, and aesthetics throughout the years, it was confusing why many truly representative pieces were not seen on the red carpet.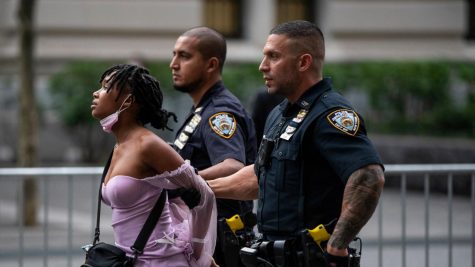 Another critique of the Gala, aside from the usual criticism of specific outfits and designers, involved the dichotomy between those inside and outside the Met. While celebrities and politicians were enjoying a red carpet, cocktail hour, and luxurious night overall, Black Lives Matter protestors were just outside, protesting for justice and, specifically, to reallocate some of the NYPD's 11 billion dollar budget to struggling Black and brown communities. At least 9 protestors were arrested that night, while some of the few individuals who have influence over this area such as NYC Mayor Bill de Blasio and New York Representative AOC were celebrating just inside. For this reason, as well as the lack of Indigenous designers present in an American-themed exhibit, many left-wing advocates were critical of this year's Gala.
One great thing about this year's Gala, however, is its sister event next May. Celebrities are given a chance to revisit the theme and reinvent their looks for next year, in a celebration that will hopefully feature even more of the diversity of American fashion. 
Leave a Comment
About the Contributor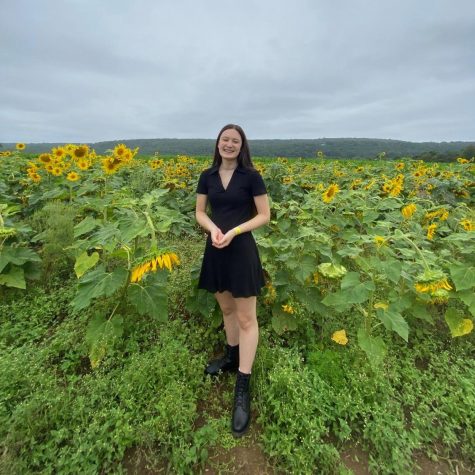 Evelyn Oravez, Editor-in-Chief
Evelyn is a junior and she is excited to be writing for The Paw this year as a Journalism II student and one of The Paw's editors-in-chief. This year she...