The Return of College Football
The fans are back, the tradition is back, the energy is back; college football is back. Nebraska and Illinois kicked it off on Thursday August 26 but the bulk of week 1 was played on August 28. Week one started strong with matchups between 19 Penn State vs. 12 Wisconsin, 1 Alabama vs. 14 Miami (FL), 5 Georgia vs. 3 Clemson. With these big games came big upsets: Penn State topped Wisconsin at Camp Randall, Georgia took down Clemson, unranked Virginia Tech beat 10 UNC. We saw good teams show up after a weird 2020 season, good teams underperform, and a whole new set of rankings for week 2.
But any college football fan knows that it's more than just a game; it's the atmosphere. Fans didn't get to have that last year due to the COVID-19 pandemic. This year stadiums will be packed full of fans again and both players and coaches are excited to have them back; "I'm really excited, man, just to get back in The Swamp finally with 90,000 screaming out there…" Zach Carter Florida defensive end said to AP's Ralph Russo. "… we're excited about everything being back to normal from that standpoint, having the stands back and having Folsom Field back and rocking," University of Colorado head coach Karl Dorrell said. "I think our players will be inspired on both sides of the ball from that, but it definitely helps the defense, there's no question."
Not only are venues filled again but the fanfare and pageantry that come in college football is back. Marching band performances, military flyovers, singing certain songs and all the tradition that comes along with it. Bryant-Denny Stadium at the University of Alabama was back singing "Dixieland Delight", Camp Randall was jumping around, Penn State hosted a "whiteout" as they have done in years past.
While many things have come back the same, there are new things this season as well. COVID-19 protocols, while still happening, are different, with fans in some stadiums including LSU, Tulane and Oregon required to show proof of vaccinations or a negative COVID test. Another new addition to the madness that is college football is the new Name Image and Likeness (NIL) rules. Up until this offseason collegiate athletes were not able to make money off of themselves. But this July laws were passed that give student athletes this opportunity. Many have already formed partnerships with businesses such as Auburn quarterback Bo Nix who is partnered with Milo's sweet tea located in Alabama. Other athletes have started to create their own merchandise; Graham Mertz, quarterback at Wisconsin; Jordan Bahannon, Iowa guard; and Penn State quarterback Sean Clifford to name a few. 
There is something about college football that's different from the NFL, that is the tradition and the atmosphere. Fans are lucky enough to get to experience the traditions again this season and bring a crazy atmosphere back to the stadium.
Leave a Comment
About the Contributor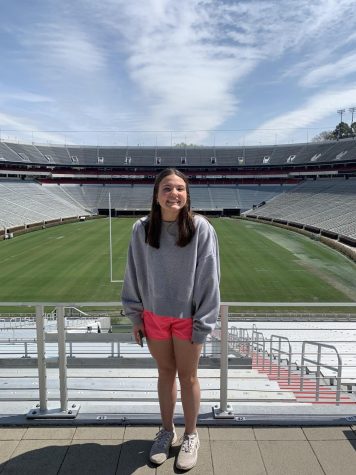 Lizzie Rubright, Sports Editor
Lizzie is a senior and in her third and final year writing for The Paw. Lizzie loves all things sports: watching them, playing them and especially writing...