"Name One Genius That Ain't Crazy," How Kanye West Used Controversy To His Advantage On Donda
After a long time in the industry Kanye has learned that whatever he does that is controversial makes headlines and propels whatever he is working on much more. He has used this tactic either directly or indirectly in the past but, it seems like on his latest project he knew how many headlines he'd make which was a great decision to bring more attention to him and his project. On August 29 which was more than a year after the planned July 2020 release Kanye West released his ninth studio album Donda. The album was named after his late mother who was an extremely big part of his life and music and is referenced across the entire album. The cover of the album was also surprisingly just a black square which was much different than the abstract art that the album originally had. Following in the path of Jesus Is King, Donda is completely clean, which comes with little shock because of how toned down Kanye's antics have been shortly after finding God in his life. Though towards the end of the release of the album Kanye made a bold decision to bring more attention to it which ended up working in the end.
The main issue people have had with Kanye is that both rock singer Marilyn Manson and rapper Dababy were featured on the album itself and were present at his final listening party at Soldier Field in Chicago. People obviously are upset with Kanye because both Manson and Dababy are in extremely big controversies.  Marilyn Manson has been controversial since he made his way to the mainstream media but recently he has been accused of horendous crimes including sexual assault from at least four different women. Dababy has also recently been in hot water with the media because of his show at Rolling Loud where he made comments about HIV and AIDS that people saw as both homophobic and misogynistic. These comments resulted in not only the public being outraged, but with show organizers kicking Dababy off the set. Now most people would think that just bringing them out for the listening party was enough publicity for the album already but being typical Kanye he doubled down and put them in the album. The song they were featured on was Jail pt.2 which was a remix of the first song on the album "Jail" but instead replaced Jay-Z's verse with Dababy's and had Manson's vocals in the background during the chorus.
Though the immediate outrage towards Kanye will be harsh, the effect that it will have on the publicity the album will get is worth much more. Just by adding those two artists more publications will talk about the album even if they don't usually talk about music as main headlines which will give more attention to the rest of his album. What was even smarter about this move from Kanye is that their version isn't even the official "Jail" on the album and is instead the Jay-Z version. He conveniently left it at the bottom of the album which aren't official tracks but are just remixed songs on the albums with new verses. This decision is great for Kanye because most people would recognize that the Jay-Z version is the official and still get massive headlines for a remix. Plus Kanye hasn't been getting canceled long term for putting them on the album but instead the attention went straight back to Manson and Dababy which left Kanye in the clear. This whole event just shows how over time Kanye has learned how to use negative media views and controversy to his advantage and how the saying "any publicity is good publicity" keeps proving itself over and over again.
Leave a Comment
About the Contributor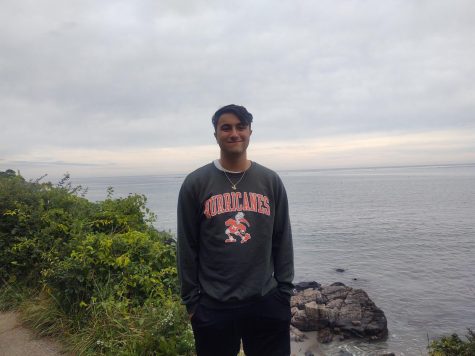 Brendan Granata, Staff Writer
Brendan is a junior here at West Morris Central and this is his first year writing for The Paw. He has a very strong interest in all things sports but...