Gabby Petito: An Internet Star For All the Wrong Reasons
On almost every social media platform, someone is talking about Gabby Petito. Whether they are creating conspiracy theories regarding her case, claiming to feel her spiritual energy, or making her disappearance a part of their own lives, the internet has made #GabbyPetito a trend. Despite the efforts of most posts being to spread awareness, the publicity of social media makes it hard to ignore the fact that many of these influencers are gaining hundreds of likes and followers from taking Petito's case into their own hands. 
Throughout August and into September, 22-year-old Gabby Petito had been documenting her van-life road trip with her fiancé Brian Laundrie. After a few days of being unable to contact her, the Petito family reported Gabby missing on September 11th. Eight days later, her remains were found and it was revealed through her autopsy that she was strangled to death. In the meantime, the internet was in a frenzy, it seemed that everyone with a Tik-Tok account had become a private investigator overnight. 
Doing a quick search of Gabby Petito's name on Tik Tok garners hundreds of accounts dedicated to her memory, one that a majority of users don't personally have with her, as well as a slew of influencers with entire accounts dedicated to updating their followers on the most recent news regarding her case. Extreme examples of these include users such as @kellythemagicalmedium, a woman with a Tik Tok account of 45.7 thousand followers, who claims to have intuitive-psychic-reading abilities. She justifies her posts by claiming that she felt a strong emotional connection to Gabby despite never actually knowing her. Although she has since posted an apology to the Petito family for possibly offending them, her 39+ "readings" on Gabby and Brians's spirits remain posted. Or @jldmorris, whose Tik Tok bio reads, "Follow me for #GabbyPetito case discussion updates! #JusticeForGabby" and whose videos also contain hashtags such as #GabbyPetitoUpdates and #GabbyPetitoTheory. He posts daily news updates on the case.
Rendering Gabby Petito to a hashtag that says so little about her, yet focuses on her tragic death feels distasteful. But what is considered "tasteful" when discussing a young woman strangled to death by her abusive fiance? 
Petito's own family remains active on Twitter, posting remembrance pictures from when she was a child, as well as her mother once directing a tweet to Brian Laundrie saying, "Mama bear is getting angry! Turn yourself in!" Obviously, her parents are not exploiting their own child's brutal murder for internet clout or Twitter followers. They are simply angry and using Twitter as an outlet to focus their anger on, especially after Laundries family offered no assistance to the search of their daughter.
Gabby Petito's family was able to embrace the publicity of their daughter's missing-persons case. They offered support and justification to the widespread anger at Brian Laundrie, personally taking part in using the #GabbyPetito tag. However, the national attention and internet fame that Gabby Petito inherited from her tragic story bring about the question of ethics online, and whether or not it's possible to respectfully talk about recent tragic crimes like hers. Regardless of all the theories and speculation, the facts of Gabby Petito's death remain consistent throughout all platforms and the devastating reality of her unfortunate passing remains true. The Petito family's attorney described her as loving life, saying "She was the bright light in everyone's life that knew her. Gabby's family does not want that light to dim."
Leave a Comment
About the Contributor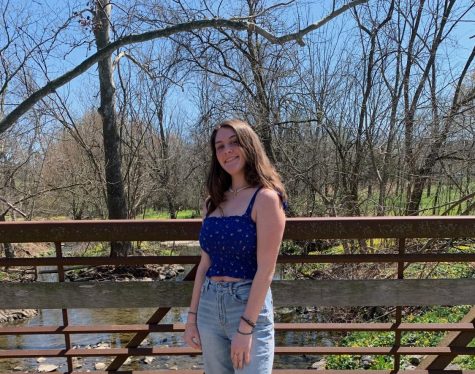 Caroline Miller, Staff Writer
As a senior at West Morris Central, Caroline Miller is making her debut as a staff writer for The Paw. She frequently participates in extracurriculars...