Drumming Up School Spirit
A band new tradition takes the halls by storm!
Lunch at WMC has gotten a lot more musical this year due to a joint venture by Mr. Rymer and Mr. Gibbons, the director of concert, jazz, and most importantly marching band. Fridays are always an exciting time here at Central, as students are encouraged to show off their school spirit by wearing WMC clothes or the school colors of grey and Columbia blue. During football season, cheerleaders can be seen in their uniforms decorating the school with posters that show off the Wolfpack's dedication to supporting the players. What's new this year, however, is the inclusion of the marching band on these Fridays.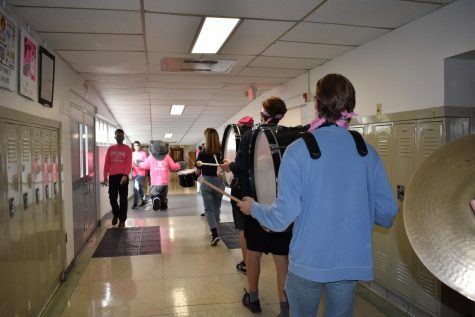 Aside from, of course, the football players and cheerleaders, the marching band and color guard are an important part of every game day. Their meticulously practiced show (this year, Randall Standridge's Ritual, a reimagining of the ballet Rite of Spring), show tunes in the stands, and impressive percussion performances are an integral part of the Friday night sound. Mr. Rymer wanted to acknowledge the hard work and dedication that the marching band puts in, as well as the way that music can play a key part in increasing school spirit, and he and Mr. Gibbons decided on this new tradition to fuse the two. The drumline now marches in the halls during lunches on certain Fridays, playing a catchy tune that draws student attention. 
Mr. Rymer said that this new tradition was an effort to bring together the school community, "keeping in mind that this is the first time we're all back in the building together since March 2020, and also keeping in mind that a lot of our sophomores and all of our freshman up until this year have never stepped foot in the building." Even the current juniors only had just over a half year of full time, in-person school experience, and Mr. Rymer hopes that this will excite and encourage a population of students who haven't had time to go to games or truly experience the sense of community that is present here at WMC. Mr. Rymer wants to preserve the "sense of tradition [that] is very important to our school community," but also keep the school progressing forward by creating new practices that will hopefully stand the test of time.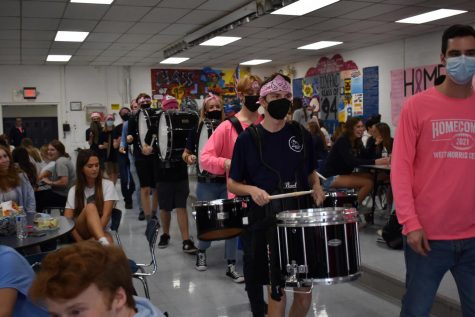 Mr. Gibbons, who walks with the drumline through the halls and coaches the marching band and drumline, added that they were "hoping to bring even more hype and energy to the halls of WMC with the drumline this Fall!" He also thanked Mr. Rymer and Mr. Schilling for helping to make this opportunity happen, and he's excited for the marching band to continue to grow in the future.
The student body as a whole has also reacted positively to this new activity. Junior Baylor Tumminelli called it "a really cool new tradition to look forward to on Fridays," and many students can be seen at lunch clapping, recording, or simply watching the drumline pass through. The students in the drumline have a similarly positive attitude. Junior Peter Vrettos calls the marching enjoyable, and "personally believe[s] that it does increase school spirit to a noticeable degree." 
So what's the future for this tradition? Mr. Rymer is firm in the belief that activities can get old if they're overdone, which is why the drumline is only active in the halls on certain Fridays. Usually this means important events like Homecoming or home football games, but Mr. Rymer points out that it's not just a football tradition, and that they will likely keep performing sporadically throughout the year for special occasions. Mr. Gibbons adds that he "[doesn't] think we've seen the last of the drumline this year!" Hopefully this tradition keeps growing and evolving, taking on new forms to become an even more special and unique Central event. Junior Summer Raymond, who marches in the drumline, mentioned that she'd like to see a larger variety of songs played while they march, similar to the diversity of melodies that are present at actual games, and suggestions like these are what will cement the drumline tradition as one for the WMC history books.
Leave a Comment
About the Contributors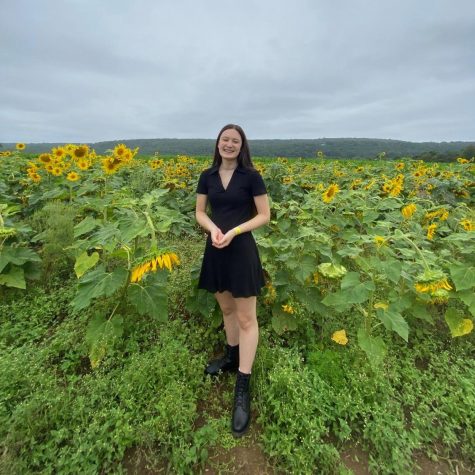 Evelyn Oravez, Editor-in-Chief
Evelyn is a senior and Journalism III student this year, and is one of The Paw's editors-in-chief for two years running! This year she is excited about...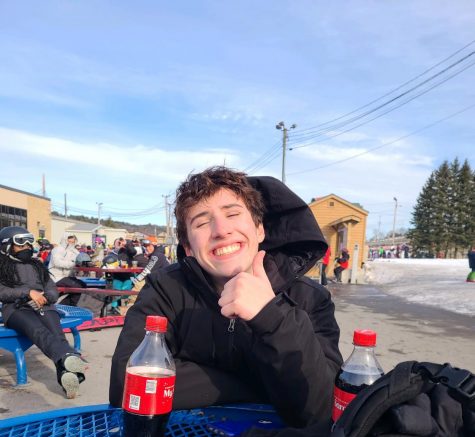 Sebastian Gutkin, Editor-in-Chief
Sebastian Gutkin is a senior here at West Morris Central High School and is currently Editor-in-Chief. This is his third and final year writing for The...