Simone Biles Named TIME Athlete of the Year
Time Magazine announced on December 9 that Olympic gymnast Simone Biles is their 2021 athlete of the year. Despite being only 24, Biles is the GOAT in the world of women's gymnastics.
Leading up to the 2020 Tokyo Olympics, the USA gymnastics team was the headline story. This was supposed to be a breakout event for Biles, who was projected by many to win gold in all of her events. However, when they were competing in Tokyo Biles began to experience a phenomenon called the twisties- a mental block in which an athlete loses their spatial awareness. Because of this Biles withdrew from all but one of her events because her mind and body were not in sync which could put her in very serious danger.  She did go on to win the team silver medal and an individual bronze medal on the balance beam.
Sunsia Lee, one of Biles' teammates said "What Simone did changed the way we view our well-being, 100%. It showed us that we are more than the sport, that we are human beings who also can have days that are hard. It really humanized us." Biles is one of many athletes who advocated for their mental health this year including Naomi Osaka. Colin Kapernick spoke to TIME about Biles and said "Simone Biles has used her remarkable position as the world's greatest gymnast ever to inspire a long overdue global conversation on mental health… her influence extends far beyond the realm of sports and shows us that another world—a better world—is possible when we speak our truths with integrity and authenticity."
Following the Olympic games Biles continued to prove that just because she is an Olympic athlete does not mean she is not a human being. Sheand hundreds of other athletes went before the United States Senate to give testimony about the failure of the FBI , USA gymnastics, and the U.S. Olympic and Paralymic Committee to stop the sexual abuse committed by team doctor Larry Nassar. Biles is the only survivor of the Nassar sexual abuse scandal that is still competing. "I feel like the guilt should be on them and should not be held over us. They should be feeling this [pain], not me." she said about the burden placed on her. 
In her short career as an olympic gymnast Biles already has four skills named after her and has revolutionized the gymnastics world. 
Biles has gained more esteem and honor as an athlete by stepping back during the 2020 Olympics than had she competed and won 6 gold medals.
Leave a Comment
About the Contributor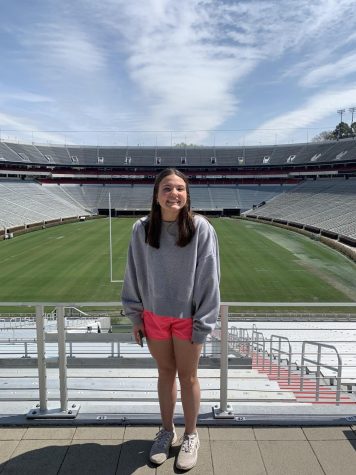 Lizzie Rubright, Sports Editor
Lizzie is a senior and in her third and final year writing for The Paw. Lizzie loves all things sports: watching them, playing them and especially writing...