A Holiday Horror Story: Fox News Christmas Tree Set on Fire in Midtown Manhattan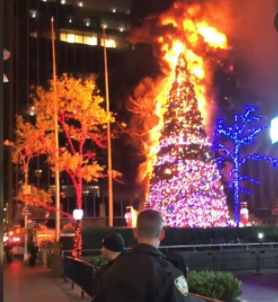 On Thursday, December 9, 2021, Fox News replaced a 50-foot-tall artificial Christmas tree that was set on fire a day earlier outside its headquarters in New York City. 
A man was arrested during the day on Wednesday and was charged with setting the tree on fire in the early hours of the morning. The New York Police Department (NYPD), reported to The New York Times, that their security headquarters had observed the man, Craig Tamanaha, climbing the 50-foot-tall artificial Christmas tree just before the fire broke out around 12:15 a.m. Tamanaha, 49, was later charged with seven counts including reckless endangerment, criminal mischief, and arson. Thankfully, the fire did not cause any injuries. The NYPD spoke out in a statement on Wednesday, saying that the cause for this horrific event was still being investigated by authorities. 
This exhibition certainly surprised onlookers, including one of Fox News' network hosts who announced the fire on a live broadcast. Shannon Bream, the host of "Fox News @ Night," told the sudden news to viewers shortly after midnight. "This is the Fox Square in New York, outside of Fox Headquarters," Ms. Bream reported. "It appears that our giant Christmas tree there, just a couple of minutes ago, was completely engulfed in flames." A few minutes later, as a live broadcast showed smoke bulging above the tree, she announced to the audience that the fire had appeared to have been put out. 
The original tree had been lit during the network's "All-American Christmas Special," which was broadcast on Sunday, December 5, 2021. Fox reported this month that the original tree, on the Avenue of the Americas in Manhattan, was 50 feet tall, and had been decorated with 10,000 ornaments and 100,000 lights. Both the original tree and its replacement were supplied by American Christmas, a company based in Mount Vernon, N.Y. The lighting ceremony took place last weekend as part of an annual tradition that originated in 2019. 
In a company-wide memo on Wednesday that was provided by Fox News Media, Suzanne Scott, the company's chief executive, condemned the vandalism and announced that the tree would certainly be replaced. "We will not let this deliberate and brazen act of cowardice deter us, " Ms. Scott told Fox News reporters. "We are in the process of rebuilding and installing a new tree as a message that there can be peace, light and joy even during a dark moment like this."
Leave a Comment
About the Contributor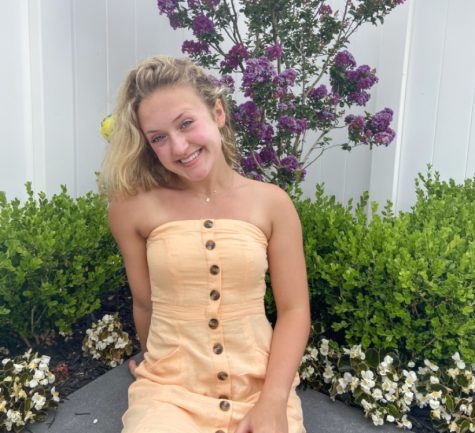 Elyse Cuccaro, School News Editor
Elyse Cuccaro is a sophomore at West Morris Central. She is beyond excited to continue writing for The Paw this school year as a Staff Writer. Elyse is...