Winter Sports Breakdown
After a successful fall season that saw West Morris sports elevate to new heights, Wolfpack athletes are gearing up for the winter season that's just around the corner. The Wolfpack compete in numerous winter sports such as basketball, ice hockey, wrestling, track, fencing, and swimming. Before the winter season officially begins, I was able to catch up with some of our athletes about their goals for this season. 
Boys Basketball: Due to a COVID-19 riddled season, the boys basketball team played a total of 15 games last year. The team went a remarkable 14-1 with their sole loss coming at the hands of Delbarton. The roster looks a little different compared to seasons past as star guard Christian Cevis and big man Jack Leloila graduated last year. However, despite the lost pieces, seniors Zach McFarland, Sean Leonard, and David Rento look to make a huge impact.  The rest of the team is filled with all-around talent in Johnny Coleman, sharpshooter Owen Christiansen, and stifling towers in Drew Miller and Ademore Adesina. After taking a year away from the team to focus on his education, Ademore Adesina rejoins the squad looking for vengeance. When asked about his expectations for this season, Adesina stated, "We want to win it all. We want to be the best" he continued, "and with this group of guys, that is very well in sight." 
Girls Basketball: Girls basketball finished last season posting a winning record of 9-7. The team lost a big piece in guard Mackenzi Selvaggi, however, the star power that remains is surely exciting. Seniors Grace Soltes, Landry Cammarata, Payton Gjelsvik, Grace Finlay, and Maeve Colligan look to take command of the team.  When forward Grace Soltes was asked about her expectations coming into this season, she responded with, "our main goal is to win the conference and I think we have a good chance at getting there." Soltes also has high praise for the team saying "we have all played together since our 4th grade CYO team," she continued "I love to be able to be around my friends every day while doing what I love." 
Ice Hockey: Last season, boys hockey had a disappointing season to put it bluntly. The team finished with a record of 0-14-1 with the tie coming against Whippany Park. However, it is only up from here as senior captain Maximus Michalski has high hopes for his team. "Coming off a season where we did not win a single game, my expectations were to win a few games this year," Michalski said. "But seeing the group that we have now expectations have skyrocketed." 
Boys track and field: Last winter, boys track was very underwhelming as the team had very limited meets due to the COVID-19 pandemic. With that being said, however, things are trending up for the 2021-2022 season as the team is more stacked than ever. With an elite running crew in Andrew Rowland, Kyle Hunt, Brandon Chen, and Chris Gelo, winter track looks to pick up right where they left off. The team also has nice editions in seniors Sean Davies (jumps) and Kirk Campbell (sprints). When asked about his expectations for this upcoming season, senior Kyle Hunt kept his statement short and sweet. "Winning," he said, "I want to be able to watch my team run fast and succeed while doing it." 
Girls fencing: With elite seniors such as Kesley Cunningham (Foil), Olivia Capezza (Epee), and Marisa Dipaolo (Sabre), girls fencing shows promising signs to improve upon last year's 5-3 record. When asked about expectations for this season, captain Marisa Dipaolo stated that she is "very confident" that the girls foil will make the all-conference team. Dipaolo also has high praise for her team as she enjoys the camaraderie the girls bring while still having the ability to compete one-on-one at the highest level. 
Girls track and field: Similar to boys track and field, girls had a very limited season last year. Coming into the 2021-2022 season, girls track and field is packed with a strong roster filled with potential young talent. Obviously, you have the powerhouses in Makayla Early and Shannon Carratura, both of whom are elite distance runners. Deeper in the roster, talented young studs in Savannah Johnson and Eliza Olsen have something to prove. Senior Shannon Carratura has high, but simple expectations for her team this year saying, "as a team, I want everyone to break their personal records and succeed." 
Wrestling: Last season, wrestling had an underwhelming performance finishing with a record of zero wins, eight losses. However, the performance of last year should not put an asterisk on what this team is capable of. Seniors Malachi Shepard and Mikey Ferrante look to take the team by the reins and turn this dying horse around. Four-year wrestler Malachi Shepard explained that he has high expectations for his team saying, "I want to make states with the entire team while continuing to get better every day." 
Boys fencing: Boys fencing also had an underwhelming 2021-2022 season with a lackluster record of 2-6. However, with an elite crew of Senior Frankie Ferraro (foil), Junior Peter Vrettos (epee), and Junior Jake Biondolillo(sabre). Captain Jake Biondolillo kept his expectations for his team simple, "as captain this year, I want to make this season great for my fencers" he continued "I just hope that my team is able to practice well, and then perform even better during our meets."
Boys swimming: Having a shortened season last year, boys swimming finished with a record of 2-4. However, despite the dull record, boys swimming has a stunning roster that looks to improve upon last season. Seniors Colin McLoughlin, Cameron Hartley, and Sam D'Alesandro are expected to show out for their last season with the West Morris swim team. Cameron Hartley, who participates in the 100m fly and 100m breast, has simple expectations for his team.  "We did not have the best season last year," Hartley said. "But I am excited to see what this team can do; we want to shock the world." 
Girls swimming: Girls swimming also suffered to a COVID shortened season thus having the team finish with a 3-2 record. Although the team finished with a winning record, seniors Olivia Montuore, Grace Nestor, and Ellen Gomez all look to exceed expectations going forward. The team is already off to a good start as they have already won 3 meets with a few individuals breaking school records. Olivia Montuore plays a key role for the team as she swims the 200m freestyle, 100m freestyle, 200m freestyle relay, and 400m freestyle relay. Montuore has her expectations set high saying "I'm expecting this season to continue being successful and I hope we make it to states." 
With all the comradery of winter sports underway, West Morris sports expect to have yet again another successful season. Good luck Wolfpack! 
Leave a Comment
About the Contributor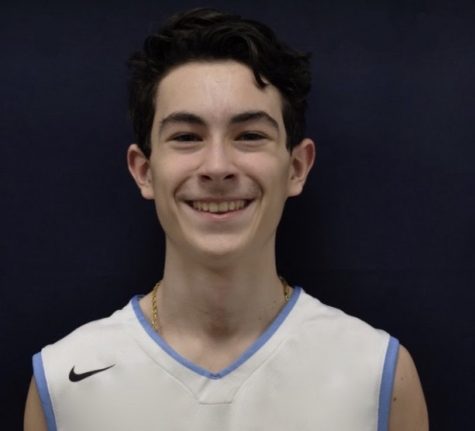 Sean Davies, Staff Writer
Sean is a senior at West Morris Central. He enjoys playing sports such as track, basketball, and football. This is Sean's first year with The Paw and he...