The New Chemistry Room Mural
If you happen to pass through the F-wing on your way to class, make sure to take a peek into the new art featured within room F-139! Hanging on one of the walls is a hand-drawn mural gifted by the talented senior, Avery Schwartz. Schwartz has been perfecting her craft for years, and is currently enrolled in IB Studio Art at WMC.
Schwartz expressed that she "felt like my mom's [Dr. Horne] classroom was pretty empty since she didn't have many things to decorate the big walls with…I offered to paint her a mural to hang up as a way to brighten up her classroom, creating a positive impact on the school community." The mural itself is of the physicist and chemist, Marie Curie, with a chalkboard that "details her accomplishments and how they affected future discoveries as well as other areas of scientific study."
The mural not only showcases a strong woman, but an incredibly intelligent scientist. Marie Curie was a pioneer researcher in the theory of radioactivity. For her accomplishments in this field, she, along with her husband and another physicist won a Nobel Peace Prize in Physics in 1903. She later went on to win the Nobel Peace Prize in Chemistry eight years later for discovering the elements polonium and radium. A few years later she created two research institutions in Paris and Warsaw that remain major centers of medical research today. Marie Curie stands as a powerful female figure for women in STEM and reflects the power of scientific research and achievement accomplished by a woman in her time. Schwartz mentions that the mural "is especially important not only in highlighting a prominent, accomplished woman in science, a rarity even today, but also in teaching my mom's students about Curie, radiation, and her effect on the world…"
Schwartzs' wonderful work will not go unnoticed as it shines in Dr. Hornes classroom for future students to come and admire. Iit will not only remind students of the powerful women in history who have made significant accomplishments, but to also share the remarkable artistry that Schwartz, and the other art students at WMC, are capable of.
Leave a Comment
About the Contributor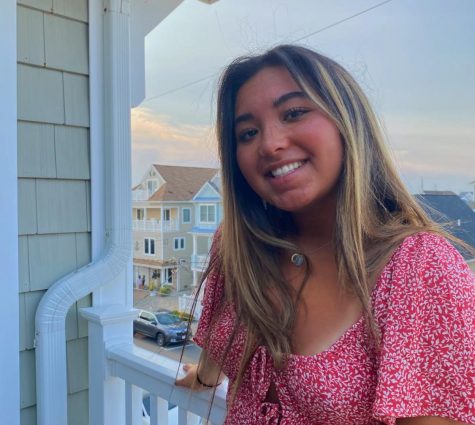 Emily Broadhurst, Staff Writer
Emily is a senior here at West Morris Central and this is her first year writing for The Paw. Along with writing, Emily is on the field hockey team and...