Antonio Brown: What Really Caused the Premature Exit?
Antonio Brown is one of the most controversial players not just in football but in all of sports. Some of his controversies include threatening to retire over the NFL's helmet safety standards in 2019, forcing a release from the Raiders in 2019 shortly after getting a $50 million contract without playing a single game for them, and more recently this season he faked his vaccination status by giving the NFL a fake vaccine card which resulted in a 3 game suspension. But all of these don't compare to what he did on January 2, 2022.
During a game where the Buccaneers were down 24 to 10 to the Jets in the third quarter Antonio Brown was seen taking off his jersey and pads on the sideline with fellow WR and teammate Mike Evans pleading with him to stop. Evans' pleas were not successful in the end and Brown ran to the crowd, threw his undershirt and gloves to them and then went to the locker room where he never returned to play. There is almost no other time in the NFL where a player left the field on their own for no real reason. Post game, Buccaneers head coach Bruce Arians said that Antonio Brown was "no longer a Buc." After what surprisingly took about 4 days, Antonio Brown was officially released on January 6 and no other teams claimed him off the waiver wire. This immediate response from the Buccaneers was not surprising because Brown was already on thin ice from the vaccine controversy and this completely destroyed the already crumbling relationship.
The story isn't exactly clear though because both the Buccaneers and Antonio Brown have two completely different accounts of what exactly caused his premature exit. Brown claimed in a statement released by his attorney that the Buccaneers forced him to play through a nagging and painful ankle injury and that "the staff injected me with what I now know was a powerful and sometimes dangerous painkiller that the NFLPA has warned against using, and I gave it my all for the team." He also went on to say that during the game "I took a seat on the sideline and my coach came up to me, very upset, and shouted, 'What's wrong with you? What's wrong with you?' I told him, 'It's my ankle.' But he knew that. It was well-documented and we had discussed it." This specific quote does put Arians in a rough spot because with Brown missing 5 games due to the injury, there is almost no way he could have forgotten the lingering effects it may have on Brown. After pleading his case Brown said that Arians "ordered me to get on the field. I said, 'Coach, I can't.' He didn't call for medical attention. Instead, he shouted at me, 'You're done!' while he ran his finger across his throat. Coach was telling me that if I didn't play hurt, then I was done with the Bucs." This story from Brown is extremely alarming because if he was still suffering from this ankle injury and both Coach Arians and the rest of the Buccaneers medical staff made him play they will be punished severely in the NFL and may have some punishment outside of the NFL for their actions. The main issue with this account is that players in the NFL play through injuries a lot and Antonio Brown could've been another possible case of this.
Coach Bruce Arians' side of the story is completely different compared to Brown and claimed in a press conference that Brown was "very upset at halftime about who was getting targeted." The reason for Brown's supposed locker room outburst was that he had contract incentives which included 2 more TDs, 382 more yards, and 21 more receptions which would've rewarded him $333,333 for each goal he met. Then when the team went back on the field the outburst continued with Brown saying "I ain't playing.' 'I ain't getting the ball." Arians then told him "You're done. Get the 'eff' out of here." These accounts from Arians seem to be plausible because of Brown's previous outbursts but there just isn't enough evidence to say what Arians is entirely true.
After all the dust settled and the finger-pointing stopped Antonio Brown got an MRI on the injured ankle and according to Brown's attorney showed "broken bone fragments, a ligament tear and cartilage loss." Brown is set to have surgery on the injured ankle which puts the Buccaneers in an even worse spot with them allowing a seriously injured player to even voluntarily take a snap in this game. But for now, there are no real answers for why this happened but when they are uncovered we may see the end of a career for Antonio Brown or serious punishments for the Buccaneers franchise.
Leave a Comment
About the Contributor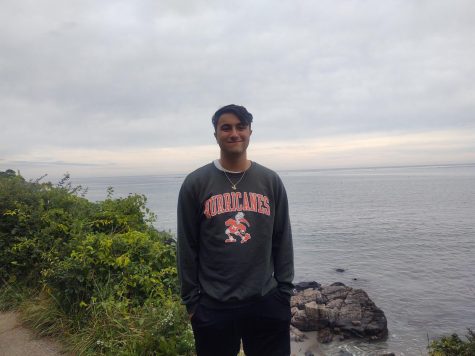 Brendan Granata, Staff Writer
Brendan is a junior here at West Morris Central and this is his first year writing for The Paw. He has a very strong interest in all things sports but...