Sing 2 – My Thoughts and Opinions
Sing 2 came out on December 22, 2021. It is rated PG and is about two hours long. It is the second movie of the Sing franchise. The first movie, Sing, takes place in a city of humanoid animals where a young koala, Buster Moon (voiced by Mathhew McConaughey), attempts to save his theater by hosting a singing competition. An immense amount of talent poured into the competition where a select few animals' lives changed forever. This group consists of two pigs, Gunter and Rosita (voiced by Nick Kroll and Reese Witherspoon); an elephant, Meena (voiced by Tori Kelly); a gorilla, Johnny, (voiced by Taron Egerton); a porcupine, Ash (voiced by Scarlett Johansson); and their manager the gecko, Miss Crowley (voiced by Garth Jennings). This group of individuals, working alongside Buster Moon, are able to rebuild the theater and begin putting on shows. 
Sing 2 begins with an opening rendition performance of Alice in Wonderland. Sitting in the crowd is Suki, a scout sent by the biggest name in production, an arctic wolf , Jimmy Crystal; however she begins to leave mid-show. Buster Moon follows the dog and asks why she's leaving so soon. She replies with the blunt statement, "You're just not good enough." Moon is crushed and sulks backstage. The show concludes and the performers get a round of applause from the packed theater seats and the show comes to an end. The team heads backstage where Moon compliments their performance, but also explains to his friends about the incident with the scout; however they are all still determined to make it to Jimmy Crystal. 
The team continues by traveling into the city in high hopes of impressing Crystal himself. The group is successful in sneaking into the production company and getting an audition in front of Crystal. He almost instantly shuts down their performance, however, just as they were about to exit the stage Gunter makes a comment about putting on a performance that includes the infamous Clay Calloway. Calloway is a lion who used to be a rockstar but stopped his career abruptly after the passing of his wife. He hadn't been seen in 15 years. Crystal's attention was grabbed immediately, and after a few small lies from Moon, Crystal demanded the show begin production that day. 
The rest of the movie is a fast paced and action packed musical full of all of the glitz and glam the city had to offer. You follow the cast through all of the adventure of putting on a high-budget, technologically advanced performance. There are some plot twists and new relationships are born. 
Overall, I thought this movie was… good. It wasn't anything spectacular but did feature some heartwarming moments. I wouldn't put it above the first movie as I appreciated the more heartfelt story of breaking out of your shell and all coming together to save the theater. The first movie was much more personal which made it a better watch. I won't completely knock this movie as the animation and song choices were really great, but overall it could've been better. If you were a fan of the first movie I recommend you watch this one but only if you're ready for a complete change in theme. It's not a bad movie, but it definitely could be improved. 
Leave a Comment
About the Contributor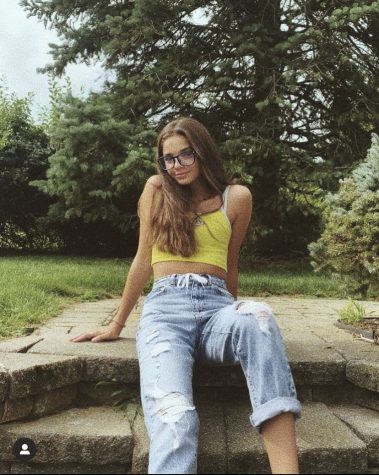 Lauren Allocca, Staff Writer
Lauren is a Junior at West Morris Central. She enjoys writing, the outdoors, and spending time with her family and dog. This is Lauren's first year with...