Coach K's Farewell Season
Nowhere besides sports can four decades be defined by one single letter. K holds its own meaning at Duke University. Before the start of the 2021-22 season Duke men's basketball coach Mike Krzyzewski "Coach K" announced that it would be his final run with the Blue Devils. Coach K's last ride has been one that this program will never forget.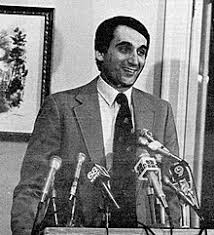 Krzyzewski's tenure at Duke began in 1980 and he quickly established the winning culture that still exists today. In his first season the team made their way to the NIT and things only went up from there. Throughout his first years at Duke, the consistency K has continued to bring every season was established. In 1991, Coach K coached his first national championship team with Duke legends Bobby Hurley and Christian Laetner. After winning the title in 1992 Duke became the first repeat champion in two decades. The early years of Coach K at Duke set the tempo for the program that has not changed.
In his 42 years at Duke, Krzyzewski has five national titles, 11 national championship appearances and 27 ACC tournament championships. He holds many records such as the most NCAA tournament wins with 101 and the most wins in college basketball history with 1,200 currently. Coach K was inducted into the basketball hall of fame in 2001 and then the college basketball hall of fame in 2006. 
He has produced 37 All-Americans, ten national players of the year, 16 ACC men's basketball players of the year, 13 ACC rookies of the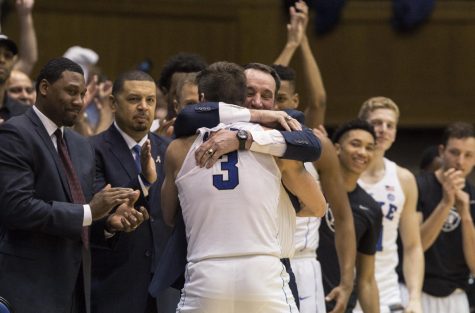 year and six national defensive players of the year. Many of Krzyzewski's players have found success in the NBA such as Jason Tatum with the Boston Celtics, RJ Barett on the New York Knicks, Grayson Allen on the Milwaukee Bucks and so many more.
In 42 years of coaching the game, college basketball has evolved but Coach K and his program have been there evolving with it. In the age of one-and-done players (players who only play college basketball for one season then go to the NBA), a less gritty defensive game and more finesse on the offense, K has coached through it all and maintained a championship caliber team each year. 
His final season coaching at Duke has been one to remember. The good parts and the bad. Filled with many lasts including his last home game, his last ACC tournament game, and more recently his last NCAA tournament game. Coach K's last game at Cameron Indoor Stadium is one that will be remembered by Duke fans forever and not for good reasons. In K's last game where tickets cost more than the average Super Bowl ticket the Blue Devils fell to cross town rival UNC. Going into the ACC tournament still the top seed, the talented Duke team found themselves in the final where they lost a tough game to Virginia Tech. In his last NCAA tournament thus far Duke has seen success against Cal State Fullerton to advance to the round of 32 and after an impressive performance to beat Michigan State and advance to the sweet sixteen. Kyrzewski's team beat Arkansas handley to make it to the final four. Coach K passed John Wooden for the most final four appearances in men's NCAA tournament history. Taking on UNC in New Orleans made Coach K the only coach to appear in a final four game in five different decades. But once again the Blue Devils fell to their cross town rival ending their season and Coach K's career.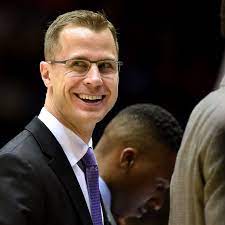 Former Duke player and current assistant coach Jon Scheyer will take over this Blue Devil program next season. The shoes to fill are massive but if anyone is fit for the job it's Scheyer. He was the captain of the 2010 national championship team, a member of the 2006, 2009 and 2010 ACC championship teams. The next era for Duke, the Scheyer era, holds many questions but the continuation of success for the program is not one of them.
Leave a Comment
About the Contributor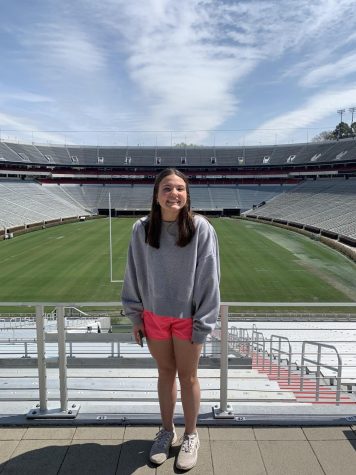 Lizzie Rubright, Sports Editor
Lizzie is a senior and in her third and final year writing for The Paw. Lizzie loves all things sports: watching them, playing them and especially writing...