Curriculum Controversy
All over the country, there are discussions regarding what materials should and can be taught in English and History classes in school. The conversation became local after a petition started circulating from anonymous West Morris Mendham parents regarding concerns over the curriculum taught to their high school students. The petition states, "The changes enacted to the English Curriculum in August of 2021 exceed the intent of [The New Jersey Student Learning Standards History and Contributions of Individuals with Disabilities and LGBT and Diversity and Inclusion] statutes and engage in social justice activism, promote radical progressive philosophies that conflict with the values and beliefs of the community." However, other students, parents, and teachers were quick to make it known that this sentiment was not the majority feeling of the West Morris Regional High School District community. They fired back with a counter-petition stating, "A diverse curriculum allows for their [students] development as they engage in creative thinking, empathetic dialogue, and multicultural awareness." Mendham also held a Day of Silence, started by the Gay, Lesbian & Straight Education Network (GLSEN) and run by the Gay-Straight Alliance club in which students took an "a vow of silence to protest the harmful effects of harassment and discrimination of LGBTQ people in schools." This sparked controversy among parents who disagreed with the protest. One speaker at the Board of Education meeting claimed to have heard parents call it, "disgusting, disturbing, inappropriate, and that gender and sexuality issues have no place in our schools."
On Monday, April 25th, the Board of Education held a meeting in which both sides called those in support of their views to come and speak or be present and listen. Those in support of the current curriculum were told to wear purple. Many faculty and students were also present at the meeting, leaving few open seats as the community sat and waited patiently to hear community speakers express their opinions on the issue. 
When the meeting was turned over to the public, Mr. Ryan, the former Central principal, and the current Mendham principal spoke first. He gave an emotional speech that lasted more than double the time the Board normally allows (five minutes) and was moved to tears while defending his staff and students. Another memorable speaker, the head of guidance at Mendham, expressed his opinions which seemed to echo across the side in favor of keeping the current curriculum and supporting LGBTQ+ students. He said, "… some parents feel the best path for this [challenging and preventing certain books from being in the English curriculums] is to pretend certain elements of our society simply don't exist. It would be too uncomfortable for their children to learn the truth about our History, to read books from a different perspective where we talk about the grand spectrum of the human condition. To make the claim that education should be filtered through your lens, that only white, heterosexual, Christian voices should be permitted, is not an effort to improve education. It is a call to prevent relevant education in the 21st century… To my point about the curriculum, I completely disagree with those of you who say talking about issues that some students experience -students of color, LGBTQ+ students, and students with mental health challenges, or physical disabilities- that talking about these issues make our white heterosexual able-bodied children uncomfortable or ashamed is nonsense." On the other hand, a mother with children in high school offered the Board a different perspective. She felt that issues regarding gender dysphoria should be a home matter that families can deal with as they chose at home. To ensure that topics such as this wouldn't arise in a school context she said, "I am asking the Board to consider parental notification for certain events at school… I wanted to ask that all curriculum changes get communicated via the curriculum guidance on the school website, including assigned books, articles, and outside speakers." 
Both sides expressed strong and impassioned opinions, although the majority of the speakers were in favor of the diverse curriculum and increasing support for LGBTQ+ students. A few Mendham students, including transgender, nonbinary, and gay members of the GSA, spoke of their experiences being a part of the LGBTQ+ community in a nearly all cisgender, heterosexual high school. One of these students is a sophomore who identified herself as a disabled lesbian. She detailed her experience during the day of silence, "On that day… one of my friends came to me sobbing. I held her in my arms as she sobbed to me, as she told me of the awful and horrific things people had said to her that day. Because that is our reality. And to the former speakers, who've said… their kids can't say things at school for fear of being 'canceled'. I truly am sorry about that… However, me and my friends don't fear being 'canceled,' we fear being hurt. We fear being victimized every day." This message regarding her identity reflected a powerful story to which many LGBTQ+ students can relate. The topic of race discourse in classrooms was also brought up for debate. According to the original petition, the parents asked to "Remove books from the English Curriculum that are not grade-level appropriate and/or promote social justice concepts like white privilege, white oppression of 'minority or disadvantaged groups,' inherent and irredeemable racism based upon the pigmentation of an individuals skin color, concepts that portray law enforcement as murderers of minorities and support dividing our community into oppression groups based on race, gender, or sexual orientation." 
Further sentiments were shared in support of the English and History teachers in both schools after some parents had allegedly called for the supervisor of the Mendham GSA to be fired. While no one expressed this directly to the Board that night, the student leader of the GSA clarified, "The Mendham GSA has always sponsored the Day of Silence… I am the student that was in charge of starting the GSA, therefore I would like to take partial responsibility for The Day of Silence as I was the one who helped bring it up last year when we reinstated it as well as me being the face of the Mendham GSA… The teacher advisor of the Mendham GSA was the one that sent out all the information on the day of silence as she was the one that had the right by the school to do that, as a student I can't send out a school-wide email, and she is the one receiving hate although there were the entire GSA was in charge of setting up the day of silence." Another Mendham student who described himself as being raised conservative provided this point in support of his teachers, "My English teachers, my History teachers have allowed me to open my mind, stretch my horizons and see things in a different light as we are taught by the school. And I think that the school has done a really good job of that, and I want to address conservatives out there. I want to ask you to trust our teachers because they are extremely good."
 While the conversation appeared to get heated around 3 hours into the board meeting, it continued on until around 11:00 p.m. While it is unclear if the Board will act on any of the suggestions for a system of parent input in the curriculum etc, the community made their voices heard, especially those who came to express their dismay at the parents who want to dictate what the students are exposed to in the classroom. So far, no action has been taken to create a parent board to approve the curriculum taught in Central and Mendham schools. 
Leave a Comment
About the Contributor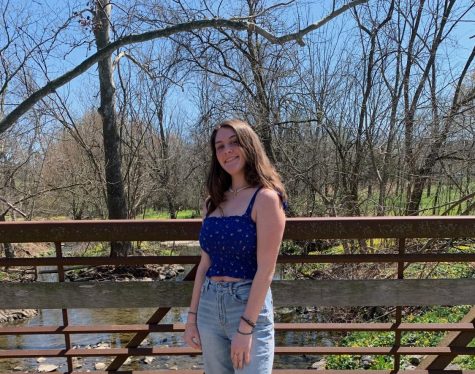 Caroline Miller, Staff Writer
As a senior at West Morris Central, Caroline Miller is making her debut as a staff writer for The Paw. She frequently participates in extracurriculars...