2022 NBA Mock Draft: Top 10
As few teams remain in the hunt for the illusive Larry O'Brien trophy, many already have their sights locked in on the future. The Orlando Magic, Oklahoma City Thunder, and Houston Rockets secured the top three spots in this year's draft lottery in hopes of rebuilding their respective teams with a generational talent. Luckily for all the teams around the league,  this year's NBA draft showcases numerous talented prospects such as the lengthy Chet Holmgreen from Gonzaga and the all-around stud in Jabari Smith out of Auburn. With that being said, here is a breakdown of whom each top ten team could potentially pick. 
#10: Washington Wizards 
Pick: Jeremy Sochan (Baylor) 
"Position-less" play in basketball is some of the most sought-after talent in the modern era of the NBA. Jeremy Sochan, a 6-foot-9 forward out of Baylor fits the term perfectly. He has a defensive motor that would fit perfectly into any system. Sochan brings a tenacity to the court that others desperately try to duplicate. Washington needs more defensive firepower to add to their bottom 25th ranked defense and Jermey Sochan brings that firepower. The only downside to Sochans game would be the inability to transition his offensive game into the NBA. However, by executing his defensive game in the right system, Sochan could prove a relatively long-term success for any team that picks him up. 
#9: San Antonio Spurs 
Pick: Benedict Mathurn (Arizona) 
This pick makes sense for San Antonio. A 6-foot-6 guard who is considered one of the best shooters in the draft could potentially be the piece the Spurs need to make a playoff push. Adding Mathurin to a backcourt that consists of Dejounte Murray would be a lethal one-two punch against opposing defenses. Alongside his elite shooting abilities, Mathurin also has the ability to become a menace at the rim when you take into account his sneaky athleticism and high-flying abilities. He is also a solid defender finishing 13th best in the Pac-12 conference when it comes to defensive rating. One problem seen in Mathurin is the 19-year-olds lack to create his own shot. Not only that but to create a smart shot versus a contested jumper. 
#8: New Orleans Pelicans 
Pick: Jalen Duren (Memphis State) 
A big, powerful center that fits the typical model NBA center. He's a physically imposing force that could prove difficult for opposing bigs right away in the league. His 7-foot-5 wingspan allows him to grab rebounds effortlessly as well as protect the rim amongst some of the best defensive bigs. Durens back to the basket game might not be the most suitable in today's NBA, but his defensive prowess puts those doubts to bed. With that being said, the offensive game that Duren supports shows a lot of upside and potential if developed correctly. The Pelicans are an interesting fit for Duren as they are a young team that could benefit from a non-ball-dominant big to pair alongside their already young core of Zion Williamson and Brandon Ingram. 
#7: Portland Trailblazers 
Pick: A.J. Griffin (Duke) 
One of the best, if not the best scorer in the draft, A.J. Griffin brings a lot to the table. A solid shooter who can attack the paint when needed would provide a scoring sparkplug the Trailblazers need to pair alongside Damian Lillard. Coming in at 6-foot-6, Griffin can immediately come in and provide size to a backcourt that desperately needs it. His athleticism alone makes him a standout player, however with explosive athleticism comes injury history. Suffering a knee injury beginning his freshman year at Duke, Griffin was able to recover and finish his first season off strong. If A.J. Griffin is able to overcome his injury concerns, it would be no surprise to see Griffin taken higher. 
#6: Indiana Pacers 
Pick: Keegan Murray (Iowa) 
An all-around stud out of Iowa who would be a great wing to pair alongside Tyrese Haliburton going forward. A solid athlete coming in at 6-foot-8, Murray will provide versatility on the offensive and defensive side of the basketball. He can space the floor on top of not needing the ball in his hands to produce. On the defensive end, he plays with great fundamentals and awareness. He's an above-average rebounder who hussles for any loose ball that comes his way. Murray is not the best rim protector, however, this will not matter as it will not be his role at the next level. He might not be the flashiest player in the draft, but he seems to be the safest pick going forward as his floor is a serviceable role player. 
#5: Detroit Pistons
Pick: Shaedon Sharpe (Kentucky) 
Shaedon Sharpe to the Pistons just makes sense. A freakish athletic wing that can attack the rim with ease. He can bring the house down with his ferocious dunking ability and backdoor cuts that would set up easy assist possibilities for Cade Cunningham. At 6-foot-6, Sharpe lacks a good handle as well as serviceable playmaking skills, however, he shows promise in his streaky jump shot. It would be an experiment for Detroit, but the ceiling on Shaedon Sharpe seems too high for the Pistons to pass up. 
#4: Sacramento Kings 
Pick: Jaden Ivey (Purdue) 
Jaden Ivey almost fits the exact mold of All-NBA player Ja Morant. A 6-foot-4 explosive guard who is probably the most athletic player in the draft. With a quick first step that he uses to beat defenders off the dribble, Ivey is an elite attacker of the rim. He is also an impressive playmaker being able to find his teammates whenever they're open. On the defensive side of the ball, he has a sort of pesty play style. Ivey is by far not the greatest defender in the draft, but his elite lateral quickness paired with his unique style shows the infrastructure to what could be an elite NBA player. 
#3: Houston Rockets 
Pick: Paolo Banchero (Duke) 
With a 6-foot-10 build, Banchero fits the modern power forward prototype perfectly. He is a physical force who can control the game at his own pace with his offensive versatility and nimble defensive prowess. Banchero has an excellent handle for his size as well as an elite ability to collapse defenses and find the open man. He can score nicely from anywhere on the floor with an unstoppable jump shot. The only downside with Banchero is his questionable athleticism. He is able to play above the rim and finish with ease, but below-average jumping ability leaves some scouts scratching their heads. With that being said, Banchero has potential to be an all-star in the future. 
#2: Oklahoma City Thunder 
Pick: Chet Holmgren (Gonzaga) 
Standing at 7 feet tall, Chet Holmgren is a skinny and lanky center that dominates the paint with his elite rim protection. He seemingly can do it all both on the offensive and defensive sides of the ball. Holmgren can create his own shot with ease as well as "play make" for his teammates around him. Thanks to his great anticipating and reaction speed, he can block shots with ease. The problem with Holmgren lies within his weight. He holds a frame that would prove extremely challenging to add weight to. In other words, he will always be a skinny big which could leave him wide open to being bullied in the paint. Although his weight might be an issue, the NBA has seen skinny guys dominant at the highest level before. Kevin Durant's weight has been an issue since his rookie year, yet he continues to put up MVP performances year after year. Chet Holmgren's overwhelming ability locks him into a top-3 spot in the draft with a real chance to go number 1 overall. 
#1: Orlando Magic 
Pick: Jabari Smith (Auburn) 
Jabari Smith has the potential to be the best player in this draft class with his tremendous ability to score the three. At 6-foot-10, Smith has one of the most skilled releases out of any player in this draft on top of being able to shoot over anyone who guards him. His athleticism is solid and his frame has the potential to add weight with ease. He has the ability to play above the rim, but could be more aggressive when it comes to attacking the basket. On the defensive side of the ball, Jabari is a solid rebounder that would translate over in today's game. His defensive ability might raise some eyebrows but has the potential to develop an elite skill set that could lock up any player he guards.
Leave a Comment
About the Contributor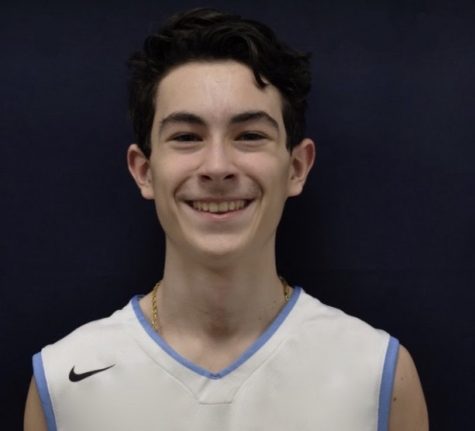 Sean Davies, Staff Writer
Sean is a senior at West Morris Central. He enjoys playing sports such as track, basketball, and football. This is Sean's first year with The Paw and he...