Kendrick Lamar's Long Awaited Return
After 5 years legendary rapper Kendrick Lamar is finally back with the release of his fifth studio album Mr. Morale & The Big Steppers. With Kendricks's legendary discography that includes the likes of To Pimp A Butterfly and Good Kid M.A.A.D City, it's almost impossible to consistently release projects that are as widely praised as those previously listed. But, even with those two albums holding him to one of the highest standards in all of hip-hop he still releases extremely high-quality albums that are usually loved by almost every fan of his.
But with the release of Mr. Morale & The Big Steppers, it's clear that Kendrick wasn't looking to make an album full of radio hits and instead tried to focus on things he truly cared about. This is seen because other than a few songs like N95 and Die Hard he didn't seem to be focusing on making mainstream hits. This decision by Lamar is very bold because a chunk of his fanbase only really listens to his mainstream songs and this album doesn't really have a true worldwide hit. The reason for there being little to no real mainstream hits on the album is Lamar's decision to stray away from the current hip-hop landscape. Though, Lamar straying away from current trends isn't a new idea as most of his albums weren't immediate clicks for listeners and took time to become as widely loved as they are today. So, though this sound may be very different and unappealing now, in the near future people may relisten and enjoy the previously brushed-off songs.
But even with the lackluster amount of radio hits, it makes up with a very clear and well-spoken message throughout the album. In almost the entirety of the album, Lamar makes himself very vulnerable and documents the real struggles and wrongs he has done in his life. This openness by Lamar shows how he isn't perfect and contradicts how the media always seems to make him out to be. This message is seen a lot on Savior featuring Baby Keem where Lamar says "The cat is out the bag, I am not your savior. I find it just as difficult to love thy neighbors." This message by Lamar is very strong because he is openly trying to shake off this notion that he is perfect and uses the album as a way to show all the ways he isn't. In all, Mr. Morale and the Big Steppers is an overall good album to really sit and dissect Lamar's words and message, but if someone is looking for a full album of music to blast in the car you probably won't get it with this album.
Leave a Comment
About the Contributor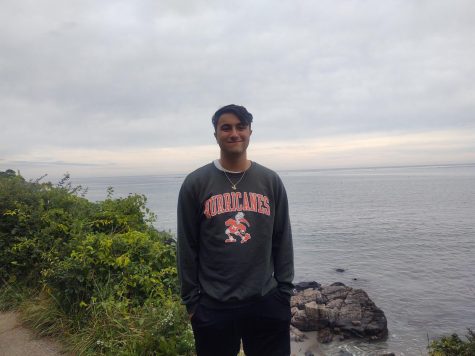 Brendan Granata, Staff Writer
Brendan is a senior here at West Morris Central and is his second and final year writing for The Paw. He has a very strong interest in all things sports...