WMC Reaches Out: Introducing Reach Out Non-Profit
Reach Out Non-Profit is a local non-profit organization that raises money to help support school-aged children and young adults struggling with mental illness. The organization strives to help raise awareness and stop the stigma surrounding mental health by donating various stress relieving items to schools all across Morris County. These items range from stress toys, books, art supplies, and even iPads and streaming service subscriptions for students to utilize while working to recover. 
The founder and president of Reach Out is Matthew Ashburn. Ashburn is a graduate of the WMC Class of 2022, and is currently a freshman at Seton Hall University. "I was prompted to start Reach Out after I saw the mental health crisis facing so many of my friends and people I saw just walking in the hallway at school," Ashburn tells The Paw.  "I knew I could do something to help these people struggling." From there, Ashburn began the preliminary steps to start bringing his ideas into reality. To bring his vision for this wonderful non-profit into fruition, he knew that he needed a strong team working alongside him. 
WMC junior Savannah Johnson serves as the non-profit's Vice President. Along with Ashburn, Johnson has been a crucial part of Reach Out's success and has served as an incredible leader for others to admire. When Ashburn first presented the idea for Reach Out to her and offered her the position to be his "left-hand man," Savannah was thrilled. "I wanted to join Reach Out to help others," says Johnson. "Being able to make a difference in our community and leaving a positive impact is something I strive to do. And having the opportunity to do so, with an amazing group of people, was something I was thrilled about."
WMC senior Natalia Agnolet serves as the Secretary for Reach Out. "I joined the Reach Out board without hesitation," Agnolet exclaims. "I had been looking for ways to take action in my community regarding mental health and when Matthew Ashburn, the President, reached out to me about being Secretary, I jumped at the opportunity." Along with the other members of the Reach Out board, Natalia has been an integral part of the organization's success and never fails to keep everything on the right track. "I hope I can continue to help make a difference in my community and others throughout the state of New Jersey through the continuation  of broadcasting of our goals and stories as well as being involved in more communities." 
After recruiting an outstanding board of directors, Ashburn called the group together to discuss how exactly they planned to make a difference in the world and join the fight to help those struggling with their mental health. They ultimately decided to begin by donating stress relieving resources, ranging from coloring books to toys like Pop-Its, to school administrators throughout Morris County. Starting in only about four local schools, Reach Out is now proudly in more than twenty-five!
While the Reach Out board has been incredibly successful as is, the members began to realize that the rapid growth of their organization meant that a lot of new responsibilities were being added to their plates. Throughout the month of October, the board took applications for four new positions: the Director of Volunteer Efforts, the Director of Membership, the Co-Director of Communications, and two new Website Managers. After a thoughtful and extremely difficult selection process, the board announced the recipients of these new positions on November 1, 2022. The Paw's own Elyse Cuccaro is the Director of Volunteer Efforts. WMC sophomore Danielle Smith is the Director of Membership, and Hannah Marney, also a WMC sophomore, is the Co-Director of Communications. Finally, sophomores Samuel Kearstan and Sofia Sardeira are the new Website Managers for Reach Out. Congratulations, everybody!   
In the short time since Reach Out began making some of their first donations, the organization has already achieved extraordinary success. "Reach Out has grown in a way that I could not have imagined when we started!" says Ashburn. "When we started, we were in about 4 local schools. Now we are providing resources to over 28 schools and are continuing to grow!" In addition to their delivery packages of stress-relieving devices, Reach Out has begun fundraising by selling merchandise such as T-Shirts and sweatshirts, as well as stress-relieving toys. Sweatshirts are available for $40, and can be delivered right to your house! 
They have also established a membership service where people can put in for a giveaway of a basket of stress toys and other goodies, receive a monthly newsletter about the non-profit's happenings, and eventually fill out a membership survey about how their experiences with the organization have been. Send a message to [email protected] with any questions.
On September 24, 2022, the non-profit held their first Mental Health Day at Ort Farms. They hosted activities such as varieties of craft stations, face painting, games, and more. In addition, children could participate in a farm-wide scavenger hunt, where they were given a card and had to try and find as many "Kindness Rocks" as possible. Board members, team members, and a multitude of volunteers from around the Long Valley community were also seen at the non-profit's tables that they had set up at Ort Farms last month. At these tables, anyone interested was provided with information about Reach Out and their mission, and could also participate in relaxing activities, which included coloring, bracelet making, playing with fidget toys, and more.  The organization's time spent at the farm this fall was a massive success, and they cannot wait to work with Ort Farms again in the future. 
Go-getters like the members of the Reach Out board and team are always looking for more places to go. "In the future, I hope to see Reach Out continue to reach more students in schools, but also branch into mental hospitals and provide resources like pop kits and coloring books to help those recovering," says Ashburn. Similar to their work with Ort Farms during the fall season, Reach Out is also planning to set up tables at local holiday happenings. While the organization is not sure where exactly they will be yet, keep an eye on their website and social media pages for additional information.
Reach Out is a truly incredible organization, where kids and young adults themselves are helping others just like them on the mission to stop the stigma surrounding mental health and aid those in need with as smooth of a recovery process as possible. Be sure to follow Reach Out on social media apps such as Instagram, and look into becoming a member. "It's completely free and will only take a minute," explains Ashburn. "In return for doing this, you will receive a free sticker in the mail and access to our monthly newsletter to see what we are doing." Reach Out is also very appreciative of donations, which can be made through their website. Keep up the outstanding work, Reach Out! People like you are truly helping to make the world a better place. 
Leave a Comment
About the Contributor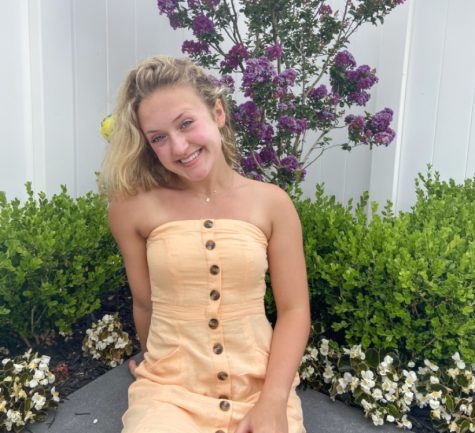 Elyse Cuccaro, School News Editor
Elyse Cuccaro is a sophomore at West Morris Central. She is beyond excited to continue writing for The Paw this school year as a Staff Writer. Elyse is...