Will The Pack Go Back-To-Back?
Two years ago the West Morris Central Ice Hockey team ended their season with a record of 0-14-1. Last season they made it all the way to the Haas Cup Final and won. This year they plan to continue last year's momentum and bring home their 2nd consecutive Haas Cup trophy.
Last year, senior Max Michalski and freshman Ben Wilmott led the Wolfpack offense, however with both not returning this season, the Pack is going to rely on juniors Tommy Togno and Zach Knopf as well as sophomore Ben Barnhill to find the back of the net. The back line will consist of senior Jimmy Thompson, juniors Nick Dargel, Jake Salamone and Michael Ferry, plus sophomore Alex Trezza. Returning in net is four-time-starting varsity goalie, Phil Togno, who's going to have to come up with some big time stops for the team.
This season, the team is led by captains Jimmy Thompson, Phil Togno and Nick Dargel.
Dargel told The Paw, "Coming off a big championship season we are looking to continue our momentum, we need to work hard, and play our (style of) game." Dargel continued, "It's important not to take anyone lightly and play every game as if it's a final." Thompson added, "Winning a conference title last year puts a big target on our back this year. The boys are just looking to hopefully end up with another cup at the end of this season. It's not gonna be easy, but I believe in our guys. When you're on top obviously your goal is to stay there and that's what we have to do."
Their season kicks off on December 8th against Park Regional at 6:15 at Mennen Arena. Be sure to come out and support the Pack for what hopes to be another historic season.
Leave a Comment
About the Writer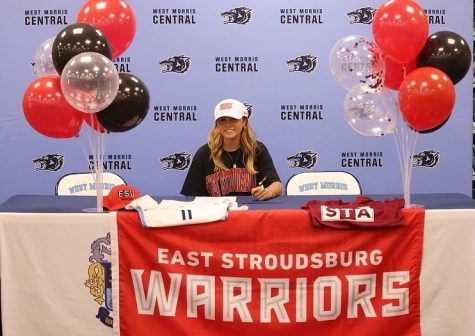 Maddie Lamb, Editor-in-Chief
Maddie Lamb is a senior here at West Morris Central. This is her second year writing for The Paw and wants to continue to write about school and sports...