Banned Books
Book banning is something that should never be done. Literature is a form of free speech, so to censor books is to strip someone of their voice. It is a way for people to control their children and other people and, although some books are banned simply for expressing political opinions, literary censorship is an incredibly political subject.
Some of the reasons why books are challenged just seem ridiculous. Fahrenheit 451 has been challenged because the Bible is one of the books burned in the novel. Killing Mr. Griffin, a book about a group of teenagers killing their teacher and attempting to cover up their crime, has been challenged because adults worry it might inspire similar crimes. The Bible has been banned for religious viewpoint. In 2012 and 2013, the Captain Underpants series was the number one most challenged book. It beat out controversial novels such as Fifty Shades of Gray and Thirteen Reasons Why.
It seems like some books are challenged because one person or a small group of people find the content to be offensive. These are cases of certain people trying to control the lives of others, which they have no right to do. Unless they are giving a rule to their children, they are either trying to parent other people's' children or make decisions for adults who are capable of choosing whether they choose to read a book or not.
It can be understood when a parent does not want their child reading some material. However, it just seems extreme for these parents to go as far as to challenge these books in public or school libraries. A house rule would be wholly appropriate in this kind of situation; why is it necessary to make sure no one else can read this novel? Especially when it is just because two parents would rather their child were not exposed to certain themes within the book in question. A lot of books are challenged as they are considered unsuited for a specific age group. While there are many books that definitely should not be found in school libraries, a lot of books are left to interpretation.
To Kill A Mockingbird, Harper Lee's magnum opus, was the twenty first most banned/challenged books from 2000-2009 (ala.org). It is frequently banned for being unsuited to an age group, offensive language, and racism. A more specific issue is its usage of the "n-word". The racial issues presented in To Kill a Mockingbird are not racist in that the book contains racist themes or ideas, but it contains depictions of racism that are accurate to the time and location of the story. These kinds of stories are a representation of a time period, and it makes perfect sense for offensive language to be used within this context. To ban such a novel is basically trying to erase the past and pretend racism did/does not exist. Censoring the language sugarcoats history, and making it seem okay is wrong.
Judy Blume is an author whose works have often been banned in libraries throughout America. She summed it up beautifully when, in an interview with NPR, she said: "It's what we don't want our children to know, what we don't want to talk to our children about; and if they read it, they'll know it, or they'll question it."
Blume's words question the idea of sheltering our youth from certain topics that should be discussed. Many parents want to avoid subjects because they do not think their child is ready to know about them; some try to keep outside influences out of the way so their opinion is the only thing their child knows. Both points of view have a level of danger. Perspective is an important factor in our lives and to show a limited perspective is unfair to kids who should be able to form their own opinions. Thinking about book banning in relation to perspective, banning books is cutting off a resource that is helpful to young people when it comes to self discovery, coming of age, and the formulation of personal opinions and beliefs.
Sheltering our kids will not change the world we live in. Whether adults like it or not, hiding the difficult parts of society will not make them go away, and, if anything, they should be exposed so the new generation can try to fix them instead of adopting the mindset of the last generation. Book banning is a way of keeping kids away from certain issues and silencing the voices of writers who try so hard to make a difference; if we are cut off from literature, the world is never going to change.
LIST OF FREQUENTLY BANNED BOOKS USED IN WMC CURRICULUM
(May be incomplete)
-To Kill A Mockingbird by Harper Lee, 9th grade (racism, offensive language, unsuited to age group)
-Of Mice and Men by John Steinbeck, 9th grade (offensive language, racism, violence)
-Beloved by Toni Morrison (sexually explicit, religious viewpoint, violence)
-Persepolis by Marjane Satraj, 12th grade (gambling, offensive language, political viewpoint. Additional reasons: "politically, racially, and socially offensive," "graphic depictions")
-Speak by Laurie Halse Anderson, 10th grade (sexual content)
-Fahrenheit 451 by Ray Bradbury, 10th grade (language, religious viewpoint (Bible being burned))
-Catcher in the Rye by J.D. Salinger, 11th grade (offensive language, unsuited to age group)
-One Flew Over the Cuckoo's Nest by Ken Kesey, 11th grade (glofiries criminal activity, has a tendency to corrupt juveniles and contains descriptions of bestiality, bizarre violence, and torture, dismemberment, death, and human elimination)
-Curious Incident of the Dog in the Night-Time by Mark Haddon, 2017 Drama (offensive language, religious viewpoint, unsuited for age group, and other ("profanity and atheism"))
-The Great Gatsby by F. Scott Fitzgerald, 11th grade (language, sexual references)
-The Jungle by Upton Sinclair, AP US History (socialism)
-A Separate Peace by John Knowles (Challenged in Vernon-Verona-Sherill, NY School District (1980) as a "filthy, trashy sex novel.")
-Animal Farm by George Orwell, 12th grade (Communism)
-Twelfth Night by William Shakespeare, 10th grade ("prohibition of alternative lifestyle instruction"-homosexuality)
Leave a Comment
About the Writer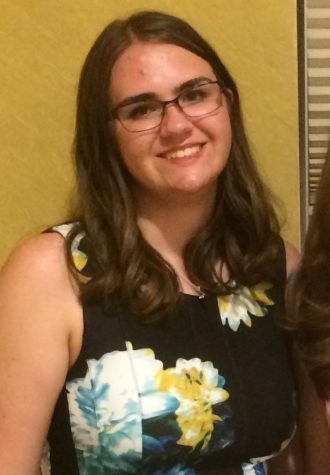 Kayla Hartman, Assistant Features Editor
My name is Kayla Hartman, I'm a sophomore and The Paw's Assistant
Features Editor. I'm taking journalism because of my love of writing.
I also participate...