History in the Making: Biden Wins 2020 Election, Closing the Book on the Era of Trump
WILMINGTON, DELAWARE — Joe Biden has been elected president of the United States of America, defeating incumbent president Donald Trump.
After a tumultuous, yearslong campaign that culminated on November 3, the 2020 presidential election has come to an end. Despite a strong showing by the Republican Party on election night, the slow trickle of mail-in ballots, which leaned overwhelmingly Democratic, have tipped the key swing states of Wisconsin, Michigan, and Pennsylvania into Biden's column, and with it decisively delivering him the victory. 
Trump, who had won those three "Blue Wall" states in an upset victory four years ago against Hillary Clinton, has refused to concede, alleging widespread voter fraud and vowing to continue the fight in the Supreme Court. But barring extraordinary action on the behalf of the Court, Biden will be inaugurated as the 46th president of the United States of America on January 20, 2021.
It will be a historic moment on many different accounts. Biden, at age 78, will be the oldest president ever to be inaugurated, as well as the first president from Delaware. Moreover, Biden's running mate, California Senator Kamala Harris, will make history as the first female, first African-American, and first Asian-American vice president. Combined, the Biden-Harris ticket has won the most votes of any presidential candidate ever, with 75 million votes with 93% counted; all in all, they are likely to pass 80 million, blowing past the previous record of 69.5 million set by Barack Obama with Biden as his running mate in 2008.
All in all, the election saw unprecedented turnout, with a projected 66.4% of the eligible population voting, the highest percentage since 1900. Voter enthusiasm on both sides of the political spectrum was at an all-time high, resulting in highly competitive races in the aforementioned "Blue Wall" states as well as other battleground states such as Georgia, North Carolina, and Arizona. Indeed, one area where Republicans could take solace was the fact that they greatly outperformed polls across the board, particularly in the perennial battleground state of Florida, where Trump won by over three percentage points. 
While Republicans ultimately lost the race for the White House, they gained several seats in the House of Representatives, most notably in South Florida, where Trump's strong performance flipped two districts thought to be safe seats. Moreover, Republicans successfully defended their majority in the Senate, fending off challengers in Maine and North Carolina. Control of the Senate currently hinges on a pair of seats in Georgia, which will go to a runoff election on January 5 since no candidate reached 50 percent.
The story of the election, however, hinges on Biden's remarkable journey to the White House. His campaign frequently touched on the theme of family tragedy—as a young freshman senator, Biden's first wife and daughter were killed in a car accident. Decades later, when Biden was serving as vice president, his eldest son Beau Biden also passed away from brain cancer, which was a major factor in Biden's decision not to run for the presidential nomination in 2016.
Ultimately, though, Biden was spurred to run in 2020. He frequently cites Trump's description of there being "very fine people on both sides" in the Unite the Right rally in 2017, which saw neo-Nazis and white nationalists clash against anti-fascists culminating in the death of one counterprotester, as being the impetus for his decision to run. Biden plunged into the 2020 presidential primary as the immediate frontrunner, due to his credentials as vice president under popular former president Barack Obama. As the historically diverse field of nearly 20 candidates cleaved between self-identified moderates and progressives, Biden embraced the moderate label, even as his progressive opponents Elizabeth Warren and Bernie Sanders challenged his frontrunner status.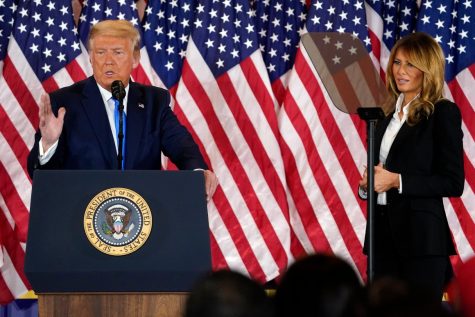 At the beginning of the year, Biden's campaign seemed on the verge of collapse, suffering a series of setbacks. In the first primary in Iowa, Biden finished fourth, and even more embarrassingly placed fifth in New Hampshire.  Then came the "comeback of the century": after a series of key endorsements from South Carolina congressman Jim Clyburn, Biden coasted to a resounding victory in South Carolina, buoyed by overwhelming African-American support. He then proceeded to sweep primary after primary as fellow moderates Pete Buttigieg and Amy Klobuchar endorsed him, ultimately winning the Democratic nomination and selecting Harris as his running mate.
What had otherwise been a normal election year was then shattered by crisis upon crisis, starting with the COVID-19 pandemic which ultimately left more than 230,000 Americans dead, as well as the unprecedented economic recession it caused. In May, the police killing of George Floyd sparked countrywide protests against police brutality and a national reckoning with racial relations. Lastly, the death of longtime liberal Supreme Court Justice Ruth Bader Ginsburg and Trump's subsequent appointment of Amy Coney Barrett to her seat generated a crisis in the Senate, concluding in confirmation a mere week before the election, the closest a nomination has ever been.
Throughout it all, Biden ran a low-key and low-risk campaign, which was heavily criticized by Republicans, with Trump in particular mocking Biden for hiding in his "basement" on several occasions. In the end, however, the election was always going to be a referendum on Trump's performance over the past four years, instead of a head-to-head between the candidates. Trump's brash attempt at goading Biden into making a blunder at the first presidential debate through bluster and interruption failed, as did his running mate Mike Pence at the vice-presidential debate with Harris. The only major misstep Biden made was his vow to "transition from the old industry", which likely cost him support in the fracking-rich state of Pennsylvania.
On election day, the initial returns tilted heavily in Trump's favor, with the majority of ballots cast in-person favoring Republicans. Early in the night, Trump notched a stunning victory in Florida with a surge in support among Latinos in the crucial Miami-Dade county, cinching him its 29 electoral votes. The president also led with wide margins in all three of the must-win Rust Belt states, as well as Georgia, North Carolina, Texas, Ohio, Iowa, and even Virginia, which was thought to be a safe Democratic state. A slew of Republican congressional candidates also won clear victories over their well-funded challengers, namely in Kentucky, South Carolina, and Texas.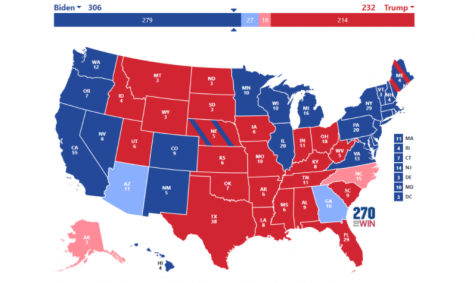 News did not pick up for the Biden camp until late in the night, when Arizona's results came in with a decisive lead. Over the course of the night, as mail-in ballots were counted, the so-called "red mirage" of Trump's wide margins were slowly whittled away. Early Wednesday morning, Biden flipped Wisconsin and Michigan into his camp, bringing him closer to the presidency. After two more painstaking days of ballot counting, Biden pulled into the lead in Pennsylvania and Georgia on Friday; it was not until Saturday morning, however, that most major news outlets called the race for Biden.
With a majority of the popular vote and a strong showing in the electoral college, likely to be the exact mathematical inverse of Trump's 306-232 victory over Clinton in 2016, Biden has been awarded a decisive mandate to govern. It will not be an easy task, presiding over a nation still wracked by COVID-19 cases, still in tatters economically with large numbers of unemployed, and still wrestling with its national identity in the face of racial inequality. The Senate will most likely remain Republican, hamstringing any major legislative efforts. In many ways, Biden's win feels more like the close of an era rather than the beginning of a new one, a "return to normalcy" instead of a revolution. And perhaps, after four years of political turmoil, that is enough. 
Leave a Comment
About the Contributor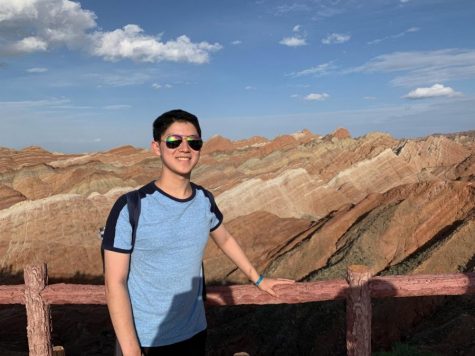 Vincent Jiang, President of Journalism Club
Vincent Jiang is currently a senior at West Morris Central High School and President of Journalism Club. Passionate about global affairs, he enjoys writing...