The Chosen One and the Greatest Of All Time
The most prevalent debate in all sports is simply–, who is the greatest of all time? In football, some might look to Tom Brady, Jerry Rice, or Lawrence Taylor to name a few. Baseball has seen the likes of Babe Ruth while soccer has witnessed Lionel Messi dominate the pitch. However, what separates basketball from the rest of professional sports is the frequency at which this debate is brought up.  It seems to be a monthly occurrence to read an article or watch a television broadcast that centers around the debate. Now when asked the question "who is the greatest basketball player of all time?" some might be quick to jump to Michael Jordan, Kareem-Abdul Jabbar, or Wilt Chamberlain. However, due to his statistics, accolades, and overall pure dominance achieved in his 18-year tenure with the NBA, LeBron James is simply the greatest basketball player of all time. 
Many hoop gurus are quick to point out that Michael Jordan is the greatest player of all time as he holds a better finals record (6-0 to LeBron's 4-6), has been voted MVP for more seasons and has a better scoring average. However, statistically, the King holds numerous advantages in more than several categories over his Airness. As we all know Jordan was a prolific scorer, a cold-blooded assassin who looked to dismantle any team in his path. James, however, is known more for his facilitating expertise despite his own crafty scoring prowess. On one hand, Jordan slightly edges out James with a career average of 30.1 points per game. On the other hand, James holds impressive career averages of 27.0 points per game, 7.4 rebounds per game, and 7.4 assists per game. Furthermore, LeBron James is the only player in NBA history to accumulate 35,000 points, 9,000 assists, and 9,000 rebounds.  
Accolades are what solidify a player into the NBA history books. When the accolades of both Michael Jordan and LeBron James are compared, Michael Jordan seems to be the better player. For example, as mentioned previously, Jordan has achieved a flawless 6-0 record in the finals compared to James' 4-6. However, when you take a deeper dive into their accomplishments, LeBron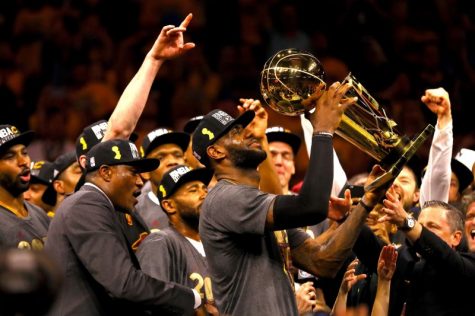 bolsters a superior showing. Throughout his career, James has faced significantly better teams in the finals compared to Jordan. For instance, the 2016 NBA finals was LeBron's 7th trip to the competition, facing off against a 73-9 Golden State Warriors team that showed no signs of slowing down. With their backs against the wall, LeBron James and the Cleveland Cavaliers surprisingly came back from a three-to-one deficit, becoming the first team in NBA history to accomplish such a feat. Despite facing great teams such as the 1996-97 Utah Jazz and the 1992-1993 Phoenix Suns, Michael Jordan has not experienced such strength against a finals opponent. Other accolades that Lebron holsters over Jordan are All-Star appearances, playoff series played, and All-NBA team selections. Some might attribute these stats to the differing lengths in career, however, these stats are a testament to LeBron James' miraculous durability and longevity. 
Finally, the one thing that separates LeBron James and Michael Jordan, is the effect that they leave on a team. King James entered the NBA as an 18-year-old kid fresh out of high school and dubbed "The Chosen One" by Sports Illustrated. Drafted by the Cavaliers in 2003, LeBron James seemingly took the franchise from a 29-53 team in 2002 to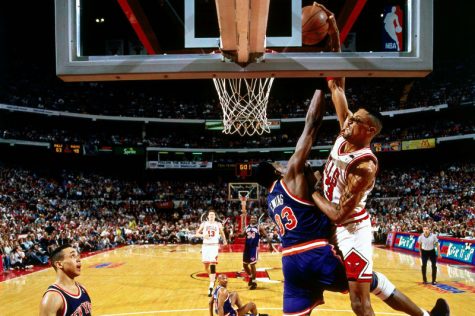 a finals team only 4 years later. However, LeBron James decided to depart from the Cavaliers following the conclusion of the 2010 NBA season after the organization failed to put talent around him. The Cavaliers went from a 61 win team in 2010, to a 19 win team in 2011. This is the LeBron James effect. This effect was also seen after LeBron departed from the Cavaliers a second time in 2018. The King carried the Cavs to yet another trip to the finals with a 50-32 record in which they lost to the Warriors four games to zero. Once LeBron packed his bags and traveled to Los Angeles, the Cavaliers fell to a 19 and 63 team in 2019. Midway through the prime of his career, Michael Jordan announced his retirement from the Chicago Bulls in order to pursue his dream of playing professional baseball. During his hiatus, the Chicago Bulls made it to the Eastern Conference Semifinals in 1994 led by All-Star Scottie Pippen. Now although Jordan was only gone for one season, the Bulls were able to stay afloat with the phenomenal talent left in Chicago.
The G.O.A.T conversation will go down as one of, if not the most prominent debates in sports history. For basketball, you might have one player placed on a higher pedestal than others. However, for the foreseeable future, it is hard to argue with the production and greatness that LeBron James has achieved in his illustrious career. 
Leave a Comment
About the Contributor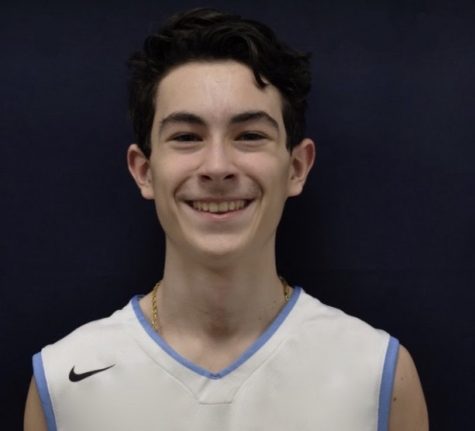 Sean Davies, Staff Writer
Sean is a senior at West Morris Central. He enjoys playing sports such as track, basketball, and football. This is Sean's first year with The Paw and he...