Neasa McLaughlin's Tackle on the Rugby World
Many of our West Morris Central student athletes participate in sports not affiliated with the high school. Neasa McLaughlin is one of the students, and she has been playing rugby for seven years now and is not only an excellent student in the classroom, but an extraordinary athlete on the field. She plays for a local team but has also traveled to different states and countries to play.
Neasa started playing rugby in 4th grade and it's been a part of her life ever since. She began in Morris Rugby Club playing flag rugby, later attending a tackle clinic in 5th grade contributing to her initial spark of passion for the sport, remarking that she "never looked back after that." Soon after, she moved to perform on the U-12/U-14 tackle 7's team. While on this team, she was able to travel to Ireland for the Women's Rugby World Cup and while there, competed against other rugby teams. McLaughlin feels "It was during that trip that I knew I had a real passion for the game."
In 2019, McLaughlin joined the Rhinos Rugby Academy USA U-15 schools team. She competed at the 2019 Portugal Rugby Youth Festival and has "been a regular player on Rhinos Rugby domestic and international U-19 travel teams, most recently traveling to Lisbon Portugal…" In 2020, McLaughlin was invited to join Rhinos Rugby High Performance Development program. In order to do so, she moved to San Clemente, California, and trained at their facilities. Attending WMC classes remotely during the school year wasn't easy, she says "It was tough starting school at 5:30am every morning, but totally worth it." While in California, she played for the San Clemente Tritons. In 2021, she was eligible to attend USA Rugby's U-18 Winter camp as part of the USA Junior National Team player pool. As of now, she continues to play for Morris Rugby HS Girls U-18 team locally, and for the Rhinos Rugby academy in tournaments all around the country and the world.
Some memorable accomplishments of McLaughlin's include getting nominated as Captain of the San Clemente Tritons Girls U-18 7s team. Mclaughlin says the "team finished 2nd in the Southern California league." She "represented Rhinos Rugby Academy at the top USA high school Rugby 7s tournaments and finished runner-up at Falcon 7s tier-1 U-19 Elite…" McLaughlin was, in fact, the Captain of the Rhinos Elite U-19 team. Locally, she has won the West Chester 7s tournament. Mclaughlin includes that she "has traveled to Portugal to play in the inaugural rugbytens.com competition for Rhinos and attended the USA Junior National team U-18 camp at the elite athlete Olympic training center in Chula Vista, CA."
Rugby has impacted McLaughlin's life tremendously. McLaughlin says that "playing rugby has led me to become a stronger, more confident version of myself… It has helped me build & develop key leadership traits and strong team ethics." She has had a "tremendous experience playing rugby for Morris & Rhinos and look forward to playing my part on the USA U-18 team." A quote that motivates her is "Today do what others won't so tomorrow you can accomplish what others can't." In the future, McLaughlin plans on "playing rugby in college and would like to play on a NIRA D1 team. My ultimate goal is to represent USA Women's Eagles in a world cup and to play professional rugby."
McLaughlin has a website (http://neasamclaughlin.com) where you can watch her in action and follow her journey to success! McLaughlin includes, "Morris Rugby U14 & U18 teams are currently recruiting and training at Centercourt Dome, Mount Olive each Monday evening 6-7.30pm with all new players welcome! Come out and try rugby for yourself!"
Leave a Comment
About the Contributor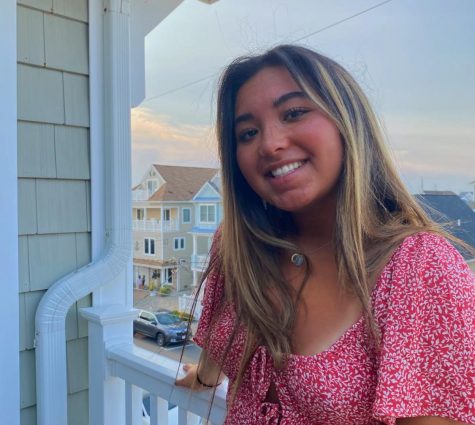 Emily Broadhurst, Staff Writer
Emily is a senior here at West Morris Central and this is her first year writing for The Paw. Along with writing, Emily is on the field hockey team and...