Triumph During the Tournament of Bands
For the first time in the school's history, West Morris Central hosted a marching band competition as a part of the Tournament of Bands on September 24, 2022. Despite this being a new experience, the parent volunteers helped the organization of the tournament to be a great success. Because of this, Mr. Gibbons, the director of the WMC marching band, hopes to be able to continue to host competitions in the future. "Hosting provides an opportunity for our band program, school, and community to showcase some of its best qualities!" he said.
In addition to this competition, the marching band has also had a successful season of competitions at other high schools, during which they have been awarded many trophies, titles, and high scores. These include awards for best visuals, music, and drum majors, which they received at a competition in Sparta. Their performance at the Tournament of Bands proved no different, as their score, representing a combination of categories such as visuals, music, and drill, was a high 79 out of 100.
Though impressive, these achievements are not the main goals that director Mr. Gibbons has for the marching band. "The band happens to be having a season that includes high scores and trophies, but that's not really what it's all about," he explained. "It's about developing community, work ethic, passion, and learning to appreciate what hard work can accomplish!"
The members of the marching band seem to agree with this idea. "[Marching band] means hard work and friendship," said Kailyn Davan, who has been a member of the color guard for the past three years. "Everyone has to equally work extremely hard to make sure that we look good. We all have to get along for the sake of each other so we're all in sync and in time. It's like a family."
Members of the marching band seem to agree that it is a positive community. "I'm surrounded by people who love doing band. Being able to do this as a group I think is fantastic," said Erin Meehan, a clarinet player who has also been a part of the marching band for the past three years.
Anyone who would like to join this exciting and uplifting environment can – there is no experience required to join the WMC marching band. "If you're interested in joining for next year, we'd LOVE to have you! It's one of the most positive, kindest communities that exists and all students are encouraged to join!" said Mr. Gibbons.
Leave a Comment
About the Contributor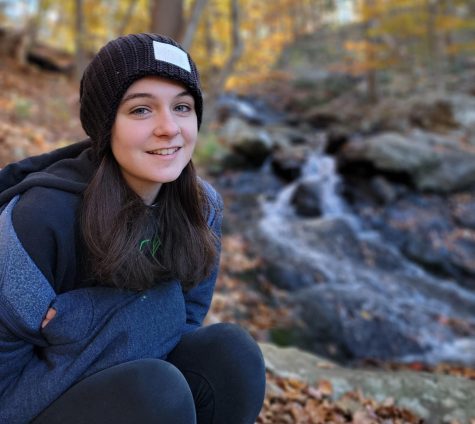 Dakotah Hubbard, Staff Writer
Dakotah is a junior and a Journalism I student this year. She is very excited to be joining The Paw for her first year as a staff writer. Outside of writing,...