Scotti Stops 100 Shots
The West Morris Central Girls Soccer Team had an impressive run last year being conference champions, county finalists, and state sectional champion. This can be attributed to the hard work and dedication of goalkeeper, Hayden Scotti. About halfway through last season, Scotti took over the role of starting goalkeeper. As a sophomore who was on her first year on varsity she knew she had big shoes to fill. Scotti told The Paw, "It was a very stressful situation, but I think I handled the pressure pretty well."
Scotti continued her momentum from last year, by returning to her role as starting goalkeeper this season. As the season progressed Scotti continued to grow in confidence and came up with big-time stops for the team. Scotti says her favorite part about being on the WMC girls soccer team is the family aspect: "We all see each other and care for each other as a family." When Scotti wasn't on the field she would always be the loudest on the sideline cheering on her teammates. She's known to shout, "Hold your hand to the fire!" or "Weather the storm!" Senior, Kaitlyn Bucahanan, told The Paw, "I remember when Scotti first joined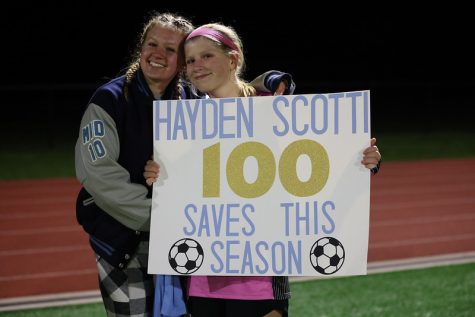 the team and since then she has continued to grow as a player and has gotten so much more confident."
Coming into this season Scotti had two goals, "I really wanted to make 100 saves and I want to make it back to the state championship." All her hard work paid off on October 20th when Scotti made her 100th save this season. Although her save came in a less than ideal game for the Pack falling 5-0 to Sparta, it was definitely one to remember. Scotti told The Paw, "I never thought my 100th save would be that good, but I was really glad it was a diving save." She added, "When I got the save I was really happy, my team made me a poster and were cheering really loud so I felt special." Buchanan remarked, "I was so proud of her and I was cheering extra loud on the sidelines. It was really good that we got the chance to celebrate because I knew this was really big for her and she deserved it."
Scotti averages about 7 saves per game. As of November 3rd, Scotti shutout the competition 6 times and only let in 25 goals. Senior captain, Alexa Murawski, noted, "I love having Scotti in goal and it's great having a goalie that you can really trust."
Scotti and the girls soccer team continued their impressive run from last year this season when they advanced all the way to the Morris County Tournament finals. Unfortunately they fell short and lost to Chatham High School by a score of 3-1. The Pack also achieved Scotti's other goal this season of making it to the State Sectional finals. They came out on top with a 3-1 victory over Hanover Park, winning just the schools 10th ever girls soccer state sectional title. The Pack will now be taking on Old Tappan in the Group 2 semi-finals Tuesday November 8th at 4pm at Old Tappan.
Leave a Comment
About the Contributor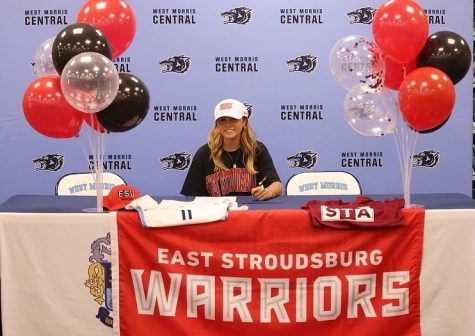 Maddie Lamb, Editor-in-Chief
Maddie Lamb is a senior here at West Morris Central. This is her second year writing for The Paw and wants to continue to write about school and sports...