Halloween Post-Pandemic
Every year at the very end of October, participants dress up, decorate, and get their buckets or pillowcases ready to collect candy. Halloween is a widely enjoyed and fun holiday for anyone to participate in, and it is loved by many. This year, we're back without the masks and extra precaution, though this time, with less spirit.
For the past couple of years, Halloween hasn't been the same because of the pandemic. Especially in 2020, many people opted out of trick-or-treating for their safety. Now, people are back into all of it, but with less effort and participation. With this holiday, there are many different perspectives to pull from, that being young kids, older kids, and adults. It's a similar though different experience for everyone, and that's the fun of it. But despite this, many now see this day as less joyful and exciting, and instead, people are disappointed.
There are positives and negatives that we can take from these past couple of years, like people being more inventive and creative, making fun setups with tents or tables, and even candy shoots or slides, all to avoid issues from the pandemic. Though, many kids or teens, and families had their special days stripped away from them. "Parents missed out on the fun of dressing up their kids, and experiencing their first or even last Halloween with each other," a Long Valley citizen, Carol Bandille said. "Staff, parents, and children missed out on the opportunity to go to the school parades as well." School parades are a big part of Halloween, and seeing all of the kids and friends dressing up on the big day was definitely a highlight of it all. This year, Halloween had its chance to be fun again, though with a lack of effort and spirit, it was still lacking. 
Unfortunately, Halloween does lose its fun for some kids as they grow older. It loses its touch for some, and doesn't have the same feeling as it used to. Getting candy isn't that fun or enjoyable, saying "Trick or treat!" isn't as special, and some don't even bother to dress up. Part of the fun is to see what other people dress up as, and to be creative, but when others are lacking that, it's hard to have motivation to keep the trend alive. "The pandemic made people lose their Halloween spirit. People don't dress up as much, and stay at home instead of going out," said Grace Finegan, a West Morris Central Highschool Student. Some people will even go trick-or-treating without a costume, and dress up as they normally do, and not something special for the occasion. Instead of Halloween being spooky and scary, it can now instead be seen as gloomy or boring. 
Halloween decorations have lacked a bit as well. Years ago, houses would be decorated with impressive decor, from long lines of lights, to large ghosts that jump out and scare you as you pass them. This year, houses seemed to have lacked that, though. At most, a pumpkin or two were left outside of a house, and not much else. "Before COVID, there were lots of decorations, and people cared much more. But, now people care a lot less, and don't put in as much effort," claimed Sarah Dillon, a Highschool Student attending WMC. Halloween simply felt more lively, and included more participation pre-pandemic, and now it has lost that. As people begin to try less on this day, more and more people will begin having the same attitude, hence why this Halloween had so much absence in passion. With people staying inside, there was no need for as much enjoyment or effort on this day, and those feelings seem to have plagued the fun for many, even with the return of a more normal Halloween. 
Leave a Comment
About the Contributor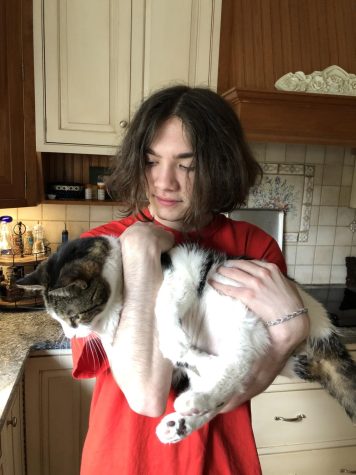 Nicolas Bandille, Staff Writer
Nick Bandille is a sophomore, covering news and information for The Paw. During his free time, he enjoys listening to music, playing video games, along...