How Barbara Walters Changed Journalism; Her Life and Legacy
On December 30, 2022, the journalism world lost one of its most notable trailblazers. Barbara Jill Walters was born in Boston, Massachusetts on September 15, 1929. Walters was a pioneering TV journalist whose unique interviewing skills made her one of the most prominent figures in broadcasting. 
She began her career at WNBT-TV (NBC's flagship station in New York) primarily doing publicity and writing press releases. In 1953, she then became writer-producer of a news and information program aimed towards a juvenile audience, Ask the Camera, hosted by Sandy Becker. She was promoted to a staff member position on the network's Today show in the early 1960s as a writer and segment producer of women's-interest stories. She moved up becoming the show's regular "Today Girl," handling lighter assignments and the weather. In her autobiography, she described this era before the Women's Movement as a time when it was believed that nobody would take a woman seriously reporting "hard news."
Walters' popularity with viewers led her to gradually receive more airtime. Beginning in 1971, Walters hosted her own local NBC affiliate show, Not For Women Only, which ran in the mornings after The Today Show. She had a great relationship with host Hugh Downs for years. When Franke McGee was named host in 1971, he refused to do joint interviews with Walters unless he was given the first three questions. She was not named co-host of the show until McGee's death in 1974. When she became co-host of the program, she also became the first woman to hold such a position on an American news program. 
In 1976, Walters continued paving the way for women in broadcasting while becoming the first female co-anchor of a network evening news program in the United States, alongside Harry Reasoner on the ABC Evening News from 1976-1978. She signed a five-year, $5 million contract with ABC, establishing her as their highest-paid news anchor, either male or female.
In 1979, Walters reunited with former The Today Show host, Downs, as a correspondent on the ABC newsmagazine 20/20. She became Down's co-host in 1984 and remained with the program until she retired as co-host in 2004. Throughout her career at ABC, Walters appeared on the company's news specials as a commentator for events ranging from presidential inaugurations and the coverage of the September 11th attacks. She was also chosen to be the moderator for the third and final debate between candidates Jimmy Carter and Gerald Ford, held on the campus of the College of William and Mary in Williamsburg, Virginia, during the 1976 presidential election. 
During her career, Walters interviewed every sitting U.S. president and first lady, from Richard and Pat Nixon to Barack and Michelle Obama. She also interviewed both Donald Trump and Joe Biden, though not when they were in office. She also gained acclaim for interviewing such beloved and controversial subjects as Fidel Castro, Anwar Sadat, Menachem Begin, Katharine Hepburn, Sean Connery, Monica Lewinsky, Hugo Chávez, Vladimir Putin Shah Mohammad Reza Pahlavi, Jiang Zemin, and Bashar al-Assad.
Walters was notoriously known for "personality journalism" and her "scoop" interviews. In 1976, she first aired her highly-rated, occasional, primetime Barbara Walters Specials interview program. Her first guests included a joint appearance by President-elect Jimmy Carter and Rosalynn Carter, and a separate interview with singer-actress Barbara Streisand. At one point in her career however, she was strongly ridiculed for an interview that she conducted with actress Katherine Hepburn. During said interview, she asked Hepburn, "If you were a tree, what kind would you be?" On the last episode of 20/20  in which she appears, Walters showed a video of the Hepburn interview, showing the actress saying that she felt like a strong tree in her old age. Walters followed up with the question, "What kind of a tree?", and Hepburn responded "an oak" because they do not get Dutch Elm Disease. According to Walter, Hepburn refused her requests for an interview for years following. 
Walters also served as a co-creator and co-executive of the daytime talk show The View alongside her business partner, Bill Geddie. She then decided to become a co-host. The show's first episode premiered on August 11, 1997. In the original opening credits, Walters declared that the show was "a forum for women of different generations, backgrounds, and views."
Barbara Walters led a remarkable career, obtaining a plethora of achievements and creating career opportunities for women in the journalism and broadcasting fields. Her many successes will always be greatly appreciated by the journalism community especially, and Walters' legacy will certainly live on. 
Leave a Comment
About the Contributor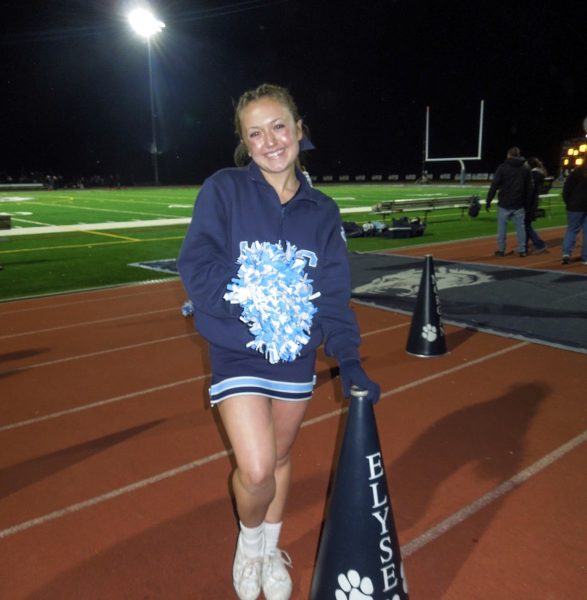 Elyse Cuccaro, Editor-in-Chief
Elyse Cuccaro is a junior at West Morris Central. She is beyond excited to continue writing for The Paw this school year as the Editor-in-Chief. Elyse...