West Morris Central students would benefit from an ACT/SAT preparation class coming back into the curriculum.
With a rising competitiveness of SAT and ACT scores, students and their families are emptying their wallets into expensive workshops and programs to prepare for the ACT and SAT. Since taking these exams is instrumental for the college admissions process, these types of classes should be provided for WMC students free of charge.
West Morris Central did previously have an SAT/ACT prep course, but a lack of students were enrolling. Now, with the number of students enrolled in programs such as Homework Helpers, and a higher competitiveness rate, having a class for juniors and seniors could have a serious change in enrollment. This is due to the increased number of people taking the test. The chart below shows data compiled by the watchdog group FairTest from ACT and College Board annual reports and government data.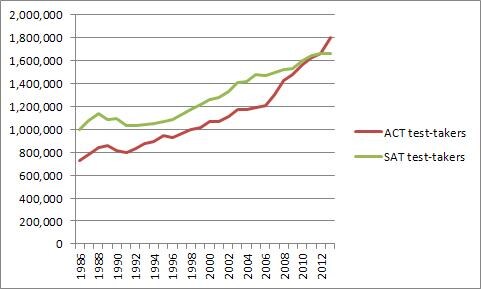 However, despite the increase in students choosing to take the test, some colleges have said they are no longer factors in the admissions process. This questions whether or not it is necessary to even take the ACT. However, The New York Times states, "The tests provide important information beyond assessing achievement. Some studies have shown that SAT and ACT scores, combined with a student's grade point average and other factors, can help predict a student's success in college, especially in the crucial first year."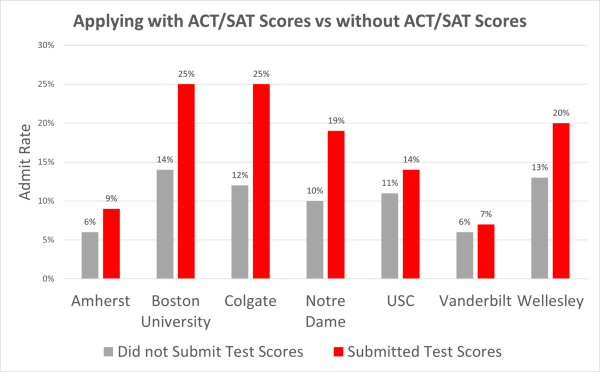 This is a graph of top calibur schools applying with ACT/SAT Scores vs without ACT/SAT Scores.
It is completely unfair to those students whose families are not in the financial place to drop thousands of dollars on preparation courses. This inevitably gives students from wealthier families an edge. "Are SAT/ACT Test Prep Courses Worth It?" by MoonPrep states, "The ACT conducted a survey that evaluated scores of students who took the test twice—once before test prep, and once after. The study found scores consistently went up a few points after test prep, regardless of the student's racial, gender, or socioeconomic background."
No student should have to go into the test-taking process blindly. The most popular prep course in Long Valley is Homework Helpers. It is $99 a session, and you need 10 sessions. This is nearly a thousand dollars in total for necessary preparation. With this being said, Homework Helpers is a great program that really helps students. The problem is this sort of groundwork should already be within the high school curriculum. Regardless of how beneficial the course is, families should not have to spend this much money for basic necessities within the college process.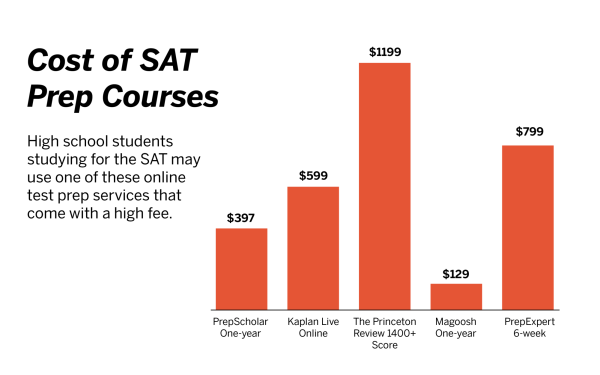 The Princeton Review says, "Most colleges require either the SAT or ACT and express no preference for either test. That said, significant percentages of students at selective colleges are submitting scores from both tests when they apply."
High school's should even the playing field. There are a variety of reasons students may not be able to put that amount of time and money into a testing course outside of school. This could be their financial status in which they stand, their tightly packed schedules with sports, extracurricular, and school. Also, the key to finding success during the SAT and ACT are knowing the tricks and tips behind how to manage time, and how to handle each question. Thus, WMC would benefit from having these test preparation courses embedded into the schedules at school.
"Prep courses for the SAT provide the student with a framework of what content to expect. This 'outline' serves to familiarize students with what types of things they will likely see on the test. Although the prep courses do not have the exact test, the tutors frequently take the test, so they are knowledgeable about the concepts and critical thinking skills students need to know." says Frank McWilliams in the article "Powerful Benefits of an SAT Prep Course."
Test prep courses help students read between the lines. According to The College Raptor, "It's often said that learning how to take the SAT or ACT is almost more valuable than studying the sections themselves. These are not garden-variety tests; college admission exams weed out a student's strengths and weaknesses."
A major part of nailing these exams is time management efficiency. This is a skill to learn, "So, learning to work efficiently is a key attribute to scoring maximum points. A prep course guides you in ways to work quickly, yet accurately; so, you get the best results" says Powerful Benefits of an SAT Prep Course.
Overall, low-income families who have children that have big aspirations in the college process have disadvantages. West Morris Central should provide an ACT/SAT preparation course to help solve this problem.