iOS 11
On​ ​September​ ​nineteenth,​ ​2017,​ ​​ ​the​ ​new​ ​IOS​ ​11​ ​update​ ​by​ ​Apple​ ​was​ ​released,​ ​and,​ ​as stated​ ​on​ ​the​ ​Apple​ ​website,​ ​it​ ​is​ ​"a​ ​giant​ ​step​ ​for​ ​Iphone". Key​ ​features​ ​include​ ​an​ ​all​ ​new​ ​Control​ ​Center​ ​which​ ​can​ ​be​ ​customized​ ​by​ ​adding​ ​or​ ​removing items​ ​in​ ​Settings.​ ​Some​ ​new​ ​controls​ ​the​ ​user​ ​can​ ​enjoy​ ​in​ ​the​ ​center​ ​include​ ​Screen​ ​Recording, Magnifier,​ ​Text​ ​Size,​ ​and​ ​Do​ ​Not​ ​Disturb​ ​While​ ​Driving. The​ ​Do​ ​Not​ ​Disturb​ ​While​ ​Driving​ ​feature​ ​is​ ​one​ ​that​ ​can​ ​make​ ​the​ ​world​ ​a​ ​safer​ ​place.​ ​When turned​ ​on,​ ​this​ ​control​ ​stops​ ​any​ ​notifications,​ ​like​ ​texts,​ ​from​ ​popping​ ​up​ ​on​ ​the​ ​lock​ ​screen,​ ​and it​ ​even​ ​"sends​ ​a​ ​customized​ ​response​ ​to​ ​people​ ​you​ ​specify"​ ​(tips.apple.com).  Also​ ​included​ ​in​ ​the​ ​new​ ​update​ ​is​ ​the​ ​Files​ ​app.​ ​This​ ​app,​ ​automatically​ ​downloaded​ ​when​ ​you install​ ​the​ ​update,​ ​enhances​ ​the​ ​accessibility​ ​of​ ​your​ ​documents​ ​and​ ​files​ ​by​ ​storing​ ​all​ ​of​ ​them​ ​in this​ ​one​ ​place.​ ​Files​ ​not​ ​only​ ​stores​ ​your​ ​files​ ​downloaded​ ​by​ ​ICloud​ ​Drive,​ ​but​ ​it​ ​also​ ​allows you​ ​to​ ​access​ ​files​ ​from​ ​third-party​ ​providers,​ ​such​ ​as​ ​Google​ ​Drive.  Even​ ​more​ ​from​ ​the​ ​update​ ​is​ ​the​ ​newly​ ​designed​ ​App​ ​Store.​ ​The​ ​new​ ​App​ ​Store​ ​is​ ​broken​ ​down into​ ​five​ ​categories:​ ​Today,​ ​Games,​ ​Apps,​ ​Updates,​ ​and​ ​Search.​ ​Within​ ​Today,​ ​you​ ​can​ ​find​ ​the App​ ​of​ ​the​ ​Day,​ ​the​ ​Game​ ​of​ ​the​ ​Day,​ ​and​ ​even​ ​more​ ​featured​ ​apps.​ ​Furthermore,​ ​the​ ​new division​ ​between​ ​Games​ ​and​ ​Apps,​ ​and​ ​the​ ​even​ ​greater​ ​number​ ​of​ ​categories​ ​available​ ​within those​ ​two​ ​tabs​ ​now​ ​makes​ ​it​ ​easier​ ​to​ ​find​ ​an​ ​app.  Within​ ​the​ ​new​ ​App​ ​Store​ ​are​ ​apps​ ​described​ ​as​ ​AR,​ ​or​ ​augmented​ ​reality.​ ​With​ ​the​ ​IOS​ ​11 update​ ​came​ ​the​ ​new​ ​ARKit,​ ​and​ ​the​ ​ability​ ​to​ ​see​ ​computer-generated​ ​objects​ ​in​ ​the​ ​real​ ​world through​ ​your​ ​phone.​ ​AR​ ​games​ ​and​ ​apps,​ ​like​ ​"AR​ ​Dragon",​ ​which​ ​enables​ ​you​ ​to​ ​take​ ​care​ ​of your​ ​very​ ​own​ ​animated​ ​dragon,​ ​and​ ​"IKEA​ ​Place"​ ​which​ ​lets​ ​you​ ​virtually​ ​design​ ​your​ ​room with​ ​furniture​ ​from​ ​IKEA,​ ​are​ ​certainly​ ​changing​ ​the​ ​world​ ​of​ ​Applications​ ​as​ ​we​ ​know​ ​it. The​ ​new​ ​features​ ​found​ ​within​ ​this​ ​update​ ​are​ ​plentiful​ ​and​ ​exciting,​ ​and​ ​it​ ​makes​ ​one​ ​wonder​ ​at the​ ​great​ ​things​ ​Apple​ ​has​ ​in​ ​store​ ​for​ ​the​ ​future.
Leave a Comment
About the Writer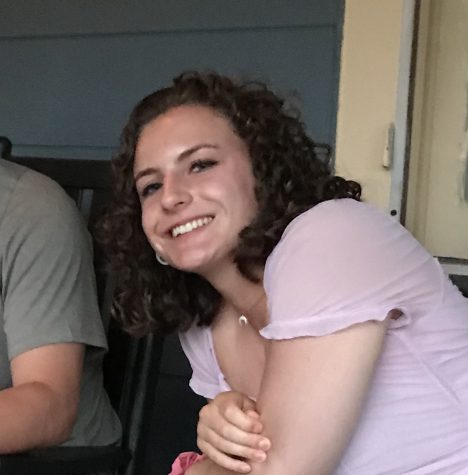 Analise Draghi, Co Editor-in-Chief
Analise is a senior at West Morris Central high school. During her junior year, she was a world news editor for The Paw.  She has a passion for educating...