WMC's Long-Awaited Return to Fall Sports
This fall, most sports have been given the go-ahead to continue their season with modified rules to accommodate for maximum safety of everyone involved. New Jersey State Interscholastic Athletic Association's (NJSIAA) Return to Play Plan, released on August 20th, outlined the general regulations and guiding principles that all sports must adhere to. Every individual sport also has their own guidelines and are handling their situations differently.
Official in-person practices for most sports continuing this season started Monday, September 14th, since the NJSIAA required there be two weeks of solely-virtual practices to allow athletes to acclimate to their new school environment before starting athletic activities. Preseason was modified and split into multiple phases where each team gradually increased the number of people and contact, allowing for a safe transition from complete social distancing.
Generally, all teams follow social distancing and wear masks when they are not doing intense physical activity. During games, coaches, refs, and crew will wear masks. All players and coaches must complete a daily health screening with a temperature check. There are limits on bus capacity, locker room capacity, and games are to be kept "as local as possible for as long as possible" (NJSIAA). Celebrations that require physical contact such as hugs or high fives are not allowed; same goes for huddles in close proximity. Equipment is being sanitized on a daily basis and all players must provide their own water bottles.
Football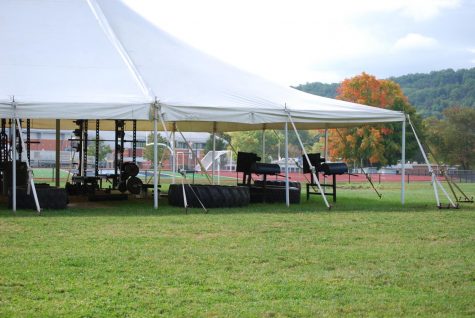 Football games this season are limited to 500 people total, including players, cheerleaders, coaches, and event staff from both teams competing. As of right now, only parents of players are allowed at games and seats will be marked and spaced out.
The school was able to provide an outdoor weight room this summer under a tent, which was one of the most important parts in making the football preseason as normal as possible. This was available to all teams and was sanitized after each use. During the completely virtual portion of preseason, the football team virtually reviewed film. Overall, Football Coach Frayne was impressed with the plan to return and with everyone's cooperation. He says that everyone involved in the process appreciated "how important interaction with teammates and athletics can be."
Cheer
Cheerleaders will not be travelling to away games this season, so they will only perform at home games. During preseason, cheer conducted Google Meet practices that were divided by cohorts and led by seniors. In person practices started the week of September 14th, with cheerleaders wearing masks and spread farther out on the track than usual in order to social distance. To provide flexibility and safety for those at home, they have a Google Meet going during in-person practice and practice videos are shared with cheerleaders through GroupMe.
Marching Band
Like cheer, marching band is planning to perform only at home games this season. Before school started, they were able to have band camp and make progress on some of their marching show. As official in-person practices started, they were able to march and play with Wolfpack bell covers, which act like masks on the end of wind and brass instruments to make performing safer.
Boys' Soccer
Boys' soccer has been conducting tryouts and practices as normal as possible with the previously mentioned rules and guidelines in place. The summer sessions, as for most teams, were very different from what they were used to, and the limited sharing of equipment was difficult especially for a sport that relies on skills like passing that require sharing the ball. As the summer continued and teams were allowed to slowly increase contact, this issue became less prevalent.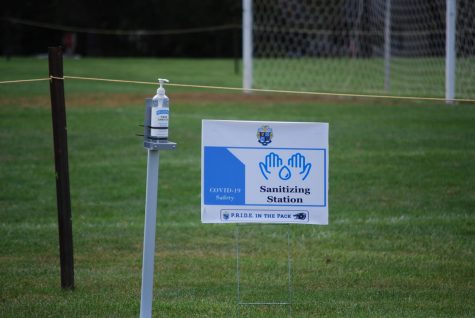 Girls' Soccer
Girls' soccer focused mainly on technical work and fitness throughout the preseason period. Since they are not cutting any players this year, they spent the first three days of official practice delineating their freshman, junior varsity and varsity teams. One of the challenges Girls' Soccer Coach Rossi commented on was making adjustments to their usual exercises and drills both currently and during the summer. "Summer workouts required masks, distance, and no contact so we had to get creative with technical workouts and fitness workouts," he explained. Once in-person practices resumed, they also had "to think about lines for drills, how to keep players apart during downtime, and running distance or sprints so players are not breathing on each other."
Unified Soccer
Unified Soccer is also planning on continuing their season, but it is unsure at this point whether they will be playing games against other schools. In the meantime, they are planning to hold scrimmages with the WMC team divided by cohort. "Within WMC Unified we are always cautious to not lose sight of our mission which is to 'build natural friendships through sports'," Unified Coach O'Toole explains, "so even if we are not able to be competitive with other schools as Unified we will still be able to expose our partners and athletes to one another so they will be able to forge a bond and friendship".
Cross Country
Cross country, a sport in which most athletes already try to put as much distance as possible between themselves and the competition, has been able to continue training relatively normally. They held optional summer practices which helped runners acclimate to the new rules if they chose to attend. Races this year will be restricted to about 50 runners per race as opposed to what was previously 100-200 runners. Only varsity races will be held, and only 7 varsity runners are allowed per team. Races are spaced out throughout the day to prevent having too many people on site at a time. Instead of all runners lining up side-by-side at the starting line, runners on the same team must line up single file.
Field Hockey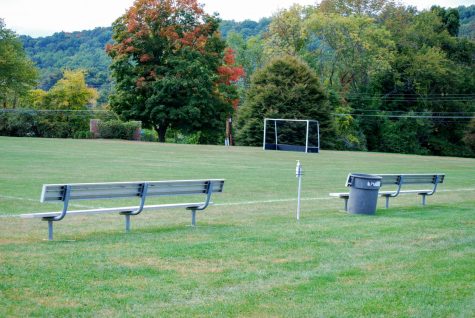 Field hockey preseason is regularly heavy on drills and conditioning, so the focus was less on modifying plans and more on making the process safer for everyone involved. "During the summer, once in-person practices were approved by NJSIAA," Field Hockey Coach Barnett explains, "we used very specific pods and protocols to ensure maximum safety…. No pods were mixed until all players moved through completion of Phase 1 protocols (2 weeks)." Current practices consist mostly of non-aerobic activity, so players are able to wear masks.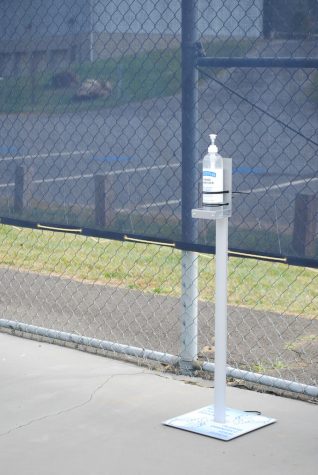 Girls' Tennis
Tennis is naturally a very distanced sport, so not many changes had to be made to keep girls' tennis players safe. Their main concern in regards to social distancing were doubles matches, and even in that case players are typically spaced out from each other. Along with official practices, challenge matches also started the week of September 14th, which determine various singles and doubles spots. The high school has provided sanitation stations with hand sanitizer for players as they come on and off the court. Like other sports, there have been strict rules put into place about sharing equipment, and the girls try to only use their own container of tennis balls. Also, when possible, Girls' Tennis Coach Jacobsen encourages them to try to pick up the tennis ball with their shoe in order to avoid the germs that may be on a shared ball!
Gabriella Nowak, co-captain of the girls' tennis team with Kirsten Seto, shared that "the two week break period that all sports had made it a little harder to connect with the team in the beginning, especially the freshmen and newcomers", but they are continuing to try and incorporate safe team bonding events to achieve that "sense of unity and family".
Volleyball
Unfortunately, the Girls' Volleyball season has been entirely postponed until early spring of 2021. According to the NJSIAA, this is because of "the current health concerns surrounding indoor competition, as well as limitations on indoor capacity". Practices are planned to start on February 16th and regular competition will begin on March 3rd.
Best of luck to all teams this season. Stay safe!
Leave a Comment
About the Contributor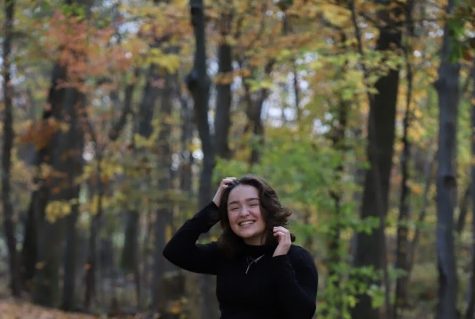 Sarah Garcia, Staff Writer
Sarah Garcia is a senior at West Morris Central, and this is her second year with The Paw. In her free time, she loves to make and listen to music. She...