It's 2020 but Fall's Not Cancelled!
The‌ ‌crunch‌ ‌of‌ ‌the‌ ‌leaves‌ ‌beneath‌ ‌their ‌feet.‌ ‌The‌ ‌inhalation‌ ‌of‌ ‌fresh,‌ ‌clean‌ ‌air.‌ ‌The‌ ‌array‌ ‌of‌ ‌reds,‌ ‌oranges,‌‌yellows,‌ ‌and‌ ‌browns‌ ‌among‌ ‌the‌ ‌trees.‌ ‌The‌ ‌closing‌ ‌of‌ ‌the‌ ‌summer‌ ‌months‌ ‌brings‌ ‌with‌ ‌it‌ ‌the‌ ‌sights,‌ ‌sounds,‌ ‌and‌ ‌scents‌ ‌of‌ ‌fall,‌ ‌and‌ ‌the‌ ‌students‌ ‌at ‌West‌ ‌Morris‌ ‌Central‌ ‌are‌ ‌itching‌ ‌with‌ ‌excitement.‌ ‌
We‌ ‌asked‌ ‌different‌ ‌students‌ ‌at‌ ‌Central‌ ‌about‌ ‌their‌ ‌thoughts‌ ‌regarding‌ ‌the‌ ‌opening‌ ‌of‌ ‌September,‌ ‌and‌ ‌each‌ ‌had‌ ‌their‌ ‌own‌ ‌unique‌ ‌and‌ ‌personal‌ ‌sentiments‌ ‌about‌ ‌what‌ ‌makes‌ ‌autumn,‌ ‌well…‌ ‌autumn!‌ ‌Even‌ ‌through‌ ‌the‌ ‌COVID-19‌ ‌pandemic,‌ ‌high‌ ‌schoolers‌ ‌are‌ ‌still‌ ‌finding‌ ‌ways‌ ‌to‌ ‌preserve‌ ‌the‌ ‌traditions‌ ‌of‌ ‌the‌ ‌season.‌ ‌To‌ ‌many,‌ ‌the‌ ‌start‌ ‌of‌ ‌the‌ ‌season‌ ‌means‌ ‌spending‌ ‌their‌ ‌Saturday‌ ‌afternoon‌ ‌apple-picking‌ ‌with‌ ‌family‌ ‌and‌ ‌friends.‌ ‌Aside‌ ‌from‌ ‌being‌ ‌a‌ ‌fresh‌ ‌and‌ ‌healthy‌ ‌snack,‌ ‌apples‌ ‌can‌ ‌be‌ ‌baked‌ ‌into‌ ‌so‌ ‌many‌ ‌delicious‌ ‌things:‌ ‌donuts,‌ ‌cakes,‌ ‌muffins,‌ ‌and‌ ‌pies,‌ ‌just‌ ‌to‌ name‌ ‌a‌ ‌few.‌ ‌Farms‌ ‌offer‌ ‌a‌ ‌variety‌ ‌of‌ ‌things‌ ‌to‌ ‌do‌ ‌aside‌ ‌from‌ ‌apple‌ ‌picking.‌ ‌Central‌ ‌student‌ ‌Anna‌ ‌Gayton‌, grade 10, ‌loves‌ ‌to‌ ‌pick‌ ‌pumpkins‌ ‌and‌ ‌eat‌ ‌warm‌ ‌cinnamon‌ ‌sugar‌ ‌donuts,‌ ‌and‌ ‌that's‌ ‌not‌ ‌the‌ ‌only‌ ‌thing‌ ‌available‌ ‌to‌ ‌do.‌ James Flanagan, grade 12, enjoys "going to farms and doing corn mazes or picking pumpkins" and also likes the skeletons when Halloween comes around! Senior ‌Gianna‌ ‌McCarthy‌ ‌also loves‌ ‌"corn‌ ‌mazes‌ ‌at‌ ‌night‌ ‌at‌ ‌Alstede,‌ ‌Ort,‌ ‌or‌ ‌Hacklebarney." ‌Each‌ ‌student‌ ‌has‌ ‌their‌ ‌own‌ ‌perspective‌ ‌on‌ ‌what‌ ‌is‌ ‌truly‌ ‌characteristic‌ ‌of‌ ‌the‌ ‌season.‌ ‌
For‌ ‌those‌ ‌looking‌ ‌to‌ ‌work‌ ‌off‌ ‌all‌ ‌those‌ ‌cider‌ ‌donuts,‌ ‌hiking‌ ‌is‌ ‌a‌ ‌must-do.‌ ‌With‌ ‌the‌ ‌changing‌ ‌leaves‌ ‌and‌ ‌cool‌ ‌weather,‌ ‌it's‌ ‌a‌ ‌great‌ ‌way‌ ‌to‌ ‌leave‌ ‌the ‌stress‌ ‌behind‌ ‌and‌ ‌soak‌ ‌in‌ ‌nature.‌ ‌Schooley's‌ ‌Mountain‌ ‌Park‌ ‌provides‌ ‌eight‌ ‌beautiful‌ ‌trails‌ ‌to‌ ‌explore‌ ‌in‌ ‌varying‌ ‌levels‌ ‌of‌ ‌difficulty.‌ ‌Students ‌can‌ ‌also‌ ‌head‌ ‌over‌ ‌to‌ ‌the‌ ‌Hacklebarney‌ ‌State‌ ‌Park,‌ ‌and‌–for‌ ‌a‌ ‌bonus–stop‌ ‌for‌ ‌some‌ ‌apple‌ ‌cider‌ ‌at‌ ‌the‌ ‌Hacklebarney‌ ‌Cider‌ ‌Mill.‌ ‌Wherever‌ ‌they‌ ‌choose‌ ‌to‌ ‌enjoy‌ ‌them,‌ ‌the‌ ‌colors‌ ‌of‌ ‌the‌ ‌season‌ ‌are‌ ‌so‌ ‌special‌ ‌to‌ ‌Central‌ ‌students.‌ ‌"Taking‌ ‌walks‌ ‌through‌ ‌the‌ ‌trails‌ ‌when‌ ‌the‌ ‌leaves‌ ‌are‌ ‌all‌ ‌red‌ ‌and‌ ‌orange"‌ ‌is‌ ‌one‌ ‌of‌ ‌freshman ‌Mia‌ ‌Liloia's‌ ‌favorite‌ ‌things‌ ‌to‌ ‌do‌ ‌in‌ ‌the‌ ‌autumntime,‌ ‌and‌ ‌she‌ ‌loves‌ ‌that‌ ‌you‌ ‌"can‌ ‌just‌ ‌wear‌ ‌a‌ ‌sweater/sweatshirt‌ ‌and‌ ‌jeans‌ ‌and‌ ‌be‌ ‌comfortable",‌ ‌since‌ ‌the‌ ‌weather‌ ‌is‌ ‌not‌ ‌too‌ ‌hot‌ ‌nor‌ ‌too‌ ‌cold.‌ Senior ‌Holly‌ ‌Branco‌ ‌concurs‌ ‌that‌ ‌"the‌ ‌comfiness‌ ‌and‌ ‌coziness"‌ ‌are‌ ‌essential‌ ‌traits‌ ‌of‌ ‌this‌ ‌time‌ ‌of‌ ‌year.‌ ‌Of‌ ‌course,‌ ‌sports‌ ‌can't‌ ‌be‌ ‌forgotten‌ ‌as‌ ‌one‌ ‌of‌ ‌the‌ ‌most‌ ‌exciting‌ ‌parts‌ ‌of‌ ‌autumntime.‌ ‌
The‌ ‌football‌ ‌games‌ ‌at‌ ‌Central‌ ‌are‌ ‌beloved‌ ‌by‌ ‌its‌ ‌students,‌ ‌namely‌ ‌Gigi‌ ‌Rauchut‌ (grade 11) ‌and‌ ‌Julia‌ ‌Esposito (grade 10),‌ ‌who‌ ‌note‌ ‌that‌ ‌it‌ ‌is‌ ‌one‌ ‌of‌ ‌their‌ ‌favorite‌ ‌parts‌ ‌about‌ ‌fall.‌ ‌With‌ ‌its‌ ‌high-energy‌ ‌student‌ ‌section‌ ‌and‌ ‌school‌ ‌spirit‌ ‌coursing‌ ‌through‌ ‌the‌ ‌crowd,‌ ‌it's‌ ‌an‌ ‌event‌ ‌that‌ ‌many‌ ‌don't‌ ‌want‌ ‌to‌ ‌miss‌ ‌out‌ ‌on.‌ Senior football player Andy Pruss comments that "it's been a very different year," and that the entire team has, despite the state of affairs, "never been more excited to start a season". He notes that "there is no better feeling than walking out there on a Friday night and playing one of our rival schools" and "every game is a blessing and nothing compares to being under those lights with [Coach] Hennelly leading us". He brings an inspiring message that nothing should be taken for granted and that appreciation is crucial daily. In terms of new football regulations, 500 people are allowed at football games including coaches, players, and cheerleaders, so the student section is unfortunately put on hold for everyone's safety. Other‌ ‌school‌ ‌sports‌ ‌have‌ ‌also‌ ‌begun‌ ‌to‌ ‌commence‌ ‌in‌ ‌accordance‌ ‌with‌ ‌state‌ ‌regulations‌ ‌in‌ ‌addition‌ ‌to‌ ‌football,‌ ‌such‌ ‌as‌ ‌soccer,‌ ‌field‌ ‌hockey,‌ ‌cross‌ ‌country,‌ ‌and‌ ‌tennis.‌ ‌
In‌ ‌the‌ ‌midst‌ ‌of‌ ‌a‌ ‌global‌ ‌pandemic,‌ ‌it's‌ ‌important‌ ‌to‌ ‌stay‌ ‌positive‌ ‌and‌ ‌engage‌ ‌in‌ ‌activities‌ ‌that‌ ‌create joy.‌ ‌This‌ ‌fall,‌ ‌whether‌ ‌it‌ ‌be‌ ‌on‌ a ‌favorite‌ ‌hike,‌ ‌eating‌ a ‌favorite‌ ‌food,‌ ‌or‌ ‌playing‌ ‌a ‌favorite‌ ‌sport,‌ ‌be‌ ‌sure‌ ‌to‌ ‌make‌ ‌the‌ ‌most‌ ‌of‌ ‌it.
About the Contributor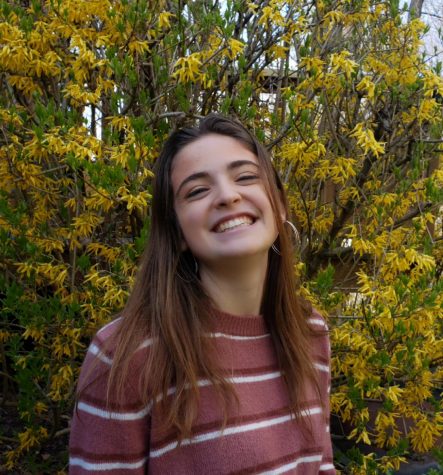 Gabriella Nowak, School News Editor
Gabriella Nowak is a senior here at West Morris Central. She is the School News Editor and enjoys writing (obviously), playing tennis, yoga, and baking....