Christmas Around the World Looks Different
The United States is entering its ninth month with COVID restrictions, and while the world has learned a lot about the virus, there is lots of uncertainty on what the holidays will be like. Country to country restrictions regarding the holidays are vastly different, and even in the United States state to state they are different. The holidays are known as a time for many to gather and celebrate each other and the year. While it will be sad not to see extended family and friends this year, people should respect others by staying safe and responsible.
In Europe, the holiday season looks like travel bans and lockdowns. According to BBC News, in an article explaining travel restrictions, it is stated that most countries in Europe have travel restrictions where work, school and emergencies are the only situations allowing travel. In addition, many countries in Europe are currently in lockdowns projected to end before Christmas, but at the rate that cases are going up, it is seeming like lockdowns could continue through Christmas. 
In places like the United Kingdom, they are living in a lockdown until a projected date of December 2nd. According to the Telegraph, this lockdown looks like only allowing indoor dining, closing hotels, limiting the capacity at beaches and parks and advisoring against seeing people outside of an immediate family. According to Sky News, the government has been rumored to have said that they are planning to keep people in lockdown until Christmas so that families can gather responsibly. In France, there are similar restrictions and people are warned that the lockdown will most likely continue past the December 1st end date. Lockdown in France includes only leaving the home for essential shopping, medical appointments, work and school.
In places like Italy and Germany, many of their famous Christmas Markets are not happening or happening in a different way. Germany is currently in lockdown and the government is warning against celebrations outside of immediate family. Lockdown here includes the closure of gyms, indoor dining, and other non-essential businesses as well as rules against more than 10 people together. Italy currently is not in a lockdown, however, they have many restrictions in place. Restrictions depend on the number of cases in a certain area but include various closures of non-essential businesses. Traveling out of the country is restricted and the country is under a national curfew and there are limits on nonessential businesses. Despite travel restrictions, the prime minister has publicly told the children of Italy that Papa Noel, Father Christmas, is not under any restrictions. 
In South Africa, the country has seen cases of COVID-19 start to creep up. The government hasn't officially made any calls for closure but they say they are worried about holidays and large gatherings.
In South America, places like Nicaragua and Argentina are agreeing with European precautionary measures like restricting travel and utilizing restrictions. In Nicaragua, prive sectors and administrators encourage full lockdown and closing of non-essential businesses despite pushback from the nation's leaders. In Argentina, restrictions depend on the area and number of cases but mainly include closing of non-essential business and reserving public transportation for essential workers. Both countries are planning to reopen before Christmas. 
In North America, restrictions vary across Canada, Mexico and the United States. According to CBS, Canadians celebrated their Thanksgiving on October 11th, and saw a huge spike in cases. This spike has been a sign to many US government officials to warn against large gatherings. In Mexico, there are few restrictions with little testing and social distancing protocols. In the United States, people are mainly encouraged to social distance and hold small gatherings. Events like the Macy's Thanksgiving Day Parade have been moved to a virtual platform. The Center for Disease Control (CDC) has issued statements warning people against large gatherings and advising people  to stay home or socially distance. Places like New York, New Jersey, and Pennsylvania have similar strict regulations about out of state travel and rules banning gatherings of over 10 people. In Pennsylvania and neighboring states, to enter the state one must get tested 72 hours before entering or self quarantine. 
When asking fellow New Jerseyans how their holiday season might look different, West Morris Central senior Sarah Garcia said, "Normally, we have family that comes up to spend the holidays with us and our grandparents, but that won't be happening this year." When asking Sarah how the holiday season will feel different she said, "It will be a lot calmer in my house! I'll miss out on our big White Elephant game that we play each year and our fun family dinners, but I'm also excited to celebrate in new ways with my immediate family. We will probably do more baking and watch more movies than we normally do!" While it will be sad to miss out on some holiday traditions and events, it will be interesting to try out new, socially distanced activities. 
With the holiday season approaching, the entire world is looking forward to celebrating, giving and receiving in a very different way than any year before. During this season of giving, it is important to think about others and protect them by social distancing.
About the Writer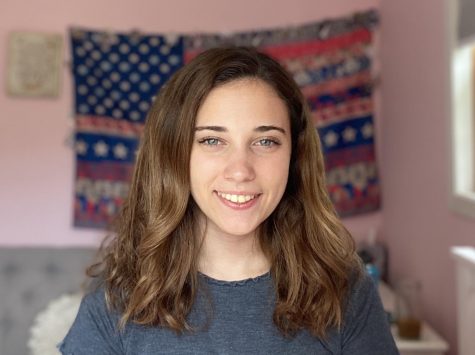 Hailey Onweller, US/World News Editor
Hailey is a Senior at West Morris Central High School. She is the US/ World News editor and a Journalism II student. Hailey loves staying up to date on...