"The Unfinished Race"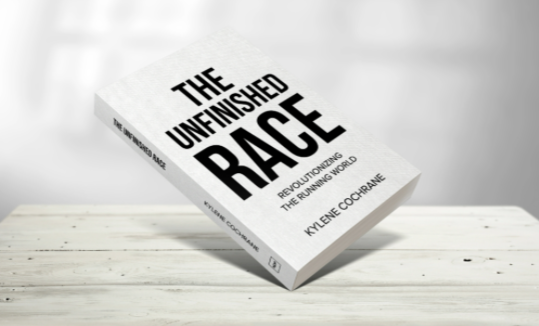 Kylene Cochrane is a 2014 graduate of West Morris Central and a 2018 graduate of the University of Pennsylvania. From middle school all the way through college, she ran track and cross country. Cochrane suffered 5 different injuries through her collegiate running career. She recently wrote a book called The Unfinished Race. Cochrane says her book is about "female athletes more specifically female runners and how they overcame their injuries. It focuses a lot on more so the mental aspect of injuries." She wants those suffering with injury to understand that what they are going through is normal and there is a way to cope and overcome it.
Cochrane feels that "[she] had to talk about this and normalize that we need to shed more light on the mental healing that occurs after injuries." Not only does the book focus on the mental battle that occurs when an athlete suffers an injury, it also talks about female health specific to female athletes. For her book she interviewed about 20 different female runners about their injury and was surprised to find so many overlapping themes in their stories one of the main ones being the mental component of it; how their mental health was affected by their injuries.
Her first injury was a femoral stress fracture her freshman year at Penn. "In high school I was really blessed to never be injured and always be healthy… the femur is the biggest bone in your body and having this stress fracture spoke that I was not only doing too much running and too much volume but I also wasn't nurturing my body from a nutrition standpoint properly. That was definitely a big wake up call for me. I just ran and did what I wanted and it was fine but I realized that there is this huge nutrition component and volume and intensity component." Her sophomore year she suffered yet another stress fracture which led to a lot of frustration because it made her feel like she was behind her teammates and competitors with battling injury and now training at this high level. Cochrane was misdiagnosed with bursitis before discovering that it was actually a stress fracture. "I had to really advocate for my body and say that I wanted to get the MRI because I am in so much pain…" Junior year she was diagnosed with plantar fasciitis, which is when the plantar fascia, a tendon on the bottom of the foot, gets inflamed. The plantar fascia extends from the heel bone to the ball of the foot. Finally in her senior year she was diagnosed with another stress fracture. She continued to run after this but at this time she rehabbed to get back to the high caliber of running she previously was at.
Cochrane was eventually diagnosed with the Female Athlete Triad. The Female Athlete Triad is a combination of low energy, low bone density, and menstrual imbalances. The U.S. National Library of Medicine says that around 78% of high school female athletes suffer from this disease. "If I had known about that during high school I probably could have even prevented some of my injuries in college…I never realized that there is a huge nutrition standpoint and the amount of volume that you're doing so if you're running a lot of miles but you're not resting your body or recovering your body and not eating enough it eats away almost at your bone. And girls will also lose their periods." Menstruation produces estrogen in females which gives their body key nutrients to strong bones. "I want young athletes to be aware of certain health issues for females because what we are doing now is going to affect our body later on." There are ways to combat the physiological component of injuries which Cochrane shares.
Cochrane's advice to any athlete that is struggling with an injury is "see an injury as a way to discover something else about yourself or discover another aspect of your identity." Having that attitude about the injury that it is a chance to do something other than sports will allow for a better mindset during the healing period. Athletes can use the time away from your sport and immerse yourself into another aspect of your life.When Cochrane interviewed other athletes for her book they told her that "'I started going to office hours. I started to really get involved in my academics' then they ended up getting a really good internship." Cochrane tells athletes that they should still feel the injury and process it but also take the time away from what is most familiar to the athlete and use it to find something new about themself.
Cochrane struggled with the mental aspects throughout her injury also. "That first injury was really hard for me because I had never been injured. It was also my freshman year so it's not like I had all my friends yet. I felt very isolated and alone because I was away from the team which is where the most amount of my friends were… I also wasn't able to run which was what was most familiar to me. A huge part of my identity at that time was running. I did it in high school and I did really well at it and now it was gone."
Cochrane dealt with mental health issues throughout all her injuries but as she became more familiar with it she was able to cope better "I found that junior and senior year I had involved myself in other aspects not just running so I was able to turn to those areas as an outlet to not think about running… I had jobs on campus, I joined a lot of clubs, I was the manager of my building so when I did get injured I just had to take a step away from the running world and immerse myself in something else." At the beginning she focused on cross training so that she could be in the best condition when she was able to run again. But in her later injuries when she realized how she was affected mentally she took the time to process what happened. She used writing as a way to process and cope. "Putting it on paper helped it to escape from my mind," Cochrane said. She encourages any one in that position to talk to other people. "I really wish I had done that earlier. I don't think that anyone should go through an injury alone. They need a support system around them and you don't want to feel alone in that process."
When an athlete suffers from an injury and now is not only battling physical pains but mental pain Cochrane feels that "it makes the athlete question a lot of things. First it's going to make the athlete feel guilty that they're injured because a lot of the time injuries happen because of human decisions or a game. You think to yourself what if I wasn't in that position at that moment or what if I didn't run this many miles. There's a lot of what ifs that can occur and a lot of guilt can occur because you're not able to do what you want to do."
Throughout her injury and even still today Cochrane's motto is to "always give tomorrow a chance." If during the healing process she had a bad day with rehab or was in a lot of pain she wouldn't go into the next day thinking it was going to be the same but that it would be better. When healing from injury athletes are always focused on getting back to their sport and being even stronger, faster and more skilled than before they got hurt. Cochrane felt when she would crosstrain sometimes she would do it too much that she got to the point where getting in the pool made her want to cry. "When you are having those mental heavy days like that just say thank you and walk away because I think there's so much empowerment in listening to your mind and knowing what feels good that day… as much as we need to nourish our bodies we need to nourish our brains." The hyperfocus on training can drain your mind and make athletes not want to train anymore. "If you are having a mentally heavy day don't cross train or don't do anything relating to your sport just try and find something that is going to make you happy that day. Life is too short and too precious so we have to do what is going to make you happy."
Cochrane's message in The Unfinished Race is an important one for all athletes to hear, whether they are injured or not because it can help to prevent injuries and know how to cope with one if it occurs. Sports are not the only aspect of your world and they are not the only part of your identity so if you can learn that while healthy if injury comes you can be mentally prepared to know and understand that this does not define you as a person or an athlete. As well as, keeping the body nourished to allow it to do all the things that it needs to. Giving the body all the key nutrients it needs to build muscle, keep bones strong and give energy will help an athlete to avoid injury.
Leave a Comment
About the Contributor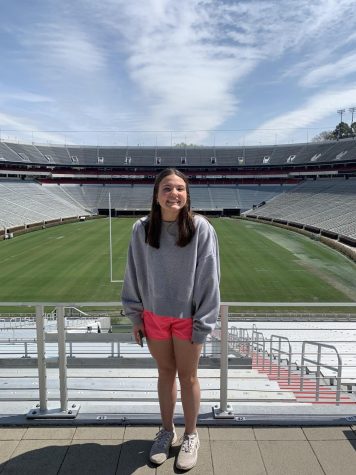 Lizzie Rubright, Sports Editor
Lizzie is a senior and in her third and final year writing for The Paw. Lizzie loves all things sports: watching them, playing them and especially writing...