MVP: The Tom Brady Story
As we reflect on the Tampa Bay Buccaneers winning America's 55th Super Bowl on Sunday, February 7th, 2021, a look into the life and history of Tampa Bay's new star quarterback Tom Brady is more than overdue. 
Tom Brady was born in 1977 in San Mateo, California. Although Brady was an avid attendee of 49ers in his early years, his passion for sports began to really take over in high school. Brady excelled in baseball and football in high school, ultimately leading him to enter the Major League Baseball draft in 1995 where he was picked by the Montreal Expos. However, this would quickly change as Brady later enrolled at the University of Michigan to play football. After leading Michigan to victory in the 1999 Orange Bowl, he would soon be selected in the 2000 National Football League draft for the New England Patriots.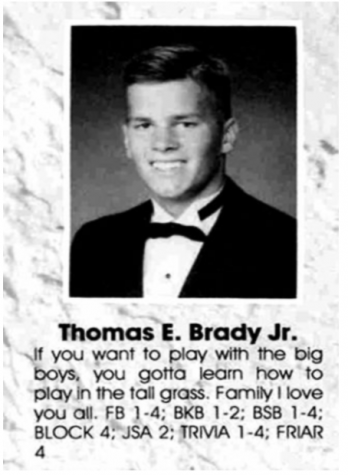 Tom Brady's senior year photo in the 1995 Junipero Serra High School yearbook. The photo features him participating in football, basketball, and baseball freshman-senior year. (Boston)

Following his draft into the New England Patriots, Brady quickly began to prosper within the team. After one of his teammates was injured during the 2001 season, Brady filled in as the quarterback and quickly became named MVP after Super Bowl XXXVI. During Brady's first three seasons, the Patriots posted a 40-12 record. After returning to the Super Bowl in 2004, Brady earned the MVP award again. This success would continue for years to come, even in 2007 when Brady threw 50 touchdown passes and led the Patriots to the first 16–0 regular season in NFL history. Brady's accomplishments continued to pile up as he helped bring the New England Patriots into the spotlight and break records.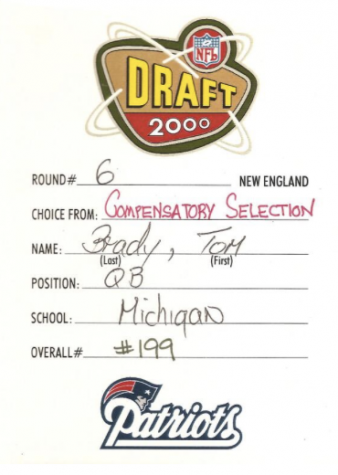 Tom Brady's draft card from the NFL draft in 2000. The card features his name, position, school, draft number, amongst other things. (CBS Sports)
Brady's career quickly paused in 2015 when Brady was suspended for his alleged role in the ball deflation scandal during the AFC championships. As the scandal grew, so did controversy over Tom Brady and the team's potential interference within deflating the balls. To no one's surprise, angered fans continue to argue over the deflation scandal to this day.   
Brady's success within football continues to puzzle the minds of fans, viewers, and critics alike as he carries around his six Super Bowl rings (and continues to work for more). Especially while being a husband to supermodel Giselle Bundchen, a father to his three children, and a dog dad to puppies Lua, Fluffy, Onyx, and Scooby. Not only does that come with it's own set of responsibilities, but poses the question, how does he do it all while staying in perfect playing condition?  
For one, his athletic  strength does come with it's costs,  one of which is  his diet. According to Men's Health, "In his 2017 book, Brady explained that he was focused on eating "alkalizing" foods, or foods meant to decrease inflammation in your body." As well as going on to have Brady's chef claim that 80% of what Brady's household used to eat was just vegetables. However, Brady has since made some room for flexibility within his eating habits. "If I'm craving bacon, I have a piece. Same with pizza. You should never restrict what you really want. We're humans, here for one life,"Brady claimed. With that in mind, Brady is also avid about getting the right amount of fluids daily. Men's Health went on to state how Brady consumes between 12 to 25 glasses of water a day, in addition to his many smoothies.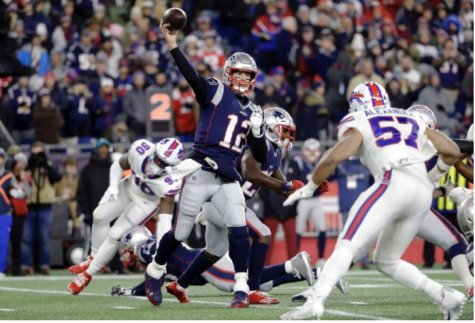 Tom Brady passes the ball during the first half of a game against the Buffalo Bills on December 21st, 2019. (AP/Steven Senne) 
Along with all the sacrifices that come with having the life of a professional football player, Brady most recently ended his 20 year career with the New England Patriots in order to join the Tampa Bay Buccaneers. Brady announced March 17th, 2020 that he would be leaving the Patriots, and only a few days later on March 20th, 2020, he announced that he would be joining the Tampa Bay Buccaneers. His announcement came as a surprise to many dedicated fans as he provided no other explanation other than when he appeared on the Howard Stern Show and claimed, "So, why would I choose a different place? It's just time. I don't know what to say other than that…I had accomplished everything I could in two decades with an incredible organization and an incredible group of people. That will never change. No one can ever take that away from me. No one can take those Super Bowl championships or experiences away from us." His announcement was a huge devastation to Patriots fans and team members, however, it's just business right? 
Despite the trials, tribulations, and successes that have been Tom Brady's journey with the NFL up to this point, his future is still a prominent aspect of professional football. Notably, his latest Super Bowl match as the quarterback for the Tampa Bay Buccaneers. Brady's history within the NFL, and his 20 year journey since first starting with the Patriots, is as sentimental and impressive as ever. As we reflect on this past Super Bowl win for Tom Brady and the Buccaneers, viewers not only remember Brady's journey to this point, but await for him to receive that seventh ring.
Leave a Comment
About the Contributor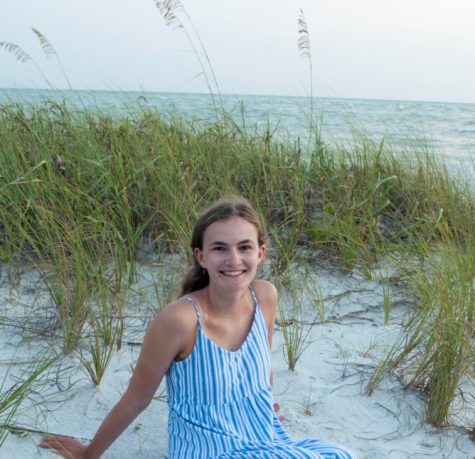 Hannah Gould, Co Editor-in-Chief
Hannah is currently a senior at WMC and Co-Editor-in-Chief of The Paw. When she is not writing articles, Hannah is working on creating The Paw's print...