Spirituality this Season
It's time to trade in those winter jackets for something a bit lighter because spring is coming! The spring equinox spiritually is a time of the rebirth which is super exciting because it allows us to open ourselves up to new ideas and let go of that winter depression that we're hanging onto in the past. As the weather gets warmer, it's normal to feel a lot more spiritual and more connected to the earth. This feeling can be very relaxing and freeing something that we all need in these crazy times.
Feeling all this energy can also be somewhat overwhelming. If you feel overburdened, one thing you can do is make a list of things you want to achieve in the future and start working on those goals. With all this energy it can be exciting to start all these new goals but make sure not to overwhelm yourself. If it's a nice day out it can be healthy to step outside and take a few deep breaths reminding yourself it's okay to have to yourself. A lot of the mistakes that you made in the winter will become a lot clearer to you in the spring. Meditate on these lost feelings and you will wake up feeling more refreshed and at peace with your new attitude. With rebirth comes clarity. Make sure you untangle all those knots you left in winter so you don't have to hang onto them in springtime. 
A few things you can do during this time are journaling, spending more time outside, and doing something for yourself that will aid you spiritually. Journaling will help you gain more clarity by seeing all your thoughts down on paper. You can also manifest things you want to happen in your life by writing your wants as if you already have them (if you write them in pen spiritually it's supposed to mean those manifestations will be more permanent.) On a warm day, take a break from what you are doing and take a step outside; simply the act of being can bring one piece. If you want to feel more spiritual, you can practice grounding which is standing outside barefoot and just letting yourself be while taking deep breaths. When doing something for yourself you want to do something that will work for you. Some spiritual examples are lighting a candle, doing some fluid movement such as yoga, or starting to use crystals or a tarot deck and see how it works for you. All of these things will make you feel so much more at peace and make your spring equinox more meaningful. 
It's time for rebirth! This season has a lot of great energy coming your way and it's time to enjoy yourself and shake off those winter blues. Your higher self is waiting for you and your spirit guides are ready to advocate for you. Meditate on these thoughts and your vibration will be buzzing with positive energy. Enjoy the season and let it take care of you!  
Leave a Comment
About the Contributor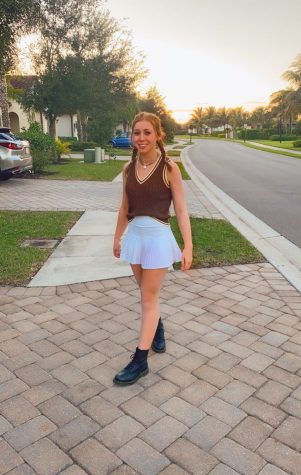 Sydney Schwartz, Staff Writer
Sydney Schwartz is a senior at WMC and this is her first and final year writing for the paw. She enjoys performing, fashion, and film. She's excited...