Senior Goodbyes!
Unfortunately, due to limited spacing in the print edition of the Graduation Newspaper, we were unable to include everyone's response. So instead, we have decided to put every single response on the Paw! You can check for yours and other people's who may not have gotten included below: 
"Make sure you join clubs. My four years of high school, I was a part of the WMC Marching band. Over the years I created a special bond, we became a family. Joining a club , and becoming like a family with the club or sport you are a part of is an unbreakable and special bond." -Priya Doddipalli 
"Thanks to all my teachers and coaches, especially Hildy, Miss Noone and Mrs. Najjar! Couldn't have done it without you!" -Olivia Montuore 
"High school has changed my life for the better. After coming out of middle school a shy, mostly antisocial introvert, and staying that way throughout part of high school, I've finally found myself. I've learned how to be the best version of myself: respectful, open-minded, thoughtful, hard-working, and sociable, while still maintaining my quiet attitude. I never really thought I'd leave an impact on this community, but it's become apparent through my friends, teammates, teachers, coaches, and random people calling me "MC Hunt" in the hall, that I might have left a positive impact after all. And I want to continue to do this throughout my life, wherever I go. I am truly thankful for having attended WMC, and I really could not see myself without the many wonderful memories I've made here." -Kyle Hunt 
"Man, what to say. High school was rough, especially thanks to Covid, but it was also the best years of my life. I guess I can only really say thank you to my teachers and friends who made it tolerable." -Charlotte Mulhern 
"One of my favorite memories this year has been going to MetLife Stadium for the football game. Being there with everyone and tailgating then watching our team win was a very happy and fun memory." -Amanda Nowicki 
"Throughout my freshman and sophomore year my friends and I used a disposable camera for spirit days and other fun moments in highschool that we call the "click click"" -Haley Bishop
"Thank you to everyone who has helped me along the way and made me the person I am today. I couldn't have made it through without my family, my teachers, and my friends who were all there for me at every step of the way." -Abigail VanCoevering
"Ratio'ing Alex Hoberman's Decision Day post on Instagram" -Alex Fernandes 
"I would like to thank my supportive teachers for being encouraging and easy to talk to because they truly made my life easier in terms of understanding academics as well as regular school life." -Cara Leonard
"Peace out." -Maeve Colligan 
"Thanks for some amazing memories and such a great place to grow." -Elize Fracchiolla
"My favorite memory here is making friends and socializing." -Lucas Chan
"Thank you to all my teachers for being patient with me and I thoroughly enjoyed my time here as a student for all 4 years." -Alyssia Malanga 
"My favorite memory here is coming back from Covid to return to somewhat normalcy after being stuck inside for so long." -Patrick Feehan 
"Lunch in the school library where everyone would just randomly start clapping." -Brayden Sardo
"If I had to pick, my favorite WMC memory was getting out of school and going biking until our parents made my friends and I come home. Just enjoying spring." -Ben Morris 
"My favorite memory is sophomore year history class because it was a really fun time being in that class." -Ryan Curtis 
"I think every teacher I've had was a friend. I learned so much being here and I had so much fun. It's crazy how fast such a big chapter can go in your life. Eating lunch with friends, becoming friends with teachers, and running around the school doing little things are the activities I'll remember forever. Thanks West Morris." -Dylan Mack 
"Thank you very much to anyone who helped me throughout the way and who realized my attendance doesn't represent a lack of effort in class. My favorite memory is of my Freshman year in English when we played out the "Romeo and Juliet" poem and one of my classmates hit the best performances I've ever seen, life changing honestly." -Dylan Turner 
"A special moment was winning a kahoot game." -Gabe Collins 
"I'm really grateful for all the time I spent with the baseball team and all the memories we made on the field." -Cole Turner 
"When everyone else is zigging, sometimes you gotta zag." -Sean Leonard 
"My last few months of Highschool gave me the chance to really work on myself and become truly happy. Thank you Mrs. Pastore, Mrs. Cangemi, Mrs. Olsen, and Mrs. Green. I really do appreciate your true intentions to help me graduate." -Christopher Bandille
"I would just like to go back in time and tell my younger self to stop playing video games and go out and meet new people but like great people say I don't regret being a video game nerd I just wish I got to meet more people. I want to thank every teacher I had for not making me present." -Enzo Pescoran
"There were so many things that happened I don't know what my favorite was but one moment I enjoyed was freshman year my friend group brought Nintendo switches and we played Mario kart." -Scott Mitchell 
"Thanks to all my friends and teachers throughout the years. One of my favorite moments from this school was the championship game at Metlife Stadium, it was an amazing experience." -Aidan Cross
"My favorite memory of senior year is probably all of the debates my math class had. Even though we had stuff to do, Mr. Geary always made sure we had fun in his class. You know what you're going to walk into when coming to Period 7 math, we could be debating over something, working independently, or playing a quizizz." -Emily Vaughn
"I have grown and changed so much as a person over these years and my friends and teammates have been there for it all. I'm so incredibly thankful I joined the fencing team,  I loved being part of the orchestra community, and wish I'd joined choir sooner. While there are some things I would change if I could, I know I'll look back on all the good times fondly." -Sydney Daum 
"I just want to thank all the teachers I've had and all the friends I made. I have many good memories and can't wait to make more." -Aidan Mudryk 
"Have fun." -Zachary McFarland
"My favorite thing about high school was being in choir. No matter how well we knew each other, we always had each other's backs and that's really hard to find. I`ll always cherish the time I had there as well as the amazing people I've met through it." -Avery Gumersell
"Thank you to all my great teachers I have had in this school and thank you to my family and friends for making high school a great experience." -Owen Christiansen 
"Thank you for being there for me while it was a struggle for me transitioning to a new school." -Ethan Skalvik-Zapata
"My favorite memory is when me and sny walked around the halls." -Tyler Fraumann
"First I'd like to thank all my teachers for preparing me for my future college education. Then I'd like to thank all my family and friends for helping me through the stressful times high school can put a student through. Although he might not work at West Morris Central anymore, I want to give a special shoutout to my favorite teacher in all my years of education, Mr. Hogan. I had Mr. Hogan for both theatre and english classes and he handsdown made them some of the most memorable courses I have ever taken. Thank you West Morris for an awesome four years that I will be sure to never forget!" -Sean Davies 
"I appreciate and am very grateful that my friends accepted me into their friend group when I moved here junior year. I also would like to thank my teachers for accepting me and teaching me. If there was one thing I learned throughout high school, it is that you never realize how fast time flies when you're having fun." -Wyatt Serrano
"Hearing racoons fighting in the field house ceiling." -Malachi Shepard
"Google >" -Sam D'Alessandro
"A favorite memory I had from my time in high school was when the pandemic hit and we had our first week of online classes in a completely different setting." -Andrew DiGabriele
"I just want to thank all the teachers for helping me and also to my friends for helping out around the school and showing me how the school works as a new student." -Isabella Aranzazu
"The 4 years I've spent at this school has and will continue to change myself for the better until the day I leave." -Jake Doerr-Fredrickson
"Thank you for all the great memories, even through the tough times such as the  pandemic." -Amanda Vecchione
"Follow your passions, become who you want to be." -Jonathan Jan
"Thank you to all of my friends and teachers for making my experience at WMC really great." -Emily Broadhurst
"I think the best memories I have had during my high school are my orchestra classes all through my four years of high school, as well as our concerts. I would like to thank Ms. Meckler for being a very inspiring and supportive teacher throughout my high school career, her class was definitely the one I "enjoyed the most." -Rocco Gallara
"I´ll always remember on March 8th 2021, coming out of a really hard wrestling practice, to be able to drive myself home rather than waiting to get picked up was such a nice, liberating feeling." -Kevin Moore
"I would like to thank all of my teachers who helped me get to where I am. Best memory from high school was the snowball fight we had in the courtyard junior year, worth every second of detention." -Brendan Donlon
"Thank you to all of my teachers for preparing me for college and thank you to my friends and classmates for all of the memories I will carry with me!" -Taylor Stetz
"Thanks teachers. My favorite memory of high school was the football games." -Nick Dotro 
"Although our time has almost ended I wish everyone good luck with their future and I hope all of you reading this find success in life whatever it may be. Follow your dreams. Don't give up when times get tough and I hope to see you again." -Steven Cardinal
"I would just like to say thank you to all of my teachers. I think that I have been very prepared to take on my next 4 years. My favorite memory of high school was playing at MetLife Stadium." -Zach Byank
"Don't take life so seriously, and follow your own path, enjoy the journey it takes to reach your goals as well. People are always going to try and sway you into doing something that they know won't benefit you. People also won't believe in you. Work hard everyday and prove them all wrong." -Nick Voorhees
"Thank you to all my teachers and friends for helping get to where I am today." -CC Homer
"Thank you teachers for everything" -Bailey Dowson
"I want to say thank you to my teachers, mentors, and coaches throughout my last four years in high school. My most favorite memories have come from school sports and being a part of such close and successful teams." -Payton Gjelsvik
"Thank you to the awesome teachers and coaches who have inspired me during my time at WMC. My favorite moments were with my teammates on the soccer field and the basketball court." -Grace Finlay
"Thank you to all my teachers for helping me through the school years! One of my favorite memories would be running down the field when the Wolfpack scored a touchdown will always be such a fond memory of mine. And of course go Wolfpack!" -Elizabeth Erfanian
"My favorite high school memory was getting a saturday detention with Mr. Herman for standing on top of my friend's dump truck in the school parking lot." -Andrew Fuscaldo
"Thanks for dealing with all the messes we create, dealing with the madness everyday." -Mackinley Dowson
"My favorite memory was definitely participating in the all-male acapella group known as the Noteworthies. Noteworthies has introduced new music genres, singing types and most importantly friends. Noteworthies has helped me come out of my skin a little. It was also fun performing for different organizations and the school." -Alexander Montano
"I just wanted to say thank you to everyone who helped me through high school, including my parents and teachers. I am going to miss the life I have always known now that I am leaving for college. I am pleased that I get to experience new things and have a whole new environment. I am sad that I am leaving my friends and teachers but I can't wait to see new things. Thank you WMC." -Tayla Sharp 
"To my favorite teacher in the whole world, Mr. Stingle, you have given me so much in the last four years and I will never forget any of it.  Since my freshman year, you trusted me and pushed me to be my best. There were so many auditions I missed out on because of fear, and as time went on, you encouraged me to do more and more of them.  I can never thank you enough for the amount of support I have received from you throughout my high school career, and you have given me some of my favorite memories.  From the movie-like ending to the Senior Honors Concert in 2019, to every solo I have received from you now as a senior.  I would never be the place I am today without your training.  You helped retrain me after my surgery, rebuilding my lungs, and since then, I have done nothing but grow.  So once again, thank you." -Jordan Greenly 
Leave a Comment
About the Contributor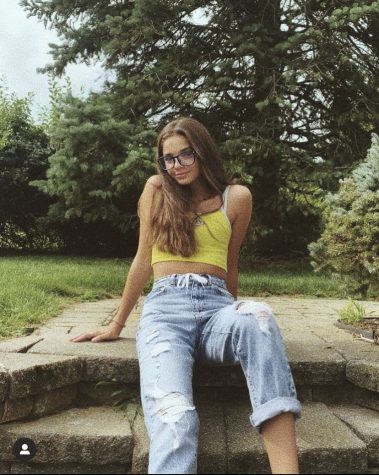 Lauren Allocca, Staff Writer
Lauren is a Junior at West Morris Central. She enjoys writing, the outdoors, and spending time with her family and dog. This is Lauren's first year with...