Hopping Into April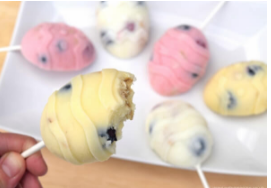 Hang on for a minute...we're trying to find some more stories you might like.
April is an exciting time for many reasons! It finally starts to feel like spring, summer is just two months away, and the sweetest holiday, Easter!
Now for those who are more health conscious of what they eat, this holiday could be a drag. Piles of chocolate, sugar coated marshmallows, and teeth killing jollies is what is usually associated with the holiday. But it doesn't have to be this way!
There are plenty of sweet ideas that not only are yummy, but are healthier alternatives as well! One in particular is Oatmeal Peanut Butter Easter Eggs (recipe posted below).
Oatmeal Peanut Butter Eggs are all natural, vegan, vegetarian and make a wonderful snack for all those on a diet! It's supposed to be a healthy take on Rice Krispies and marshmallows but with oats!
Oatmeal Peanut Butter Easter Eggs Recipe:
2 ½ cups rolled oats
3 tbsps. pb2 (or any powdered peanut butter)
¼ cup maple syrup
1 tsp. vanilla
5 tbsps. almond milk
1 tbsp. peanut butter
¼ cup mini chocolate chips (optional)
Sprinkles for decoration
Plastic eggs
Another recipe that is an excellent sweet treat but also healthy, are Easter Egg Breakfast Popsicles! Although they are called popsicles, they aren't actually typical ice pops. They are supposed to be a healthy twist on chocolates on sticks!
This is an amazing recipe because instead of all the sugar and calories in chocolate, the recipe calls for yogurt! Which tastes just as delicious but cuts the bad stuff in half!
EASTER EGG BREAKFAST POPSICLES RECIPE
Ingredients:
500g Yogurt*

handful granola

handful blueberries

handful raspberries
*I used three flavours of yoghurt which gave these some really pretty colours, but you can use whatever flavour you prefer. For a really healthy treat, natural or greek yoghurt is perfect because it doesn't have any added sugar. Dairy free yoghurt alternatives such as soya yoghurt should also work for this recipe.
Equipment:
lollipop or cake pop sticks
Method:
Place a small dollop of yoghurt into each egg in your silicone mould, filling each egg to about a third.  Push chunks of granola into the yoghurt, then add a few raspberries and blueberries to each egg too. Place a lolly stick into each compartment, laying it down as flat as possible. Fill each egg to the top with yoghurt, making sure it covers all of the fruit and the lolly stick.
Recipe Directions: In a medium bowl mix dry ingredients and set aside. In a large bowl add maple syrup, vanilla, milk and peanut butter. Stir until mixture has been combined, add the dry ingredient to the large bowl and mix with hands.  Once combined add chocolate chips and sprinkles. Place in plastic eggs and let set in the fridge for 1 hour. Once done, gently open them from the plastic eggs and decorate with sprinkles.
Place mould in the freezer and freeze for at least 2 hours or overnight, until the eggs are frozen through and solid.  Once frozen, pop out of the moulds, leave the popsicles on a plate at room temperature for a couple of minutes to soften a little then serve immediately.
It's very important to me, that everyone feels like they can indulge on a holiday without the guilt of eating badly! So I hope everyone enjoys their holiday and eats tons of delicious treats !