A Rocky and Controversial Start to Ye's Donda 2 Rollout
In an elaborate listening party at Loan Depot Park in Miami, Ye (Formally known as Kanye West) showed off what his next studio album Donda 2 will most likely sound like. But this wasn't the first time Ye has done an event like this as he had three very similar listening parties for Donda 1 which took place last year. And by basing this listening party off the previous ones it seems that what was heard won't be the finished product. This is most likely the case because over the three listening parties last year songs changed with new features and lyrics being added and removed constantly. Also, during the show, most of the songs Ye said were going to be on the album weren't present and the ones that were seemed to be unfinished.
Another glaring issue with the event was the fact that the audio in the arena was either not working and when it was there was a delay between the beat and the artist trying to perform. This was seen the most when Ye and the other artists were attempting to perform songs from the original Donda and Ye's new song City of Gods live but were unable to. The mic and audio issue got so bad that during Ye's performance of Jail 2 he threw his mic in frustration and never picked it up again.
But this wasn't the only shocking event to come out of this Jail 2 performance as Ye once again doubled down and brought back singer and accused rapist Marilyn Manson. This was shocking because Ye already brought Manson in for Donda 1 and it seemed unlikely that he'd want to deal with the backlash again. But in usual Ye fashion, he didn't care about the negative press he receives and seems to encourage it.
This is apparent because of his repeated attacks on his estranged wife Kim Kardashian's new SNL star boyfriend Pete Davidson who he insults both on his Instagram and in his music. On the track Eazy featuring The Game, Ye sings "God saved me from that crash Just so I can beat Pete Davidson's a–." But Ye has seemingly moved on from just name-dropping and is now using direct samples to voice his opinion during his divorce. On the newly heard track, Sci-Fi Ye opened the song using Kim Kardashian's monologue on SNL where she said "I married the best rapper of all time. Not only that, he's the richest Black man in America, a talented, legit genius, who gave me four incredible kids." But as good as this sample sounds for Ye, he conveniently left out the next line where Kim says "So when I divorced him, you have to know it came down to just one thing: his personality." Just from these two songs, it's very clear that this album will most likely focus on his divorce and what he thinks could somehow win Kim Kardashian back. There may also be more listening parties ahead so more controversial lyrics and samples could be in store for the public to hear.
Another major thing to look out for is just how well the album will do commercially since Ye has stated that he refuses to put it on mainstream streaming services. The reason for this is that he thinks that artists are undervalued and should be paid more by the services for their music and says he even turned down a $100 million deal from Apple music in a now-deleted Instagram post to prove his point. Ye's solution to this issue was to release the album exclusively on his $200 stem player which is a music production device that can isolate different parts of a song. By choosing to go down this route he may lose significant numbers of fans that don't want to spend $200 for an album and never use the device again. So, if this listening party and album rollout says anything it's that Ye hasn't changed one bit with controversy and major headlines following him every step of the way.
Leave a Comment
About the Contributor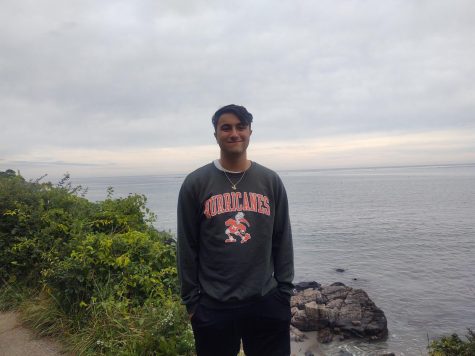 Brendan Granata, Staff Writer
Brendan is a senior here at West Morris Central and is his second and final year writing for The Paw. He has a very strong interest in all things sports...