Is the US Marching Forward or Racing Backwards?
On June 24, 2022, the Supreme Court made the bold decision to overturn Roe V Wade, a Constitutional law passed in January of 1973, declaring abortion legal nationwide. The enactment of Roe V Wade was put in place after decades of women fighting for the right to their own bodily autonomy. It is unfortunate that 49 years after this law was passed, the country's supreme court took it away, as though the United States is moving in the wrong direction. 
Why was Roe V Wade overturned? A large portion of why Roe V Wade was overturned is because it is not mentioned in the Constitution. Our democracy is built on the amendments within our Constitution. There is no amendment saying abortion is legal within the Constitution: however, the purpose of the Constitution is to modify it with time. Hence, it is appropriate to add or take away amendments as our nation progresses with time as it is a living document. Is it a truly valid excuse to revoke Roe V Wade because there is not an existing amendment backing it? 
The reason women decide whether or not to get an abortion varies. For example, there are many medical complications and risks during pregnancy. The only other option other than abortion would be childbirth. However, an American University article stated childbirth is 14 times deadlier than abortion. There have also been multiple instances where it has been safer for a woman to get an abortion rather than undergo childbirth for the safety of their own well-being. Scientific American reported, "In 2019, 754 mothers died during pregnancy. In 2020, another 850 patients died because of pregnancy-related events." Pregnancy and childbirth are both extremely complicated and have a series of life-threatening risks. Women should always have the option as to what they feel is right for their own bodies, especially in situations of life and death. 
The abortion ban in general differs for every state as some areas are more strict than others. For instance, the Texas abortion ban does not leave an exception for survivors of rape or
incest. The ban also does not allow abortions after 6 weeks. Only 1 in 3 women know for certain they are pregnant by that timeline. In other terms, a woman practically has a clock ticking away until that six-week mark, a due date for when they need to know if they are or aren't pregnant. CNN  article "Abortion is banned or severely limited in a number of states. Here's where things stand" by Tierney Sneed and Veronica Stracqualursi explained, "If a woman suspects she's pregnant, at-home pregnancy tests vary in their ability to give accurate results, especially in the earliest stages." Is it truly reasonable to have a woman know for certain she is pregnant within only six weeks? With inaccurate home tests and waiting up to two weeks for a doctor's appointment, it is almost impossible for a woman to find out for sure they are pregnant. 
"According to Texas Abortion Law Harms Survivors of Rape and Incest, Activists Say," an article by KHN, a 12-year-old child was a survivor of rape and incest in Texas. The little girl was only 12 with little knowledge of pregnancy and had no idea she was pregnant. When she found out she was pregnant, she was helped accordingly; however, if this had happened to her after September 1st when the law was enacted, she would not have had the options she had before. It puts in perspective all the other girls and women who missed the "deadline" and are forced to carry their rapist's child. 
Overall, any woman should have the right to make decisions regarding their body. Roe V Wade takes away that option as well as females' own privacy. According to the New York Times, abortion has now been declared illegal in 13 states. This number will continue to climb as they continue to use trigger bans. Trigger bans automatically ban abortion in the first and second trimesters, a result of the supreme court's decision. Needless to say, this is an extremely controversial issue that will significantly impact the lives of many. Countless women have to make this challenging decision every day, and the Supreme Court certainly did not make it easier.
Leave a Comment
About the Contributor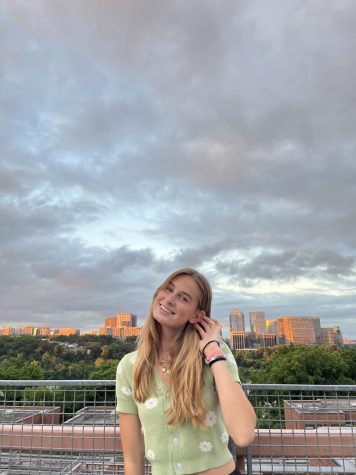 Eliza Olsen, World News Editor
Eliza is a sophomore at WMC. This is her first year writing for The Paw. She is involved in soccer and track. Eliza is interested in covering recent events...