Saying Goodbye to Keeping up with the Kardashians
After nearly 13 years of TV, Keeping up with the Kardashians has cancelled any further production of their show after their upcoming 2021 season.  
For years, the Kardashians have been a household name since Kim Kardashian launched the show in 2007 and broadcasted her family life on television. Kim Kardashian grew her family's network through the show; boosting Kendall and Kylie's modelling careers, growing a fashion business, showing up on magazine covers, becoming a major media influencer, and doing many more countless jobs. 
Although the show brought an immense amount of success for Kim and her family, the show also highlighted some of the more scandalous parts of her life. The show brought a lot of controversy to her lifestyle and what her family stood for in the world of Hollywood. Kim's branding, and some would say near exploitation of her family, in order to boost her career and wealth almost brings glory to the show's cancellation. For many years, the Kardashian family showcased their wealthy and lavish lifestyle for the world to see while growing a business empire. Through brand deals, and using the show as a means to promote business and their life, the KUWTK ending is to some extent an immense relief from watching the Kardashians fake and plastic lifestyle. 
Personally, I am happy to see the show's cancellation. After running the show for 13 years, for the sake of everyone, the show needed to end. Throughout the years, the Kardashian-Jenner family provided significant controversy; beginning with Kim Kardashians sex tape, and all the way to Kanye West's mockerous "run" for president recently. Through the years, viewers have watched as the Kardashian's became a symbol for what was wrong with pop culture and fame. Accusations of cultural appropriation and exploiting others for money and business (such as with the "Quicktrim" lawsuit) are all too familiar to the public. For many years, the Kardashian's have used the show as a means to boost their popularity and wealth, leaving the show to only showcase their luxurious lifestyle made off of their scandals. Speaking from the perspective of a teen in the age of social media and pop culture, watching the Kardashian's flaunt their lives and complain about insignificant luxuries is, in plain terms, stupid. Even in today's world, where anything and everything is shown on television, a family such as the Kardashian's using their name as a way to further their economic gain is bad for a new generation of young viewers. Although a show is meant to be a source of entertainment, viewers can't help but question the influence of such a fake and dramatized family on our society, and girls especially. Kim Kardashian and her family have set a precedent of what 'success' looks like: plastic surgery and money. As years have passed, viewers have watched the Kardashian's transform from a somewhat relatable family, to a completely unrecognizable family bonded through a common goal of building a business off of it's pop culture demographic. Such fraudulent tv personalities serve no place in a new time of acceptance and honest living. 
The transition from the show after such a long period of time leaves viewers questioning the real reason for the show's cancellation; family drama? Business? Money? As tv goers reflect on the end of an era, members from the Kardashian-Jenner family have voiced how the show is no longer needed in their family's life. Clearly, as Kim Kardashian-West has a recent net worth of nearly 900 million dollars from her KKW Beauty business, and with her sister's businesses not too far behind. Essentially, demonstrating how the Kardashian-Jenner family has moved on to bigger, wealthier things.  
Although the Kardashian-Jenner family has undoubtedly gained serious attention and business from Keeping up with the Kardashians, the family also showcased the fun, "normal" parts of their life. The show provided many laughs and even brought humility to a family that would otherwise be impossible to relate to, to the average individual. From experiencing traumatic loss, and even witnessing Kailtyn Jenner's gender transformation, the Kardashian's in some ways brought their show in a new direction of sincerity. With these things in mind,in honor of the shows cancellation, I took a look at some of those most memorable moments from the past years in Keeping up with the Kardashians: 
About the Writer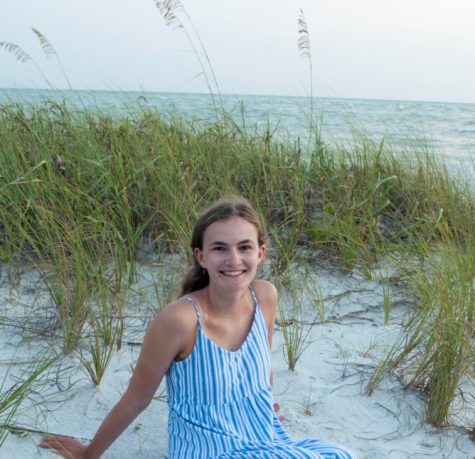 Hannah Gould, Co Editor-in-Chief
Hannah is currently a senior at WMC and Co-Editor-in-Chief of The Paw. When she is not writing articles, Hannah is working on creating The Paw's print...