Opinion: Last Week's Events Underscore the Futility of the Trump Movement
Last week, Americans watched in horror as supporters of outgoing president Donald Trump stormed the United States Capitol Building on January 6, 2021, forcing senators and representatives to scramble for shelter and resulting in the deaths of at least five people, including one member of the Capitol Police. The hostile takeover of one of the most sacred buildings in the United States and the seat of its legislature, in hopes of overturning a democratically conducted election and reinstating their preferred candidate, has been rightfully characterized as a horrifying attack on the bedrock American institutions.
However, the attack only served to highlight the ultimate futility of the Trump movement. In a historical twist of irony, as the the pro-Trump rioters invaded the Capitol building, major media outlets declared Democratic candidate Jon Ossoff the winner in the second of Georgia's two Senate runoff races, which together with Rev. Raphael Warnock's earlier win, resulted in full Democratic control of Congress. In other words, at the very moment that Trump supporters physically took over the Congress building, Democrats formally took over the Senate, completing their trifecta and cementing Democratic power in Washington for the next two years. 
The GOP has very little to show politically for its full-throated embrace of Trump and Trumpism. True, the Republicans outperformed expectations in the downballot 2020 elections, unseating several Democratic incumbents in the House and defending vulnerable senators in North Carolina and Maine. But that came only after an absolute drubbing in the 2018 midterms, where the Democrats gained 40 seats and the speakership. Republicans should not be celebrating their recapture of safe Republican districts like Utah's 4th and South Carolina's 1st; they should be alarmed that Trump's unpopularity necessitated the recapture of those districts at all.
Moreover, Trump's continual refusal to concede the 2020 election and repeated unsubstantiated claims of voter fraud had a demonstrable effect on the Georgia runoffs. Two months of incessant Republican messaging that voting was rigged in favor of Democrats had exactly the predicted effect: sharply decreased voter turnout in red counties. Turns out that telling voters that their vote won't matter will cause them to be less likely to vote, not more. In contrast, energized Democrats stayed laser-focused on their get-out-the-vote messaging, resulting in sky-high turnout in the blue strongholds like Atlanta, Savannah, and Macon. Biden beat Trump by about 12,000 votes; Warnock and Ossoff won by 94,000 and 56,000 votes, respectively, flipping control of the Senate to Democrats and knocking Senate Majority Leader Mitch McConnell (R-KY) down to Senate Minority Leader. 
Worst of all for the GOP, the Trumpist movement has resulted in a painful and possibly irrevocable schism within the party. As the outgoing president pursued increasingly fringe theories in an attempt to reverse the outcome of the election, he turned his wrath on any remaining Republican who refused to grant him what he wanted. After Georgia Secretary of State Brad Raffensperger and Georgia Governor Brian Kemp, both Republicans, refused to overturn the results within their state at Trump's request, the president promptly threatened to unleash primary threats against his own party members, throwing the already-demoralized Georgia Republican Party into chaos ahead of a tough comeback in 2022.
Trump likewise turned his ire on Republicans nationwide who refused to go along with his whims, making similar threats to primary Senator John Thune (R-SC) and Governor Doug Ducey (R-AZ). As a result, the GOP has become sharply cleaved between Trump loyalists and the Republicans willing to defy him, setting up an ugly and protracted fight for the future of the party that will put Democrats' own progressive-moderate squabbles to shame. The result was crystallized by Wednesday's vote to impeach Trump for a second time for "willful incitement of insurrection". Ten Republican House members crossed the aisle to vote with all Democrats while several GOP senators have already announced their support for conviction, a stinging rebuke to the president and a striking display of discord within GOP ranks and unity among Democrats. 
In many ways, the storming of the U.S. Capitol Building last week was the angry lashing out of a mortally wounded beast. Trumpism as an electoral strategy has brought the GOP nothing but humiliation; in four short years, it lost Republicans control over the House, the Presidency, and the Senate. In an attempt to reverse that decisive loss through the fascistic methods of intimidation, it only further cemented its demise. Small wonder, then, that many of the Trump supporters who participated in the riot carried Confederate banners and sported Nazi insignia; Trumpism will soon join their ranks as another defeated movement which brought nothing but misery upon its supporters.
Leave a Comment
About the Contributor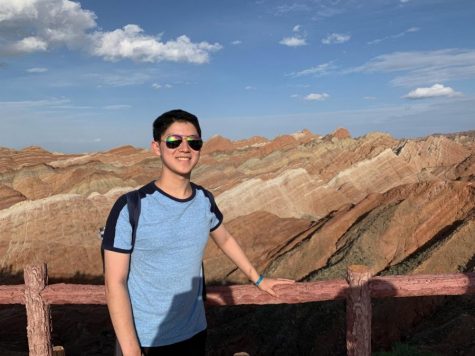 Vincent Jiang, President of Journalism Club
Vincent Jiang is currently a senior at West Morris Central High School and President of Journalism Club. Passionate about global affairs, he enjoys writing...