Dear Wolfie, School(Sleep)Time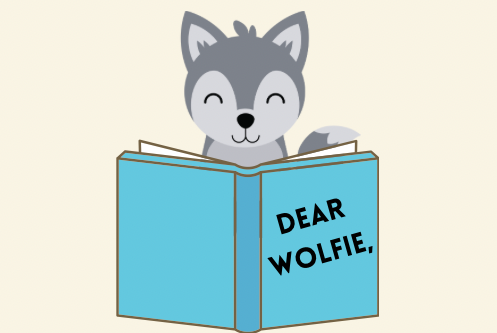 "Dear Wolfie, I keep falling asleep during my classes. How do I keep myself from snoozing on my desk? From, SleepyStudent"
Dear SleepyStudent,
If you really want to hear about it, the first thing you'll probably want to do is stop bringing a pillow with you to school, and a blanket, and pajamas, and all that bedtime stuff, but I feel like those are things you were probably not doing anyway, if you want to know the truth.  
In all seriousness, you're probably not getting enough sleep.  I've experienced firsthand how crumby that can make you feel.  Maybe you cannot get to sleep because you're stressed with school work, or maybe you're too engrossed in your phone or video games and go to bed too late, or maybe, like me, you're just obsessing about phonies and other things you cannot control.  Regardless, you have to develop a  sort of routine to help you get a good night's sleep.  
Take my sister, Phoebe.  She absolutely kills me.  As soon as her head hits the pillow, she is out for the night, and she wakes up very easily in the morning.  Of course, she is only ten, and she doesn't have a phone, and my parents make her go to bed at the same time every night.  What I wouldn't give to be a carefree kid like her again.  But old Phoebe's got some good habits we can learn from:  
One, try to get the same amount of sleep each night.  Apparently if you sleep over an hour more or less from the amount of sleep you usually get, you'll feel more tired.  Now I don't know how scientific that is, but I swear I feel more tired throughout the day if I don't follow that rule.  
Two, you want to associate your bed with sleeping only, so don't use your phone or do homework while in bed.  
Three, I know it might sound a little hokey, but there's something to be said about clearing your mind or meditating right before bed to help you relax.  I've tried it myself a few times while I've been here, and it sort of really works. 
And finally, you have to set limits for yourself with technology.  Pick a reasonable time that works for you to stop with all technology each night.  Set aside your phone and don't look at it again until your alarm goes off in the morning.  Sure, it might be hard at first, but if you do, you might start staying awake in your classes.
Wishing you a genuine good night's sleep,
Wolfie Caulfield 
Want your question answered? Submit a question to Wolfie by filling out this google form!